Shopping experience is currently one of the most important factors that decides on the effectiveness of sales in e-commerce. Satisfied customers will eagerly choose a given retailer once more. How to create personalized shopping experiences? Read our article and find out.
Personalized shopping experiences – table of contents:
What is a shopping path?
A shopping path includes all the steps that a customer must take in order to buy a given product or service – from the moment they learn about it, until they finalize the transaction. Its elements will vary depending on the kind of product being purchased. Each branch has its own factors, for example, price, customer profile and the urgency of the need.
It's important that a customer can go through the shopping path as quickly and as conveniently as possible. In fact, it is the shopping path that influences the real sale. Remember to dispel your customers' doubts and make taking their final decision easy.
The first step is always reaching your potential customer and building brand awareness. You can do it using Google Ads, SEO, blog or social media. Thanks to such practices, your customer will become aware of the problem and see possibilities. You need to attract their interest and attention and make them visit your website more often.
Another stage of a shopping path is making a choice. At this moment, the customer is considering various options, making comparisons and searching for the right solution. In order to convince your potential customer to make a purchase, create a blog on your website where you can include interesting case studies and reports.
The last step is filling out a form and placing an order. People hate filling out long, dull, and unprofessional-looking forms. Design your form so that it's direct, concise, and more pleasant to fill out. If everything goes smoothly, the customer will buy your product.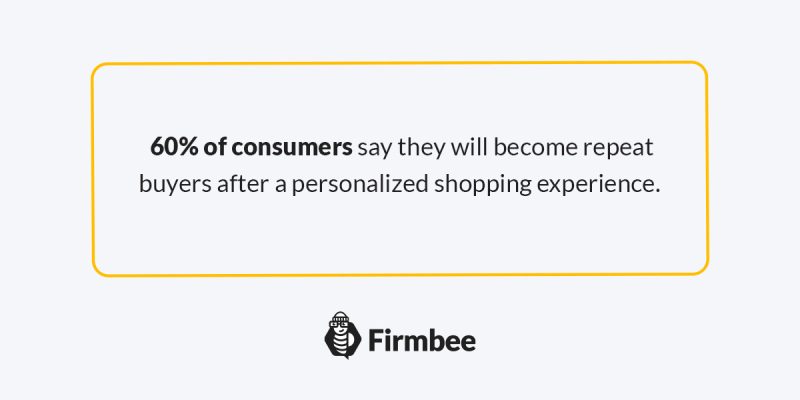 Personalized shopping experiences
Nowadays, the shopping experience has got huge importance for all retailers. Entities running online stores analyze customers' needs as they want to understand their buying habits at every stage of the shopping path. Their goal is to deliver goods or services in a way that makes the buyer feel fully satisfied.
For buyers, the following factors are critical:
speed
convenience
helpful and friendly service
At each stage of the shopping path, a bad shopping experience can stop the customer from the finalization of the transaction, or even completely discourage them from a particular brand. That's why it's so important to make it positive at every stage.
You should pay attention to website navigation, the appearance of your e-store on mobile devices, customer service during and after the shopping process, and delivery. These are the elements that can cause the most problems when it comes to customer experience.

Why do personalized shopping experiences matter?
Personalization of shopping experiences is very important in both B2B and B2C sales, but it can be at a much higher level in the case of business partners. All because we often want to reach out directly to companies whose name we know, or to a narrow group of businesses that have a need for a particular good or service.
Knowing your customer is a big part of success. By learning what their needs and expectations are, you can tailor your offer specifically to them. Also, it's worth introducing special promotions or discounts. The business partner will then feel important and taken care of, and this will only strengthen the relationship.
In building good relationships, brand consistency across your marketing is also important. This will make it perceived as credible, and customers will be able to trust and identify with it. At this level, it's not only about the efficient delivery of good products, but also the working philosophy of a particular business, for example, many people will appreciate companies that care about the environment or support principles of fair trade.
If you like our content, join our busy bees community on Facebook, Twitter, LinkedIn, Instagram, YouTube, Pinterest.