Companies that decide to use outsourcing have to choose which of the processes they want to delegate outside their company. Contrary to what one might expect, not all services are worth outsourcing. Some of them ought to be performed internally. In today's article you will get to know 3 most commonly outsourced services. You will also learn which of them shouldn't be outsourced.
3 popular and frequently outsourced services – table of contents:
Tasks that should be outsourced
Outsourced HR services
Finding and recruiting employees can be challenging for a company. It requires a company to hire qualified staff for its HR department who specialize in getting the right employees for the given positions. Delegating this task to an external company solves the problem, and thus reduces costs on the part of the organization.
Employment agencies, whose business is based on sourcing suitable candidates, have adequate staff consisting of professionals in this field. They not only deal with recruitment processes, but also with subsequent tasks related to team management, e.g. employee benefits. Outsourced companies help with HR issues and assist the organization in such aspects as conducting appropriate trainings, employee time management and payroll.
Outsourced marketing services
Anything related to marketing is an ideal task to outsource. In what specific aspects can outsourcing companies help you? The range of offered services is very wide, e.g. designing ads, generating and publishing engaging content, developing an SEO strategy to increase traffic stats, and creating social media feeds.
Delegating marketing tasks allows you to save time and energy. What is more, you can be sure that the specialists who undertake them, will perform them more efficiently and accurately than internal employees, who might not have such extensive experience in the industry.
Outsourced accounting services
Doing your own accounting, especially at the beginning of running your business, can cause several problems. Understanding current regulations is a time-consuming and complicated task. Issues related to bookkeeping, invoicing, as well as settlement of all liabilities and receivables should be performed by educated and experienced specialists. In this way you can avoid additional expenses and potential mistakes.
External companies, which offer bookkeeping, can also prepare financial analyses, which are helpful when creating business strategies.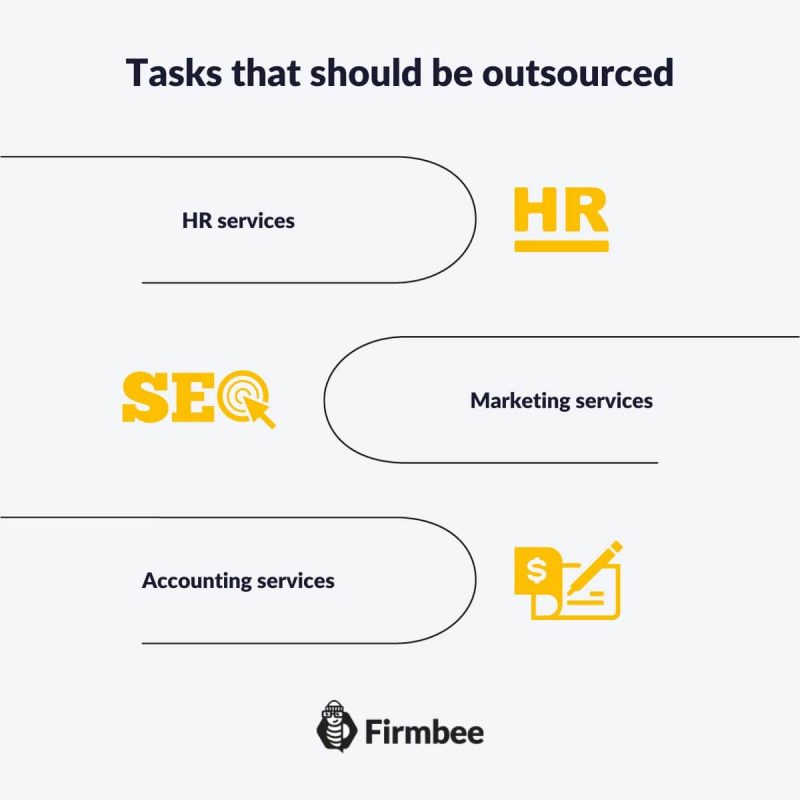 Tasks that shouldn't be outsourced
Core competencies
Core competencies are the main features that differentiate a company from other organizations in the same industry. They shouldn't be delegated to external companies. Outsourcing core skills that give a company a competitive advantage means that any strategies for building that advantage are exposed externally and can be used by other organizations. An additional drawback is that outside companies will never be as good at executing them since they concentrate on their own capabilities.
Strategy planning
This is another service that should never be outsourced. Strategy planning is based on data about the current condition of your business, as well as predictions about where it is heading. Such information should be confidential and available to members of the organization only. Through strategy planning, employees are more likely to identify with it and become more involved in its implementation.
Outsourced services – summary
Outsourcing is a great tool to develop a company, increase profits and save time. However, in order for it to be effective, it is necessary to analyze what you want to outsource and whether it will be profitable for the organization or not. The aspects described above help to choose which services should be outsorced to external companies, and which of them should be definitely performed internally.
You've now learned what frequently outsourced services are. You might also be interested in reading: 6 steps to building a successful outsourcing strategy.
If you like our content, join our busy bees community on Facebook, Twitter, LinkedIn, Instagram, YouTube, Pinterest.