For a long time, the term "omnichannel" was used to describe conducting sales activities both online and offline, but that has changed and it means something more than that. So what is omnichannel? Why get involved in multi-channel sales and how to do it?
Omnichannel in e-commerce – table of contents:
The share of e-commerce in the global economy is growing and Amazon remains its hot shot, provoking people to abandon traditional stores. However, the data shows that the reality will not divide zero-one into offline and online, but will combine both channels to provide the best possible customer experience.
Accelerated development of e-commerce
E-commerce is still only a fraction of global trade and – despite growing at a double-digit rate – the majority of sales are still made traditionally. The coronavirus and the associated lockdown have accelerated the digitization processes and many retail brands (e.g. Zara) intend to focus on online sales shortly, but this is still just the beginning of the trend. And thus the rumors about the death of traditional retail are greatly exaggerated.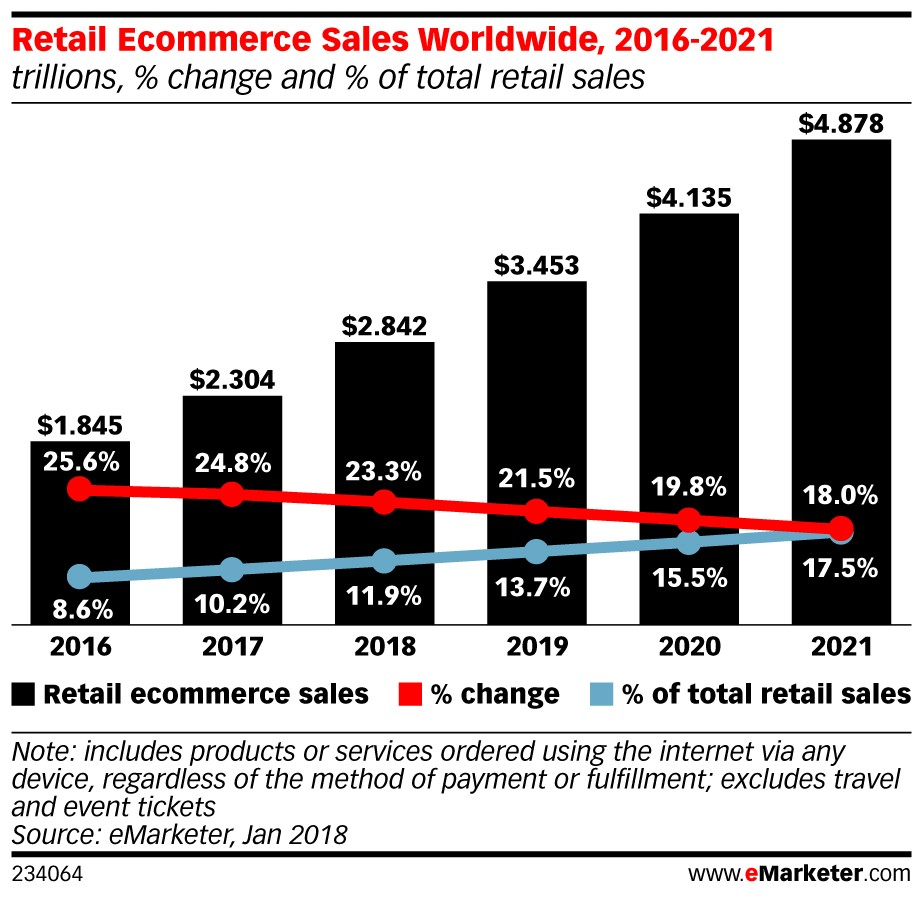 The reality may turn out to be more complicated, the signs of which are already visible. A considerable number of us still visit stationery shops, even if we do our shopping online, which often offers more attractive prices. And vice versa. More and more retail chains sell online, but offer the possibility of both return and collection of goods in stationary outlets. The online and offline worlds are thus increasingly intertwined, which emphasizes the need for their integration.
What is omnichannel, or multi-channel selling?
For a long time, the term "omnichannel" was used to describe conducting sales activities both online and offline, but that has changed.
Now, Google defines the term that "means or refers to a type of retailing that integrates the various shopping methods available to consumers (e.g., online, in a physical store, or over the phone)."
Whereas Wikipedia expands it to denote "a multi-channel content strategy used by organizations to improve the user experience" adding that: "Omnichannel means integrating and coordinating channels in such a way that they are multi-leveled, simultaneously being carried out in-app forms, online, at kiosks, or in regular stores. A business needs to use every available channel and provide a seamless and consistent service."
All and all, we can conclude that omnichannel is about planning a seamless customer journey across all possible channels so that – regardless of the location – their experience of contact with the brand remains the same.
Omnichannel vs multichannel. How do the two approaches differ?
Integration of sales channels in understanding omnichannel is the key. If we speak only about their multiplication, it will refer to multichannel sales. How do these approaches differ?
Shopify suggests that multichannel sales should be associated with MANY channels, while omnichannel sales should be associated with ALL channels. Fairly simple. So…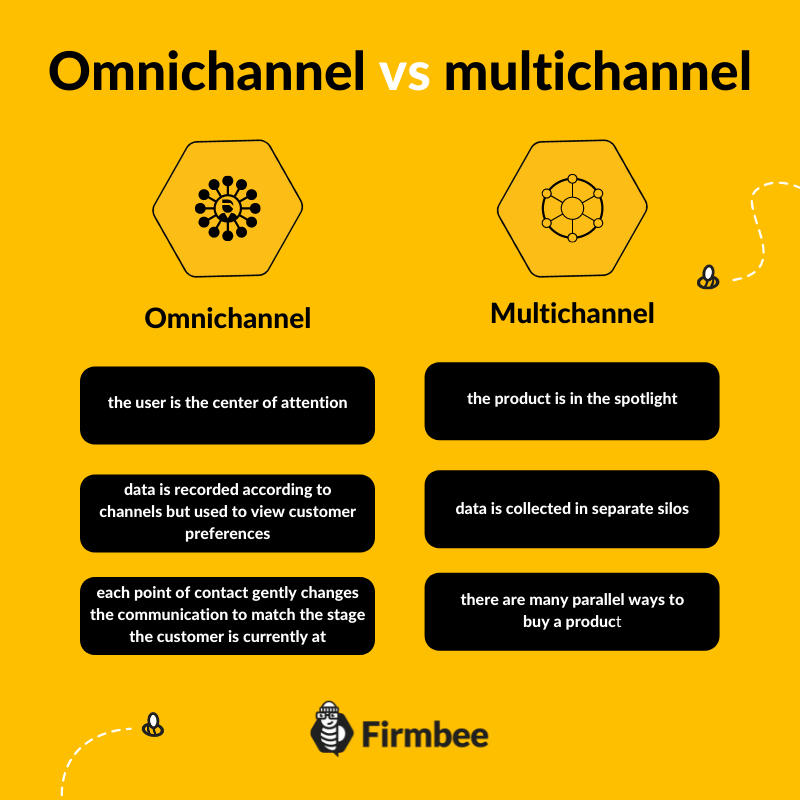 What is multichannel?
Multichannel sales are discussed when a shop simultaneously uses many channels to reach customers(e.g. Facebook, Instagram, a website), and each of these channels operates according to a separate strategy. Thus, messages, prices, promotions and service standards differ from one another, and the company – despite being present in many places – does not build a consistent image as the result.
the product is in the spotlight
data is collected in separate silos, by channel
there are many parallel ways to buy a product, there is no single path
What is omnichannel?
Omnichannel is characterized by a more holistic approach, not just sells, but branding. In the omnichannel approach, the company also appears in many places, but it has one communication strategy.So the customer experiences the same treatment everywhere, and what's more – by moving to a different channel their experience is not disrupted.
the user is the center of attention
data is recorded according to channels but used to view customer preferences
each point of contact gently changes the communication to match the stage the customer is currently at
Omnichannel is the key to customer loyalty
A multi-channel strategy that puts the customer and their experience at the center allows you to more effectively build a permanent customer base. This is important because attracting new customers is more difficult and costly than retaining existing ones. However, to keep them, you need to know what they expect, which in turn requires deep analysis of their data. If we analyze them in separate silos, assigning them to a channel, we have no chance of getting a full picture of their needs. After all, customers leave their data in all the places on the web they use, but in all places their needs are different.
Very often their purchase intention is born in social media, then they visit a website and often – they postpone their purchase intention for an undefined future. To maintain their intention, you need to precisely adjust your message to the stage they are in. On Facebook, target the inspirational message accordingly. Take care of SEO, so that when the client is already looking for a given product, our offer appears highest in the search results. And then take care of remarketing activities to remind those who glanced at our website without making a purchase.
This complicated path that very often precedes online shopping is the so-called customer life cycle. It is divided into five stages:
reach
acquisition
conversion of
maintenance
loyalty
In each customer needs a different kind of information which will encourage him to go a step further. When the intention to buy is born, the company has to appear in the right place, at the right time, with the right content, then – when the decision to buy has been made – it has to convince the customer that a given product or service is exactly what he or she is looking for, then – that he or she should carry out the transaction in this, and not in any other place.
Once the transaction is finalized, it is time for after-sales activities that should make us, at the next opportunity, the first choice of a customer who has already bought something from us.
Read also: What determines sales in e-commerce, or what to keep in mind when designing customer journey in an e-store
If you like our content, join us on Facebook and Twitter!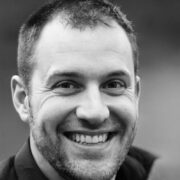 The most important questions
Omnichannel – what is it?

It is otherwise known as omnichannel selling, combining online and offline activities for the convenience of the user.

What is the difference between omnichannel and multichannel?

A multichannel strategy assumes a presence in multiple sales channels but with a separate strategy for each, whereas omnichannel is a holistic approach, assuming a single strategy across all communication media and a similar experience for the user of each medium.

Why bet on omnichannel?

This strategy allows you to build customer loyalty by reminding them at every stage before, during and after the purchase, in addition, it enables you to tailor your offer to their changing needs.