Up to 50% of web traffic comes from mobile devices. This calls for a change in advertising approach. What should mobile email marketing look like to get smartphone or tablet users to open emails? You will find the answer in our article.
Mobile email marketing – table of contents:
Mobile email marketing in numbers
The German portal Statista has published surprising data on future trends in e-marketing. It is estimated that by 2022 the number of e-mails sent will exceed an astronomical 330 billion. Mobile devices will contribute a large percentage of the amount. This means that email marketing will play an increasingly important role in modern advertising strategies. Let's take a look at these statistics to have a better understanding of the potential of the mobile email marketing strategy.
At the outset, let's consider the future key trends in the context of ever-intensifying web traffic.
Companies that are actively using email marketing practices will intensify their efforts in the coming years with the addition of advanced segmentation (in nearly half of the cases surveyed), content personalization (one in three companies) and personality targeting (just under 40% of companies).
The emphasis on this marketing tool concerns its high effectiveness noticed already in the previous years. Mobile marketing consumed about 13% of corporate advertising expenditures while generating about 19% of sales value, convincing companies of the efficacy of this way of reaching the target group.
To get an accurate idea of the benefits of optimizing emails for mobile devices, it's worth citing the exact statistics on this phenomenon.
Mobile device marketing. The indicators are promising
As the statistics portal Statista pointed out, about 50% of all internet traffic recorded in 2019 came from mobile devices. More than half of emails were opened via smartphones, tablets, or laptops.
What's more, the most popular operating system used to open emails was iOS, while Gmail amassed the most email users (over 1.5 billion).
These indicators suggest that there is a clear breakthrough in the use of email on mobile devices. Increasingly, companies are deciding to optimize the messages they send for better smartphone and tablet accessibility.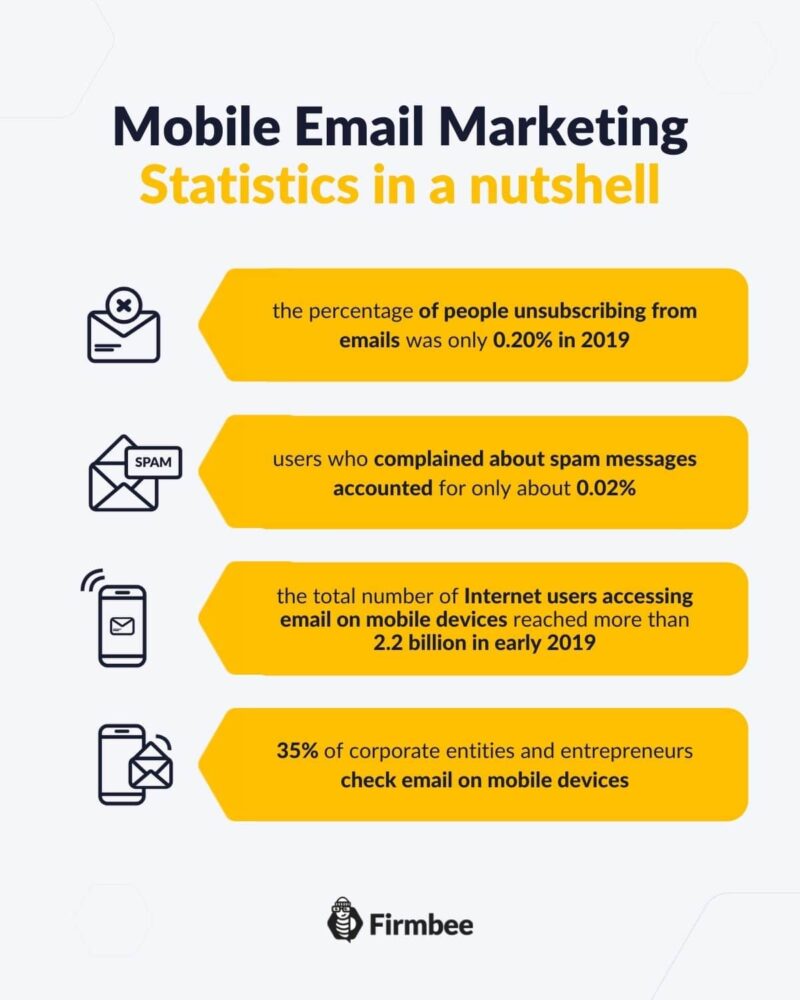 Is it worth targeting mobile devices?
Executing a marketing campaign while ignoring the mobile audience is a big mistake. Statistics cited by Aedestra, among others, point to this fact. The detailed report found that a significant majority of recipients would delete an advertising email that was not optimized for mobile viewing. The percentage opting to do so was highest in the 56+ age group.
What's more:
According to MailChimp data, implementing a responsive email system will increase unique impressions by about 15%;
Inadequate message optimization, or its complete lack, lowers the click-through rate. For PC it is over 70%, and for mobile users the value is less than 20%.
E-mail marketing examples. Statistics in a nutshell
3/4 of businesses in 2019 rated email marketing as an excellent marketing channel. It is appreciated not only for its ease of use but also for its financial viability. It is the most effective tool used on a large scale in terms of investment return. Likewise, it is also a readily applied channel that generates a low risk of failure:
the percentage of people unsubscribing from emails was only 0.20% in 2019;
users who complained about spam messages accounted for only about 0.02%;
the total number of Internet users accessing email on mobile devices reached more than 2.2 billion in early 2019;
35% of corporate entities and entrepreneurs check email on mobile devices.
Read: How to create a successful e-mail marketing campaign?
If you like our content, join our busy bees community on Facebook and Twitter.