Long tail positioning is an effective method of website promotion. Positioning has many different schools and various strategies. One of them is long tail positioning, which uses long tail keywords. What exactly does this mean and who can use this way of promoting a website?
Thanks to the diversification of positioning methods, it is possible to achieve better effects of such actions. One method that is often used is long tail positioning, i.e., positioning based on detailed, usually multi-word keyword phrases. Thanks to this method, you can promote your website even on hundreds of different phrases at a low cost. What exactly is long tail positioning and what benefits does it bring to website owners?
Long tail positioning – table of contents:
Long tail positioning – basics
The "long tail" method is not new in the SEO world, and its strategic importance for obtaining specific results (attracting customers interested in the offer, service, purchase) has been known for a long time. By choosing for positioning not five, not ten and not even twenty keywords, often very popular and competitive, but several hundred or even several thousand phrases, you can significantly improve the visibility of your site.
At the same time, you do not have to worry about the cost of such an undertaking. Positioning services for long tail phrases are very attractively priced.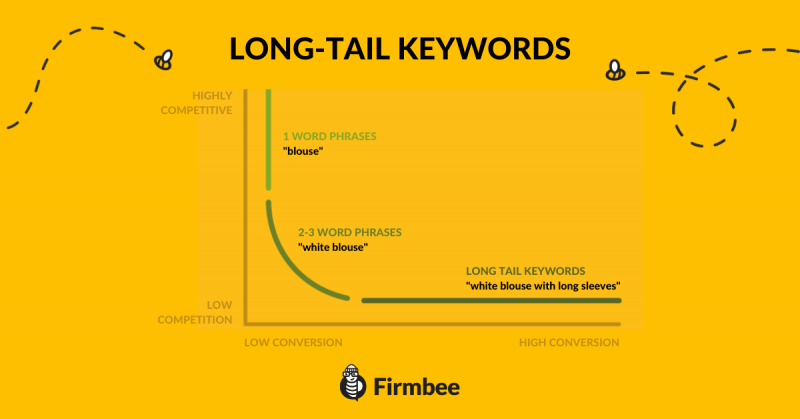 What does long tail SEO consist of?
Simply speaking, it can be described as positioning based on the promotion of a website for many different key phrases with a specific, precise and detailed structure. Most often these are primarily:
exact product names,
specific service names with detailed location,
personal information linked to a business, such as an artist,
models with partial technical description, e.g., phones, computers.
Long tail is based on supplementing traditional positioning for main keywords with positioning for numerous phrases that increase the chance of conversion of actions.
Input = action
Conversion in the world of e-marketing and SEO it's a situation in which an Internet user, after entering a website, makes an action on it. From the point of view of a seller in an online store, it will be primarily the purchase of a product. The entries obtained from a detailed long tail phrase make the conversion rate higher.
This is due to the fact that long tails allow Internet users to find websites and stores with content they are actually interested in. After entering them and finding the product they are looking for, they usually decide to buy it right away. That is because they do not have to click through dozens of subpages, but find everything with one click in the search engine.
How to choose the right long tail phrases?
First of all, do not limit yourself. Long tail SEO is about describing your website with as many different words and key phrases as possible. We can divide positioning not only into the homepage and a few tabs, but also subpages of categories or products in the case of online stores. Phrases should be chosen according to, for example, the assortment available in the store, thematic content discussed on the site, location of services provided.
Although long tail gives virtually unlimited possibilities, the phrases must remain related to the content of the page. Choosing words related to a completely different industry completely misses the point.
The benefits of long tail
The owner of a website, which is positioned in this way, can expect specific effects of these actions. This is primarily the increased conversion rate mentioned above, but not only. SEO long tail means also a higher number of visits to the website. Also more Internet users getting to know its content and remembering its name.
Since there is less competition for long tail phrases, it is much easier to "knock" them into the TOP and keep them on high positions. Additionally, such long tail positioning is financially beneficial: it allows for promotion of many keywords with even a small budget outlay.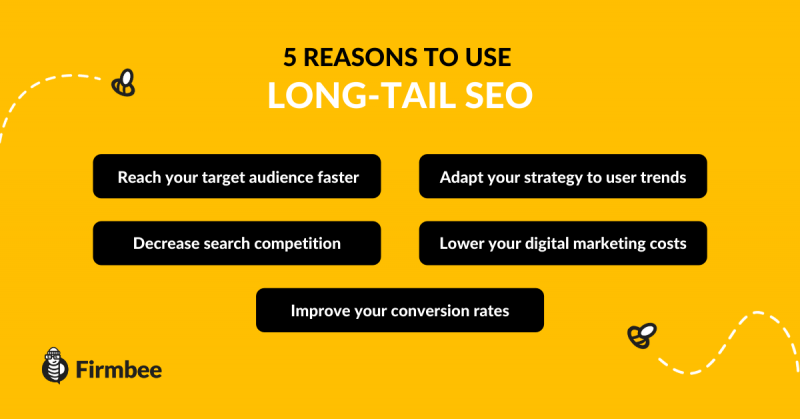 How to tailor SEO for long tail?
The role of an SEO is to look at the content of the site and its subject matter. It should assess whether the website is suitable for long tail SEO, whether it has a sufficient number of bookmarks and subpages that could generate traffic.
If not – it is worth suggesting to the owner to expand it and take optimization actions. The positioner should also use advanced tools to facilitate the selection of appropriate phrases. Actions taken must be consistent and at the same time complement, not completely replace traditional positioning.
Another thing, that is connected to long tail positioning is voice search. It seems to be crucial from a SEO point of view and you can learn more about it here.