In the era of increasing digitization of work and gradual departure from traditional employment, companies increasingly rely on freelancers or independent contractors. To facilitate that cooperation, Freelance Management System (FMS) appeared on the market and today we would like to focus on introducing that solution and show its key elements.
Key elements of Freelance Management System – table of contents
What is Freelance Management System?
In recent years, the demand for people with specific knowledge or skills who can assist the company "from the outside" has increased significantly. Their services have proven indispensable for companies running sophisticated projects. As the demand for such employees increases, it is necessary to develop an appropriate strategy or system to manage them.
The systems for managing traditional employees along with measuring their productivity and efficiency in the form of spreadsheets or other non-integrated programs are definitely won't handle freelancers. Thus, applying traditional methods to independent contractors makes their work, and at the same time their productivity, severely limited. For this reason, more and more organizations are looking for a proper freelancer management system. So what is Freelance Management System (FMS)?
Freelance Management System
is a cloud-based solution to help companies manage their freelance resources i.e., freelancers. Alternately, it is also called freelancer management platform or program.
The right FMS can assist organizations by removing any inefficiencies at the same time storing all the relevant data. Without it, managing freelancers is difficult and very time-consuming. FMS systems are therefore ideal for actions such as implementing and organizing contractors, enforcing work compliance with local laws, tracking and reporting costs, and forecasting expenses.
Key elements of the FMS
The common elements for all freelancer management systems are Acquisition and implementation, Managing freelancer database, Team organization and Payment. Without further ado, see what these elements encompass.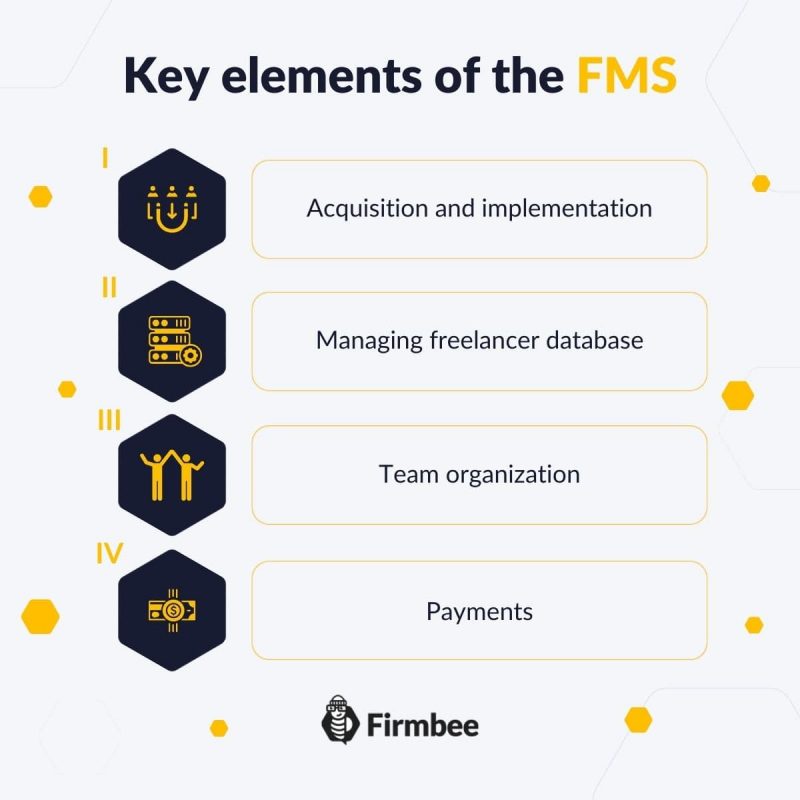 Acquisition and implementation

The first step in hiring a freelancer is to get one. It involves finding the right person needed for our project. Within FMS, the hiring process analyzes match options based on the freelancer's skills and the company's expectations. The quality of this freelancer database determines how quickly we find the right candidate.

Once we find the recruit, the second stage called implementation begins. It consists of providing the newcomer with training on technical matters such as signing contracts, creating invoices, setting up payments, contacting the project leader, etc. Also, the company hands over the tools it operates with to enable the outsider a swift settlement.

Managing freelancer database

Sourcing and implementing freelancers is a demanding process. However, you don't necessarily have to repeat it each time you start a new project. Flexibility and the selection of freelancers with specific skills required at a given time is a significant advantage over traditional employment. This is why organizing the right freelancer database is a very important aspect of any FMS.

With built-in features for managing a database of freelance workers, a well-chosen FMS should enable businesses to quickly search for employees based on, among other things, their current availability, the rate at which they are willing to work, and other factors relevant to the organization.

Each FMS should include the faculty to evaluate the work of such freelancers, as well as the ability for other team members to give that person feedback upon terming contracts. Such feedback proves really valuable for companies using freelance workers, as it comes from people directly involved in the project.

Team organization

Working with traditional full-time employees differs significantly from working with freelancers. As companies looking to hire freelancers for more flexibility and expertise, they need to expect freelancers to work around their own schedules and remotely. FMSs address the challenges of remote work through features such as webcam interviews, group chats, and integrations with tools used by others at the same time. Furthermore, through this integration, aspects such as available budgets and schedules become updated in real-time.

Payments

Good FMS systems offer transparent tools regarding payment monitoring. They make aspects such as payment visibility or status available to both parties. This avoids confusion when paying out money for work done, as well as disagreements associated with incorrectly organized payment statuses. FMS systems offer tools such as invoicing, approval and scheduling of future payments. With a database of past transactions, it is easy to organize expenses and optimize them accordingly.

Summary

Using the right system to manage freelance workers supports maximum utilization of their capabilities, saving them time, and creating a more cost-effective and flexible environment for working with each other.

Read also: Popular management styles – Lewin-Lipitt-White & Reddin's approach

If you like our content, join our busy bees community on Facebook and Twitter.

Author: Andy Nichols

A problem solver with 5 different degrees and endless reserves of motivation. This makes him a perfect Business Owner & Manager. When searching for employees and partners, openness and curiosity of the world are qualities he values the most.