Have you ever wondered how to work remotely? Not every company needs to have an office, even if they have employees. Remote working is an increasingly popular solution. This form of employment has its pros and cons, both for employees and the employer. Are you considering it? Check what to remember and what to look out for when deciding to run a few-person company without an office.
How to work remotely – table of contents:
Employing remote workers eliminates the costs of renting premises, including utility charges or hiring a cleaning company. The money saved can be spent on company development or salaries. By choosing this form of cooperation, the entrepreneur can also afford to employ specialists from any place in the world, without being limited to a particular city and without the need to bring them to the company.
A company without a registered office? Legal matters
Every company must have a registered office – the address at which the company will sell, produce or provide services must be given to the authorities. If an entrepreneur does not want to rent an office, he can give his residential address as the main place of business.
It is also worth knowing that remote work, also known as e-work or telework, is a form of employment regulated in the labor law. According to the Labour Code (Section II Labour Relationship, Chapter II b – employment of employees in the form of telework) such work:
May be performed regularly outside the workplace, using electronic means of communication within the meaning of the provisions on the provision of electronic services (teleworking).
A teleworker is an employee who performs work under the conditions specified in § 1 and communicates the results of the work to the employer, in particular by means of electronic communication
So, in a nutshell, telework is about providing work outside the workplace and sending its results to the employer via, for example, e-mail.
The employment of employees in the form of telework can take place both based on an employment contract and a civil law contract, i.e. contract for specific work, commission or agency contract.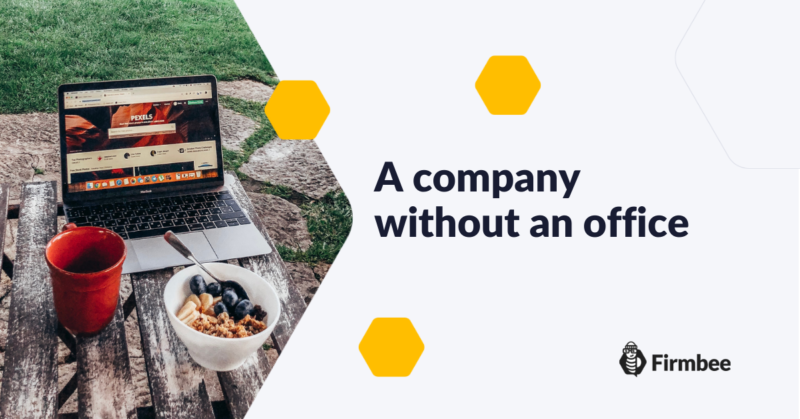 Hire the right people
Remote work is not for everyone. In addition to the knowledge required, a remote worker should be able to manage their own time and be independent. Look for people who do not need to be managed. Communication skills and clear formulation of thoughts and instructions are also important, as remote communication has its limitations.
Remember that even if you are in touch with each other only from time to time, it is worth looking for people with whom this contact will be a pleasure. Working with an extremely talented, but difficult in cooperation specialist can also turn out to be a misfire. Of course, it is not about focusing on the character of employees instead of their competence. However, seek comprimise. "90% of a company's culture is created by the people you hire," believes Sean Byrnes, a business angel and the CEO of Flurry.
Ensure good communication
A big hurdle in remote work – especially at the beginning – can be the lack of control over employees. Discussing current tasks and controlling their work via the Internet is more difficult, even despite various technological solutions.
You need to make sure that your employees know exactly what you expect of them, what they are expected to do and what is currently happening. Everyone should know their role in the team and who they can go to if they have a problem. Feedback is equally important. In addition to delegating tasks, good leaders also know how to listen, ask questions and provide guidance. A good idea is to introduce into the company schedule short, regular meetings with employees, e.g. via Skype or Google Hangouts. During which the team will be able to talk about what they are working on, what still needs to be done, and if there are any problems.
Moreover, have a casual meeting from time to time. Remote work also makes it difficult to build and maintain relationships with co-workers, and this can have an impact on team morale. Foster good relations with employees and provide them with a place where they can talk to each other, not only about work-related issues. This will make it easier for them to get to know each other and become friends. If you think that such a videoconference won't work, try setting up a topic channel on Slack, a group chat on Skype or even a group on Facebook.
Determine overlapping hours
Remote working is associated with flexible working hours. Some employees prefer to work in the morning and others in the evening, thanks to which they are more efficient. Nonetheless, such an arrangement can hinder the work of the whole team – it is more difficult to work when replies to emails and other messages come several hours late. Additionally, if you work by yourself when you want to, you'll actually always be working. And this means that you will be available for calls from Monday to Sunday, both at seven in the morning and at ten in the evening.
So think about whether to impose two to three hours a day or week for yourself and your employees, during which time everyone should be online.
Map projects
It's much easier to sit down to work or monitor your team's progress when you know exactly what needs to be done. When working remotely, it's a good idea to plan and break down all important projects on a whiteboard or timeline.
A method often used by startups and developers to organize work is Scrum. Scrum is a method where projects and tasks are written on pieces of paper, and then pinned to appropriate columns on a whiteboard – the columns represent successive elements of the process (e.g. "planned", "in progress", "testing", "urgent to complete", "done"). In the first column, a queue of tasks is formed, which are prioritized and how many hours are expected for them (using different colors of cards you can divide them into categories). Then the cards are placed one by one from left to right as the work progresses to the "done" section.
Thanks to this you can follow the development of the project on an ongoing basis, estimate what the biggest problems are. Is the work going according to schedule and how many tasks are still to be completed? This makes it easier to control the work of the team – remote workers are usually accounted for the results achieved, and not for the time spent at the computer.
Perhaps you are a project manager? If so, be sure to read our article about challenges related to remote work and how to overcome them.
What do you think about remote work – is it worth it or is it better to work in an office? Share your opinion and tag us on Twitter!