LinkedIn is a social networking site used for business networking. An increasingly popular method of recruitment is to look for candidates specifically on LinkedIn. In this article, we present 10 tips on how to use LinkedIn for recruitment together with some handy hints for recruiters concerning creating an attractive profile on LinkedIn that will encourage candidates to respond.
LinkedIn for recruitment – table of contents: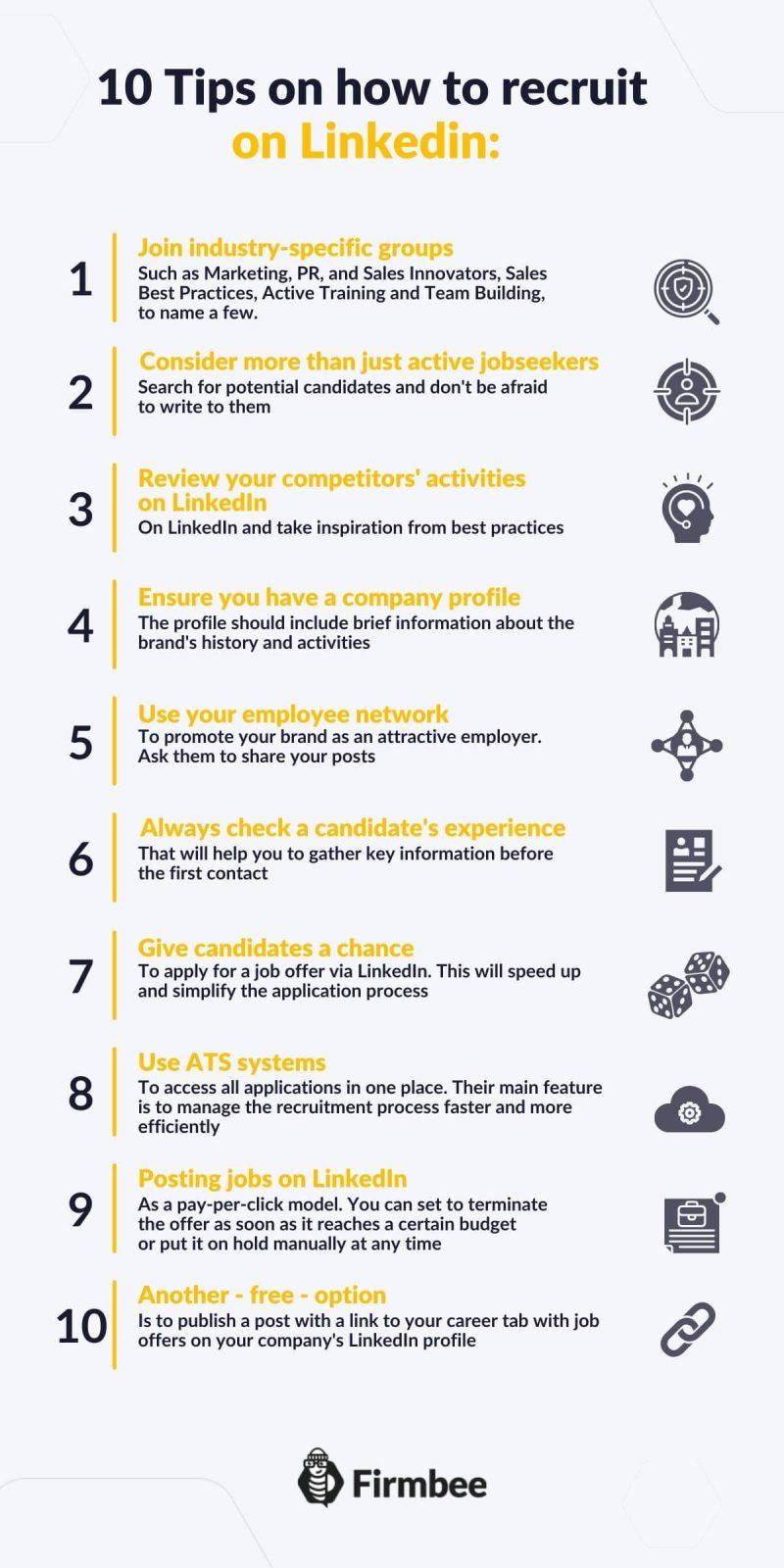 10 tips on how to use LinkedIn for recruitment
Join industry-specific groups on LinkedIn such as Marketing, PR, and Sales Innovators, Sales Best Practices, Active Training and Team Building, to name a few. Build your network of friends to have direct contact with people actively seeking jobs in the industry in which you recruit and stay up-to-date with industry issues, new technologies and events organized.
Consider more than just active jobseekers – perhaps your offer will interest someone who wasn't planning on changing jobs at the time and you'll be able to attract real talent to your organization. Search for potential candidates and don't be afraid to write to them.
Review your competitors' activities on LinkedIn and take inspiration from best practices.
Ensure you have a company profile on LinkedIn to reinforce your employer brand. The profile should include brief information about the brand's history and activities, and you can also include photos of your office or happy employees.
Use your employee network to promote your brand as an attractive employer. Ask them to share your posts, which will increase their reach and allow you to reach potential candidates.
Always check a candidate's experience and references on their profile. Whether they are actively looking for a job and have a complete and updated profile. That will help you to gather key information before the first contact.
Give candidates a chance to apply for a job offer via LinkedIn. This will speed up and simplify the application process, thus having a positive impact on the candidate experience.
Use ATS systems to access all applications in one place. Their main feature is to manage the recruitment process faster and more efficiently.
Posting jobs on LinkedIn functions as a pay-per-click model (a fee is charged when a candidate views a job offer). You can set to terminate the offer as soon as it reaches a certain budget or put it on hold manually at any time.
Another – free – option is to publish a post with a link to your career tab with job offers on your company's LinkedIn profile. That's how you will reach people who already know the brand and are interested in it in some way. When the company profile is active and has a large group of followers, it is easy to extend the range of such an offer. What's more, you can spare some budget and opt for sponsored posts to boost the visibility of your offer.
What else can you do as a recruiter
Take care of your profile – upload a professional, recent photo, fill in the headline, describing your position and the industry in which you recruit. Likewise, write a summary where you can include your experience or describe your interests. Add previous positions and publish certificates confirming completed courses or training. Introduce yourself to candidates taking the most professional angle.
Create your personalized URL. You can easily change it your settings by replacing the numbered URL with a user-friendly version such as your first and last name.
Keep SEO in mind– make sure you include keywords in your headline and summary that candidates can search for.
Customize privacy settings – you can hide some information, certain contacts, or data. Take care of the security and privacy of both you and your candidates.
Don't forget about good manners. On the web, personal manners are also important. Make sure your messages are polite, your language is correct, and you don't send mass messages that look like spam.
Be active – LinkedIn is a business social media. Engage in group discussions, publish valuable content and articles, comment on and share intriguing posts by your contacts. This will increase your visibility and the reach of your profile.
Regularly check your LinkedIn stats to see what's working well on your profile and what needs sharpening.
You may also like: 8 tips on how to reduce recruitment costs
Check out our video about making a perfect recruiter profile on LinkedIn:
If you would like to stay in touch with our content, join the busy bees' community!