Why are we writing about e-mail marketing automation?In the world of marketing, a lot of space is devoted to search engine advertising (PPC), SEO activities, or social media, and e-mail marketing seems to be boring. But don't let that fool you. It is still one of the channels that enables you to achieve the highest return on investment. It is worth getting interested in it especially now, when many tasks can be made easier precisely thanks to e-mail marketing automation.
E-mail marketing automation – table of contents:
General Data Protection Regulation
The changes associated with the implementation of GDPR, although marketers were very much afraid of them, have brought a lot of benefits. According to the "Email Marketing in Numbers" and "Email Marketing Industry Census" reports, the overall effectiveness of email marketing has never been rated so high.
GDPR began to strictly require marketers to conduct all email marketing activities with full transparency. This meant that no mailing should be sent without all required consent. At the end of the day, today users only get the information they are interested in. So the chance that they will make a purchase is high. How to take advantage of this and make the task of sending emails easier? We have the answer: e-mail marketing automation.
What is email marketing?
What is today's e-mail marketing? Certainly not a mass sending of messages to addresses from a random list! Email marketing, like any other digital advertising channel, focuses on data today.
Everything starts with acquiring e-mail addresses. You can do it by offering customers a discount in exchange for signing up for a newsletter or conducting profiled lead generation activities (activities aimed at building a database of people potentially interested in our offer).
When there are enough addresses, divide or categorize them, creating something like a subset containing data on people with specific preferences or characteristics, e.g. demographic ones.
Then there is nothing left but to create personalized messages for the needs of specific segments. In practice, you can carry out the segmentation according to any division. However, if we distinguish e.g. a group of women from big cities aged 20 or below, the mailing should contain the offer of products interesting for them and written in a language tailored to these recipients.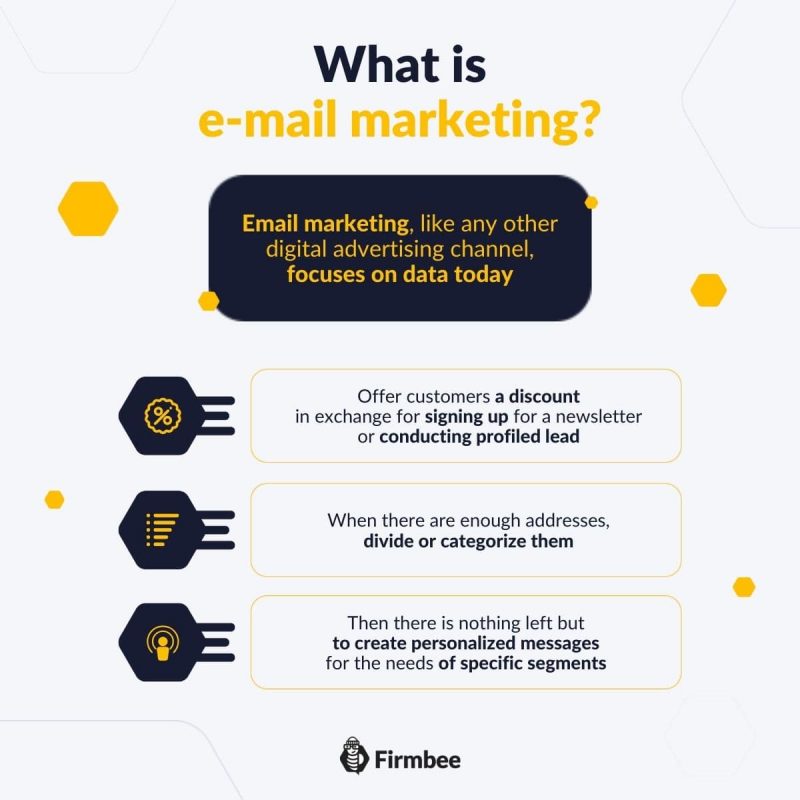 What is marketing automation?
Marketing automation is the process of using technology to streamline marketing efforts (including email marketing) and make them more effective. It features a single automation platform to manage your campaign through email, social media marketing, mobile communications and ad management.
Through technological advances, it is possible to track and analyze customer behavior and create marketing processes that unify the customer experience across multiple channels. The combination of these by design aims at improving sales and funneling efficiency.
How to use e-mail marketing automation in e-commerce?
E-mail marketing is not limited to e-commerce, but in fact, sellers can fully utilize its capabilities, especially in processes focused on maintaining relations with customers.
Thanks to e-mails, customers can take advantage of special offers, discounts, rebates and sales. However, for the message to be effective, it is necessary to take care of the aforementioned personalization and offer customers what they may interest them most.
Marketing automation system, in turn, is handy both for basic applications (such as sending autoresponder), and also to create more complex scenarios triggered by specific events. For instance, after a purchase, to send an offer with products complementary to those bought earlier.
Read also: How to create a successful e-mail marketing campaign?
If you like our content, join our busy bees community on Facebook and Twitter.