Do you know that blogs are still popular? That seemingly uncomplicated tool renders a variety of features. Yet, you must have heard that a blog is no workplace. Today, we'll debunk all the myths concerning this medium. One thing is certain – a blog may become a money-maker. What should you do to make it happen? Here, we're giving tips on how to set up a blog for affiliate marketing. Check our article to find out!
Blog for affiliate marketing – table of contents:
Blog vs. online diary
For many people, a blog still evokes associations with a diary from their teenage years. Nothing could be further from the truth. The versatility of the tool is impressive. A blog is one facet of a website. Who is blogging today? They range from freelancers to large companies or prominent brands. A blog serves to educate and tell the daily news of the authors' lives. Traditional newspapers involve constant repurchasing of individual columns and print time delays the flow of information. A blog, on the contrary, is a powerful tool to keep our operations on the web in one place while working efficiently and dynamically.
Is shorter less professional?
Saving time does not make blogs a less reliable source of information. A publication shouldn't consist of randomly jumbled assumptions to fill space. Recognizable brands (including personal brands) inspire more trust in this regard. The rapid pace of publication derives from abandoning planning, executing and organizing print. Remember, you don't have to forcefully shorten a good publication just because you don't fit within the imposed character limit. What else do we like blogs for? The text printed in the newspaper remains the same forever. With a blog, however, you can constantly improve the site, improve, clarify, correct or update. You can always come back to it, it's clear and readable for you and your readers
Blog for affiliate marketing – time to start
As with any other form of cooperative marketing, the greater the reach among your audience, the better. The advantage affiliation offers concerns starting at many stages, whether you are a rookie or a seasoned pro. You don't need complicated contracts – joining an affiliate program is enough. The key is to aptly choose a program that is closely related to the topic of your blog. This is a way to attract interested customers and build trust with more users.
For instance, if you have a blog about cooking, you can promote home appliances and food products. If you are a professional cosmetologist, you have a chance to earn money by recommending organic cosmetics. A blog for affiliate marketing provides an incredible range of possibilities.
That's how to set up a blog for affiliate marketing!
The instructions for action in blog for affiliate marketing are not long. Nor do they differ from other forms of cooperative marketing. The step-by-step process is as follows:
find your topic, find a niche;
prepare a website, and recommend its visit in other media;
join the program and get links;
set up an account on Google Analytics to track where and when traffic comes from – improve based on real solutions;
plan what, when and how. Write down your goals: for example, assume that you will write about upper body training on Monday and fitness training on Thursday.
Affiliate link
The way to make money in blog for affiliate marketing is no different from other forms. The basis is to generate an affiliate link and post it, for example, as part of a topical advice article. Depending on the program your link will enable you to earn through:
selling a product and earning a set commission,
a set amount from each sale,
conversion is understood as a click on the affiliate link, which redirects the user to the advertiser's website.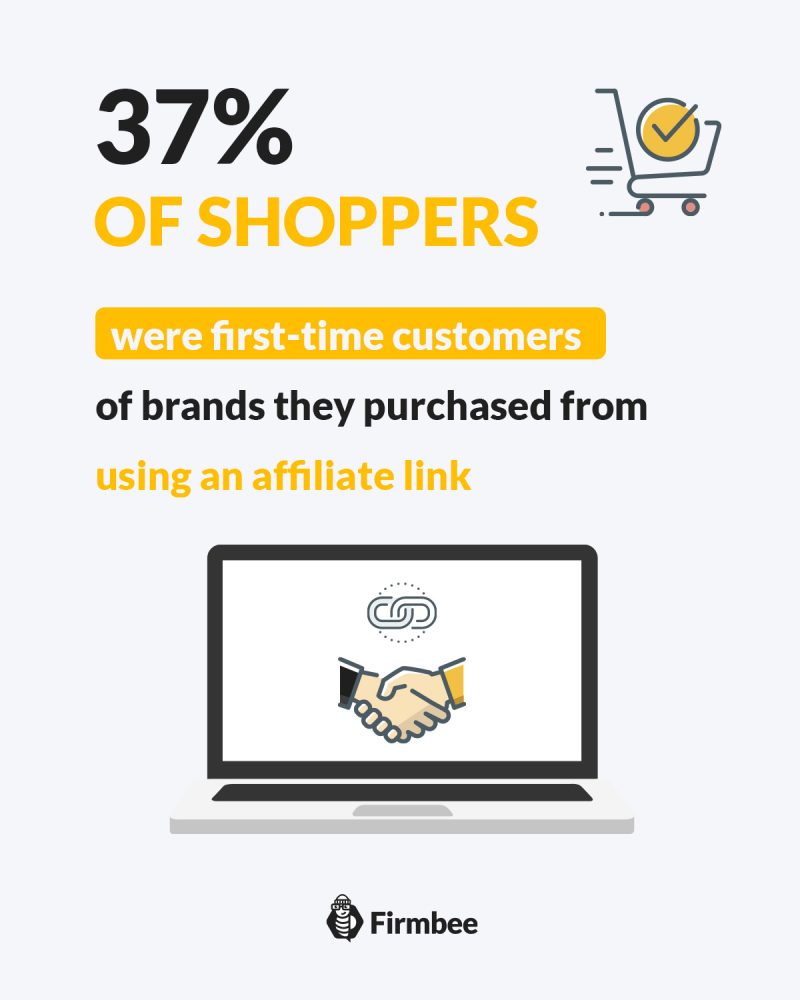 A well-thought-out website
If you haven't blogged before, consider using available templates. The most popular among bloggers is WordPress (as many as ⅓ of bloggers use it!). Wix, Blogger or SquareSpace may also be interesting alternatives. Check out what each package gives you. If you want to go in video forms find out if the chosen platform has limits on posting them. What else do you need to do?
Determine your audience. You need to know what message language to target. Have you run a social media channel before? It can be quite a hint!
Once you've chosen a platform, choose a layout. Immediately create basic tabs – a category that talks about you, recent publications and, for example, thematic guides. Plan the site to be clear and intuitive.
Create content: high quality, added systematically and promote on other channels. Keeping the blog as a hub for your operations or just complementary to your other channels.
Create your online products – e-books, webinars and online courses. Become a respected and professional author who can boast knowledge.
Texts that sell
What kind of text allows you to place a link? There are no restrictions from the technical side. Let's focus on the most popular solutions.
The already mentioned guides are go-to text for affiliate blogging. They remain zero-failure methods, just review a product, describe its applications and crown the text with an affiliate link. Voilà!
If you want to promote more products in one post, your best bet is on TOP product listings. For example, show the top 10 running shoes then link each pair with an author's site.
Choose to promote the product openly. Don't hide the fact that it is an advertisement. For instance, praise an organic hand cream because it brought relief to your problems.
Make a tab on your blog titled: "Recommended." Keep there the promoted items visible and show your readers where they can find more information on them.
DIY instructions never lost in popularity too: "Do it yourself, but to get the most, go for this paint to refinish old furniture."
Regardless of the type of text, don't forget about Call-To-Action button: "buy", "try it out" or "check it out yourself".
Be visible
A blog by nature entails SEO tools. Senuto and SeoStation are your most helpful resources to draw from. Both offer free trials. Do your part to make your blog appear as high as possible in search engines. Your potential advertisers are paying attention. Use key phrases then examine what words you get searched most. Remember, your blog is your business card. Take care of it every day and treat it as a workplace with potential. Develop and act as a blogger and you'll surely make it!
That's all you need to know about setting up a blog for affiliate marketing. Read our other articles about affiliate marketing, e.g. How to succeed in affiliate marketing? – 6 rules for success
If you like our content, join our busy bees community on Facebook, Twitter, LinkedIn, Instagram, YouTube, Pinterest.