Social media have become an excellent platform for information flow. They serve not only as a place for free data exchange – their complexity can also come in handy for business purposes. One of the most compelling applications is the implementation of the recruitment process with their help. Using Facebook as an example, this idea can be easily implemented. We present what is what this process consists of and how to recruit employees effectively.
How to recruit employees using Facebook – table of contents:
You already know how to create a Facebook business page. Are you looking for new employees now? Check out what Facebook recruitment has to offer and how to find the perfect candidate through this portal.
Four ways to find the perfect candidate – how to search for candidates on Facebook?
American developers have been successfully extending the spectrum of Facebook functionalities. By implementing new options to the service in recent years, they have changed the face of this social media for good. A huge crowd of Internet users, concentrated on a single site, is the richest database of potential employees, which can be recruited to your company. Facebook tools allow tracking down "ideal employees" who meet the desired characteristics of the employer. There are several ways to make Facebook recruiting effective.
How to recruit employees on Facebook? Create a recruiter profile
A great solution on how to search for candidates on Facebook is to set up a dedicated recruiter profile. The profile is the private page of the person responsible for recruiting in the company. Therefore, it must be complete, outright, and rich in detailed content. To do it, use the option available in the upper right corner after logging in to your private profile. From the drop-down menu, visible after pressing the "plus" marker, you will have the option of creating a personal page that can act as a recruiter profile.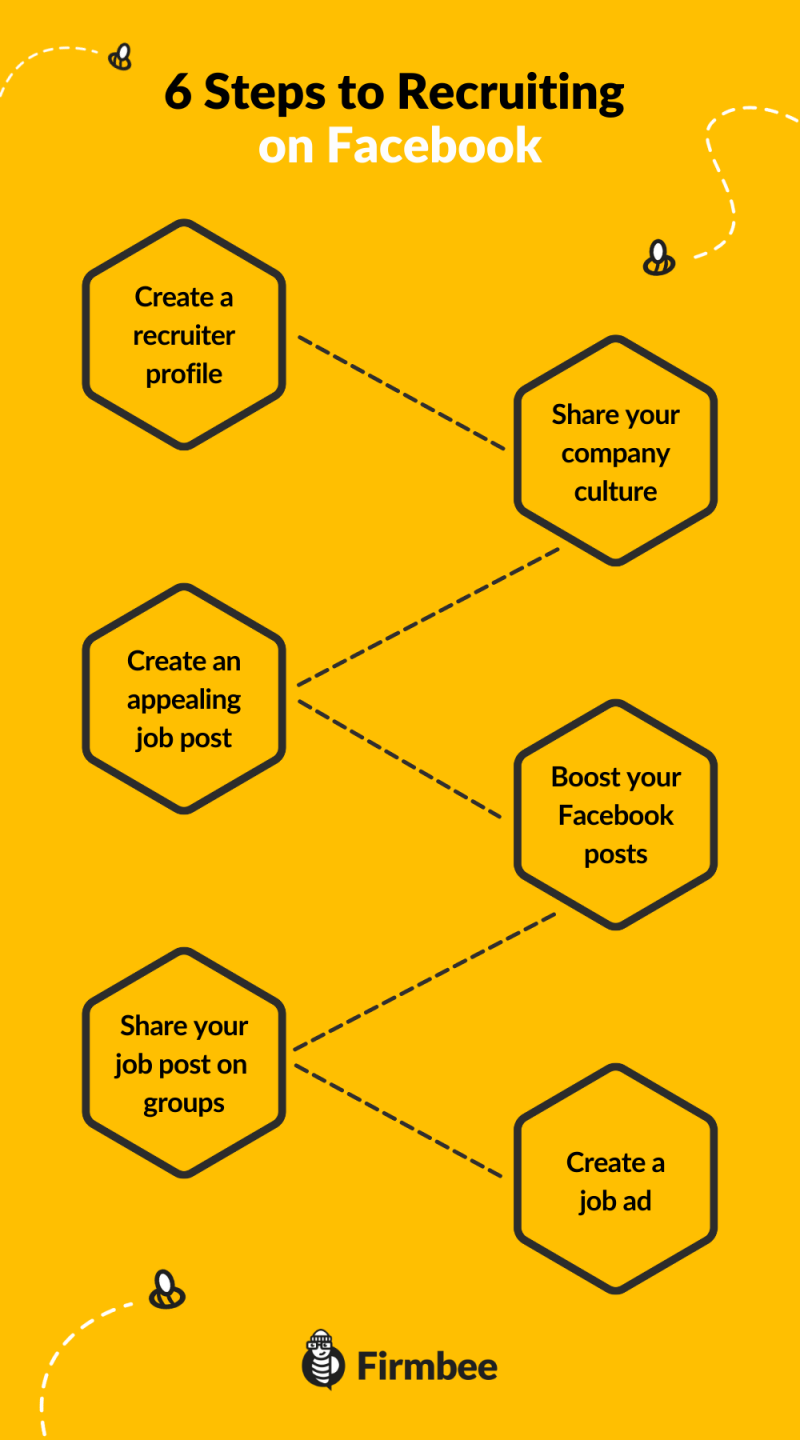 Why is a recruiter profile important?
This is important primarily because job seekers will go directly to this sub-page. A dedicated page should have a profile picture, a background photo, and a description of the recruiter's most relevant characteristics. It should also include information about completed courses, schools, exams. This will make the recruiter, who is directly associated with the employer, more reliable and honest in the eyes of the future employee.
How do you search for employees on Facebook? View original submissions from candidates
Recently Facebook has provided an option to search for jobs for every user registered in the social network. This function is available in the panel located in the left part of the page layout. Under the pictogram of "briefcase", there are hidden job ads, tailored to the user's preferences.
Each time a candidate sends an application, they are asked to motivate their request. When a candidate applies, a conversation window pops up to connect the candidate with the employer. The recruiter can browse through the submitted applications and select those that seem most relevant to him. Such recruitment on Facebook is passive – the employer, after creating a job ad, is waiting for applicants to apply.
Facebook recruiting vs. paid advertising. Does it pay off?
An optional method on how to recruit on Facebook is to purchase a paid job ad. This will have a static form and will be displayed as a traditional sponsored post.
Increasingly, marketing techniques focus on encouraging candidates to interact. It is worth taking advantage of this opportunity and instead of bare text, insert a short video or a folder with photos. The undoubted asset of this form of recruitment is the ability to accurately determine the target group, which will be our post. Therefore, you can even at the time of advertising design, make a detailed selection of candidates, displaying it in the post.
Free forms of employee search on Facebook
There are also free ways on how to look for employees on Facebook. They consist of adding ads on special thematic groups. Groups bring together people who are looking for work locally or in a particular profession. However, this method requires more activity on the part of the recruiter – very often the administrators have to approve it, and the recruitment post must not have the characteristics of spam. An alternative method is to add free ads directly on the company's fanpage. The downside of this solution is a much smaller range than in the case of paid advertisements.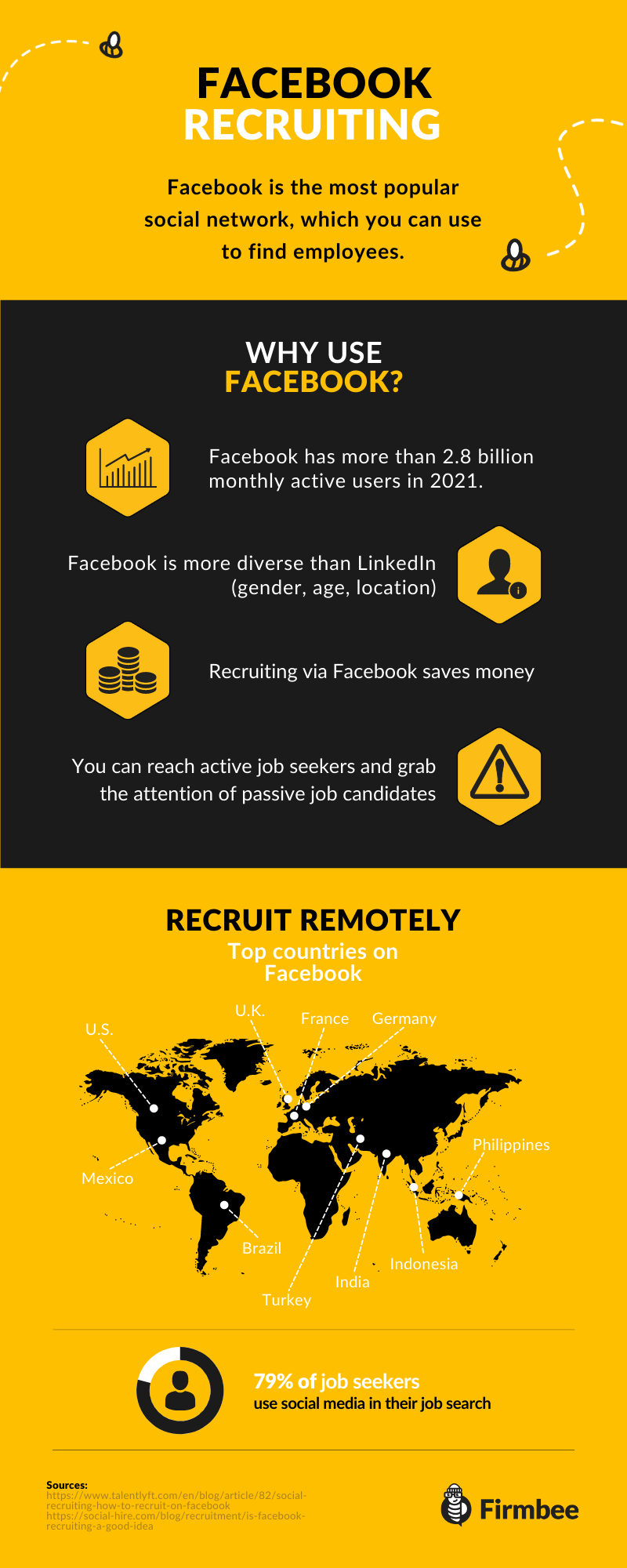 Now that you know how to recruit employees using social media, such as Facebook, let's see if you are familiar with its contests rules – a useful and yet slightly underestimated tool in maintaining your business fanpage