Shipping costs and waiting time may influence the purchase decisions of users. Therefore, if you consider Etsy as an enhancement of your marketing operations, take a look at our review to see all available options and costs. Today we would like to present the most important information about shipping on Etsy.
How to manage orders and shipping on Etsy? – table of contents:
How do I ship sold products?
Developing a shipping strategy involves making several decisions, including choosing a carrier, determining costs, pickup and delivery methods. The onus is on the seller to ship orders to the buyer. To streamline this process, Etsy offers sellers several tools:
shipping profiles,
competitive shipping costs,
Etsy shipping labels.
A seller who lists their products on Etsy agrees to:
provide a true forwarding address,
determine shipping cost and processing time,
ship orders immediately after the product is sold,
comply with freight and customs regulations (national and international),
mark an order's status to "shipped" as soon as it is shipped,
specify the appropriate shipping cost.
Processing time and "Ship By" dates
Product processing time is the time it takes for the seller to prepare the product for shipment. If the offer is for custom products, the seller has add production lenght in days on top of processing time.
To determine the processing time of a product:
Log in Etsy.com → "Shop Manager" → "Settings" → "Shipping settings" → "Shipping profiles" → "Add a shipping profile" → "Processing time" it can range from 1 business day to 10 weeks → "Create profile"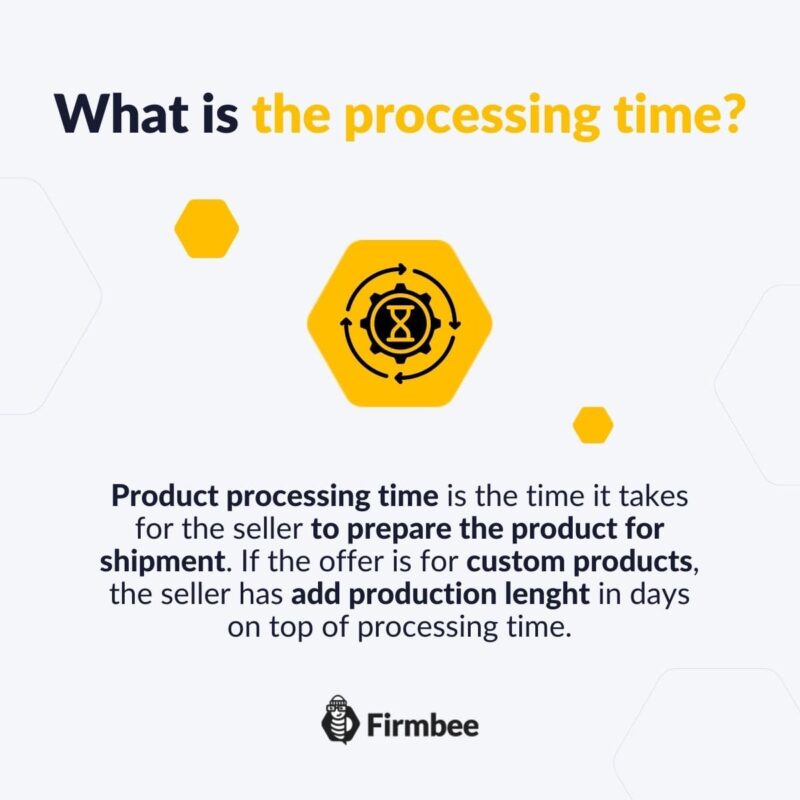 The "Ship By" date is the date by which the seller commits to ship the order. If the processing tuition is not specified, the buyer will not be informed about the shipping date.
Free shipping on Etsy
US retailers can offer free shipping to US customers. Stores that offer this benefit can expect their listing to appear higher in search results. Free shipping applies to orders with a minimum value of $35. A merchant can enable such an offer by:
"Shop Manager" → "Settings" → "Shipping settings" → "Free shipping guarantee" -> "Get started" → "Next" → "Setfree shipping"
Sellers shipping a product overseas can offer buyers lower shipping costs by adding the value of domestic shipping to the price of the product. For example, when selling a $20 product, domestic shipping is $5 and international shipping is $10. The seller can increase the price of its product to $25 and thereby reduce the international shipping costs. Ultimately, the total price to the foreign buyer will not change, but the offer will be more attractive.
To update international shipping costs, follow the path:
"Shop Manager" → "Settings" → "Shipping Settings" → "Edit" → Reduce international shipping costs by domestic shipping costs → "Save profile"
Intelligent pricing tool
Sellers whose store is located in the US and want to offer buyers a free shipping guarantee can use a smart pricing tool. It will help them adjust product prices and amortize shipping costs at the same time. The tool is available for US-based sellers, and using it is optional.
Shipping Profiles
Creating shipping patterns saves sellers the time they would need to spend adding shipping costs to each listing separately. Making a change to any template will cause all listings that use it to be updated as well.
The creation of a shipping pattern follows a path:
"Shop Manager" → "Settings" → "Shipping settings" → "Shipment Profiles" → "Add shipment profile" → add shipping information → "Save"
Linking the offering to ready-made templates can be done by:
"Shop Manager" → "Listings" → select the listing to which the pattern should be added → "Editing options" → "Change shipping profiles" → "Select profile" → choose a shipping profile → "Apply"
Each listing can only be associated with one template.
Shipping labels
Sellers in the US, UK, Canada, Austria and India who accept Etsy Payments or PayPal can purchase shipping labels directly from Etsy. Sellers from other countries can purchase such labels from their carriers. This saves time because such a label can be printed at home.
US-based sellers can use Etsy to buy USPS or FedEx shipping labels. In this way, they can save up to 30% compared to standard retail prices.
The above is a collection of basic information that a seller considering shipping on Etsy must know. Detailed rules of shipping on this platform can be found at this link.
Check out our other e-commerce articles: How much does it cost to sell on Etsy?!
You can also stay in touch and join our Facebook community!