Webinars thrive on the Internet. The lockdown caused by the coronavirus gave rise to fresh solutions. Webinars, or online seminars, allowed creators to continue to share knowledge without having to actually meet the audience. Have you already started to exploit webinars and want them to become popular? Check out some of our 5 useful tips.
5 tips to draw your webinar audience – table of contents: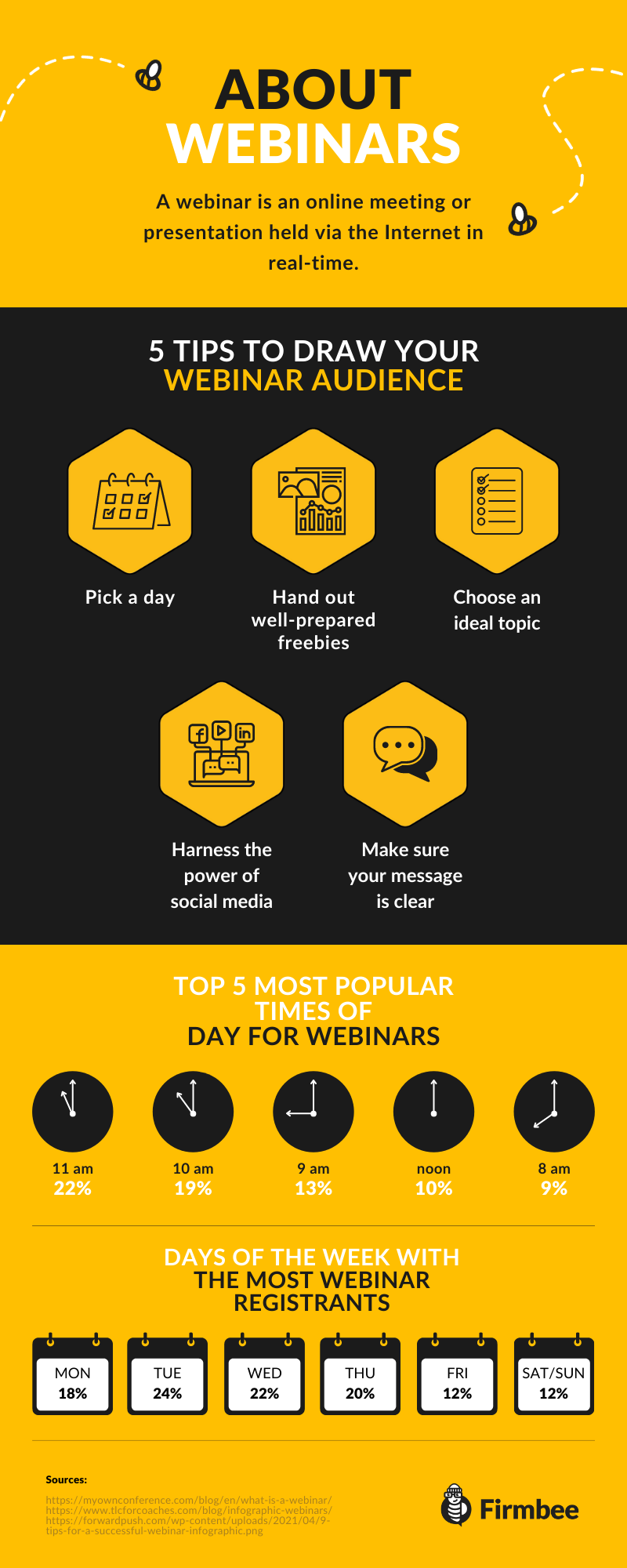 1. Pick a day
Don't go for Friday! Did you know that the best days to hold a webinar are Tuesday, Wednesday, and Thursday? The weekend isn't suitable, as people are more likely to decide to go on vacation or already have days off work planned. The middle of the workweek is the safest way. Your audience will still be focused on their duties, and the weekend will be a distant date in their mind.
2. Hand out well-prepared freebies
And only for your VIPs! To make them feel special, prepare perks just for those who signed up for the webinar. This can be a PDF file describing the most important issues of the discussed topic or a simple infographic. Each additional package for the selected ones will boost and confirm the audience's belief in their uniqueness. Bear in mind – you favor those who make you feel special, right?
3. Choose an ideal topic
…novel enough to attract viewers and not too intricate to miss the main concepts you cover in your webinar. Your audience's attention is distracted when it's overwhelmed with stimuli, so your topic needs to be catchy.
Our advice: allow yourself to put forward thought-provoking questions or fun word games. Be ahead of your competition!
4. Harness the power of social media
Make yourself seen and heard on the internet. First and foremost, create a Facebook event. People eagerly read and join them. We also recommend spending some of your budget on promoting the event and creating ads. This is a quick and easy way to gather additional onlookers of your webinar. Double-check posting updates on the event. For example, you can ask questions that will then be answered in your talk.
Create, and then pin at the top of your fanpage, a post inviting people to the event. A graphic or, better yet, a short animation with the date and time of the webinar will captivate and linger in your audience.
5. Make sure your message is clear
And keep your schedule updated. There are two things that encompass the transparency of your message.
One: Prepare a precise outline of the topics you will cover. A chaotic webinar will look unprofessional and will not hold the attention of your audience. A neat outline is the basis of every presentation.
Second: make sure the recording goes smoothly. Prepare an appropriate background, set up an account on one of the free webinar platforms, and maintain eye contact.
You take the expert standpoint in it, so you need to look, speak, and behave professionally. This forms a great basis for increasing your fanbase.
Want to stay in touch with our content? Join our Facebook community