Do you run a fanpage? Check out the latest ways how to increase the reach on Facebook and reach a wider audience with your message.
How to boost your Facebook reach – table of contents:
The ability to create engaging posts on Facebook is a key skill for any marketer. If you want to generate organic reach – you should practice writing content that will not only capture the hearts of your followers, but also encourage them to share it with others. If you wish to learn some proven tricks to consider when planning your posts – the following guide is for you!
How to increase the reach on Facebook – step by step
Facebook enables you to publish a post with a maximum length of several thousand characters. However, it is a rare practice to use this length – the primary concern of creators here is to engage the user's attention and persuade him/her to read the post.
There is no golden rule as to the optimal amount of characters – fanpages differ from each other with regard to the group of recipients and what works in one industry will not necessarily bring the expected results in your case.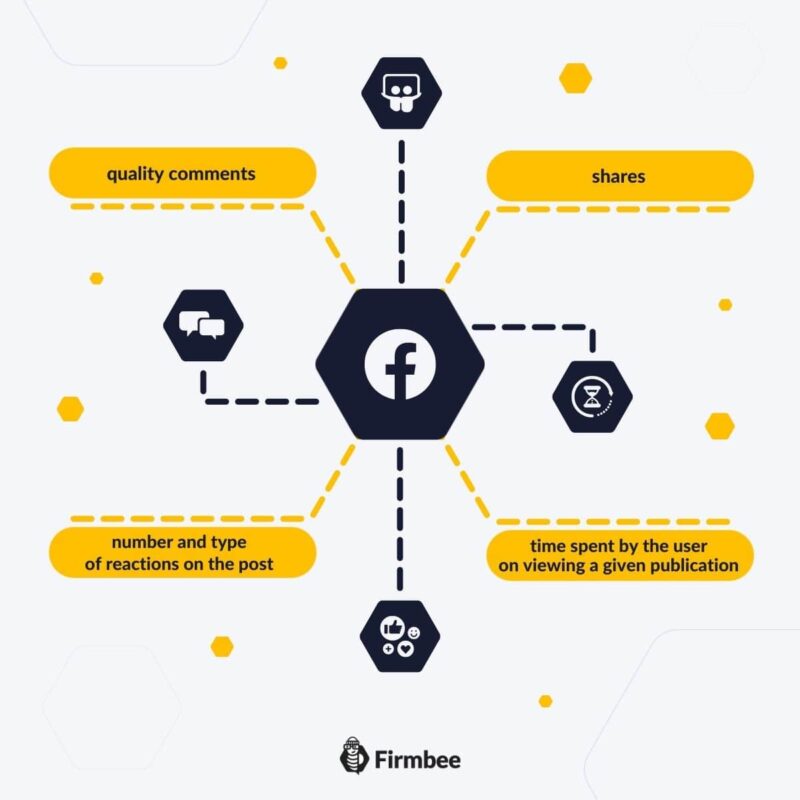 Pardon Facebook's algorithm
Here's what makes your post valuable to Facebook's algorithm and gives it a chance to get an extra boost in the form of organic reach:
quality comments – that is, comments that consist of a few phrases that differ between users,
shares – natural, without using artificial accounts or contests,
number and type of reactions to the post,
time spent by the user on viewing a given publication.
When planning your posts, you should take into account how you can activate your followers – encouraging them to discuss and leave reactions is not only a chance to express your beliefs and preferences, but also an opportunity for you to reach a wider audience with your post.
How to build engagement among Facebook users?
Now that you know that soliciting an engaged community has multiple benefits for your fanpage – when planning your post schedule, consider how you can incorporate incentives for action into your narrative.
For example, you can introduce riddles or quiz games that will encourage your audience to participate in a guessing game or express their opinion on a topic that is close to their hearts.
Respond to fan comments
Reward active users by not limiting yourself to emoticons under their posts or laconic slogans. Ask questions, be open and try to lead to a natural development of the discussion.
Also, try to respond to similar comments in different ways. In a word – surprise, represent an attitude full of curiosity about the other person who took his/her time to leave a trace in the form of a comment. Discussions between the brand and fans are the most valuable.
Condense the message of your post into the first lines
When designing your content, take into account that Facebook users read them vertically, not horizontally. Therefore, try to start the post with the most valuable content that will entice them to scan further or expand the post. It is the effect created by first lines that have a chance to compete for your fan's attention. To make your post stand out from the rest of the Facebook wall, add a blank space between each line – see if this "lightness" draws more attention.
Use emoticons in your posts
Status tags and emoticons in the body of your post make it more eye-friendly and help make your post stand out. Whatever your preference in this area – even if you think that using them is a throwback to picture writing, so to speak – use the golden mean.
Skillful use of emoticons can help you highlight the most important information and guide the user to an important place – e.g. signing up for a training course/booking an appointment, or taking another desired action. Making the content of the post attractive is a priority in the ongoing battle for attention.
When to publish your posts on Facebook?
Don't be fooled by the mistaken assumption that the optimal time to post is in the afternoon or evening. It turns out that, as a rule, users are most active while you're at work, with the best days falling between Tuesday and Thursday. However, this doesn't mean that you should adjust your schedule just to these times – this is general data that may differ from the behavior of your users. Nevertheless, the trend shows that Friday afternoon to Sunday evening is more conducive to activities other than following Facebook.
Testing is the foundation of your efforts
Likes, comments and further sharing of posts is a dream scenario for every social media ninja. The starting point for your actions should be that constantly testing new solutions will help you meet your KPIs. In a word – verify different scenarios and check the statistics. Thanks to them, you will be able to objectively assess the effectiveness of your actions.
You may also like: Facebook contests – ideas, laws and methods to measure results
If you like our content, join our busy bees community on Facebook and Twitter.