Any company that wants to grow will at some point feel the need to promote its services and products more effectively. To help achieve the company's objectives, it's worth searching for real professionals. In the following article you will learn how to hire a CMO. Read on.
How to hire a CMO? – table of contents:
How to find job candidates?
In the era of growing competition and ever-changing technology, the search for a good CMO (Chief Marketing Officer) can be quite a challenge. CMOs should not only be able to present to customers what they want to sell, but also analyze the market and communicate with them through various channels.
We have thoroughly described the CMO's skills and competencies in the following article: What is a CMO? The kind of person you want to recruit depends on your company's needs. You have to determine specific goals that a given individual has to meet and what they will do.
In the case of startups, you will most likely need a young employee who is enthusiastic about the entrusted tasks. When it comes to large corporations, extensive experience and analytical thinking skills are highly sought-after. However, you should also pay attention to the industry in which the person has previously worked. An employee with detailed knowledge of a specific field can prove very useful.
When to hire a CMO?
There is no clear answer for when to hire a marketing leader, however, here are four situations in which it might make sense to acquire one:
Slow business growth. Hiring a CMO might lead your company out of stagnation, make it a market leader and help to gain new customers.
Change of marketing strategy. All you've done so far hasn't been enough to make your business successful. Your company needs a new approach and innovative operational procedures. The CMO can bring solutions that will take the organization to the next level.
Inconsistent brand messaging. Most marketing campaigns use several communication methods, for example: e-mails, social media platforms and advertising. In order to be successful, your campaign needs to convey a clear and consistent message. Having one person responsible for all marketing efforts will help to ensure continuity across all communication channels.
Need for leadership. Hiring a CMO will provide your employees with a true leader who may help them in ongoing and future projects, making them more confident and productive.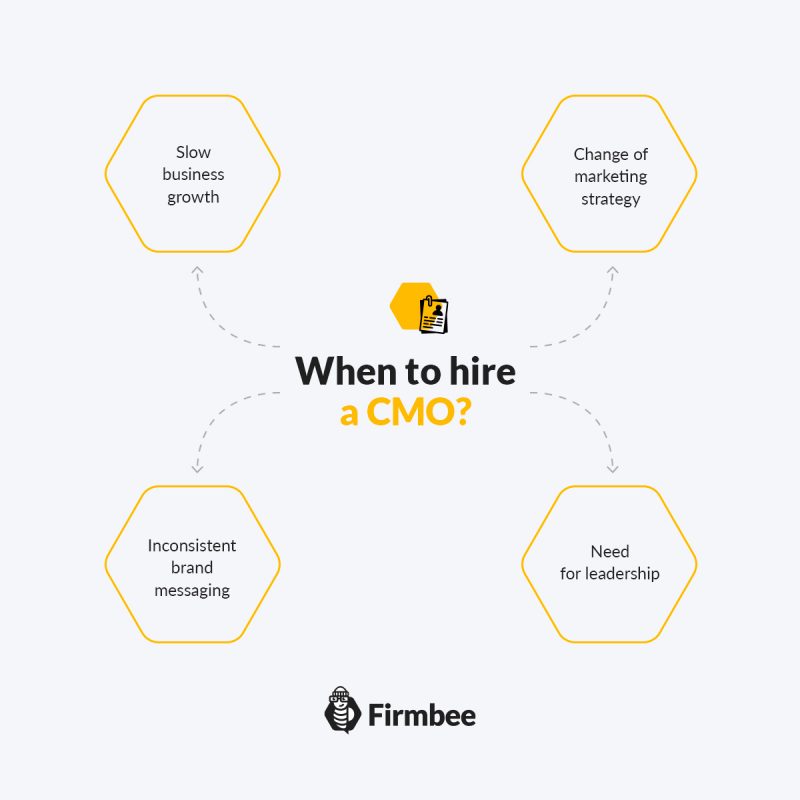 How to hire a CMO?
There are several ways to find a new CMO for your company, and every company will take a different approach to the process. For starters, here are 3 strategies that can help you decide how to hire a CMO.
Hire an executive search company
Searching for a CMO on your own might be both time-consuming and costly. Top headhunters know how to find job candidates, conduct job interviews and hire employees. The whole process is professional and has a positive influence on the company's image. Also, they may already know the right candidate even before they start the sourcing process. Executive search companies are usually well oriented in recruitment practices and they have their own candidate pool.
Search internally
If you decide to run the recruitment process on your own, it's worth selecting employees from inside the organization. Ask yourself a few questions: Does anyone on your current staff have the right qualifications, skills and attributes needed for the position? Do you think this person could take the company to the next level as a CMO? Would this employee be able to lead the current marketing team from a leadership position?
If you find that someone on your staff has the necessary qualifications to become a CMO, consider promoting them rather than hiring someone from outside the company. Your existing employees are already familiar with the company and its procedures, which can prove to be a huge asset.
Use online recruitment
Online recruitment has recently become a popular way of acquiring new employees. The Internet offers several tools, which connect potential candidats with their future employers. Job adverts may not only be put on popular job posting sites, but also social media such as LinkedIn, Facebook and Instagram. The choice of a suitable place depends significantly on the industry and audience that we want to reach with our offer.
How to hire a CMO – summary
In a rapidly growing market, the role of the CMO, i.e. the executive accountable for product promotion and sales, has become crucial for companies. How to hire a CMO? In order to find a CMO that's the perfect fit for your organization, you should know effective recruitment channels to power up your hiring process, and the skills required in your next marketing leader.
Other resources: Startup roles
If you like our content, join our busy bees community on Facebook, Twitter, LinkedIn, Instagram, YouTube, Pinterest.