Read the article below to find out more about how to grow your business online by hiring freelance workers. Nowadays to achieve the success as an entrepreneur you should know how to grow your business online. To accomplish your goals you have to employ the best specialist in your industry. Especially online business requires hiring the best, sufficiently skilled individuals, who will increase the competitiveness of the whole initiative. Does hiring remote, freelance workers speed up the development of your business online?
How to grow your business online – table of content:
Freelancers – talents from all over the world
Many companies have difficulties with finding highly skilled individuals to participate in their sophisticated and ambitious projects. Usually, not all required talent can be found among the employees of the company. In this situation access to online services helps a lot, because remote freelance workers can be hired and the employee may choose those, who possess all required for the project skills. Independent, freelance professionals, who are able to work from any place in the world may made up for lack of competences in the project team.
Diverse prospects of development
Although there are many macroeconomical factors influencing business development, hiring freelancers may be one of successful strategies. Freelance workers have broader access to the new technologies and trends since they work for many companies, and they have many opportunities to acquire knowledge from many sources.
Freelancers, who are knowing all the tendencies and specific features of the given market present increased adaptability and can easily choose best marketing strategies for their local market. For example, in case of international online shop, hiring freelancers from their local region may help to increase the sales figures in the given location. Such independent worker may bring to the company his unique perspective and understanding.
Cost-effectiveness of company development
Many growing companies, some of them functioning online, start with limited budgets. At the beginning, at the initial stage of the development, when the budget is small and each step is risky, hiring freelance workers may significantly reduce the risk and cost related to employment.
When hiring freelancers we no longer have to focus on providing them the place in the office or the equipment. Freelance workers already possess all needed accessories. Additionally, what is beneficial as well, freelancers are usually paid for the work completed or for the hours worked. As opposed to the full-time workers employed on the basis of contract, who have to be paid regardless their commitment. This can be perceived as an additional costs each employer has to bear, especially in the periods of the year, when there is less work to do.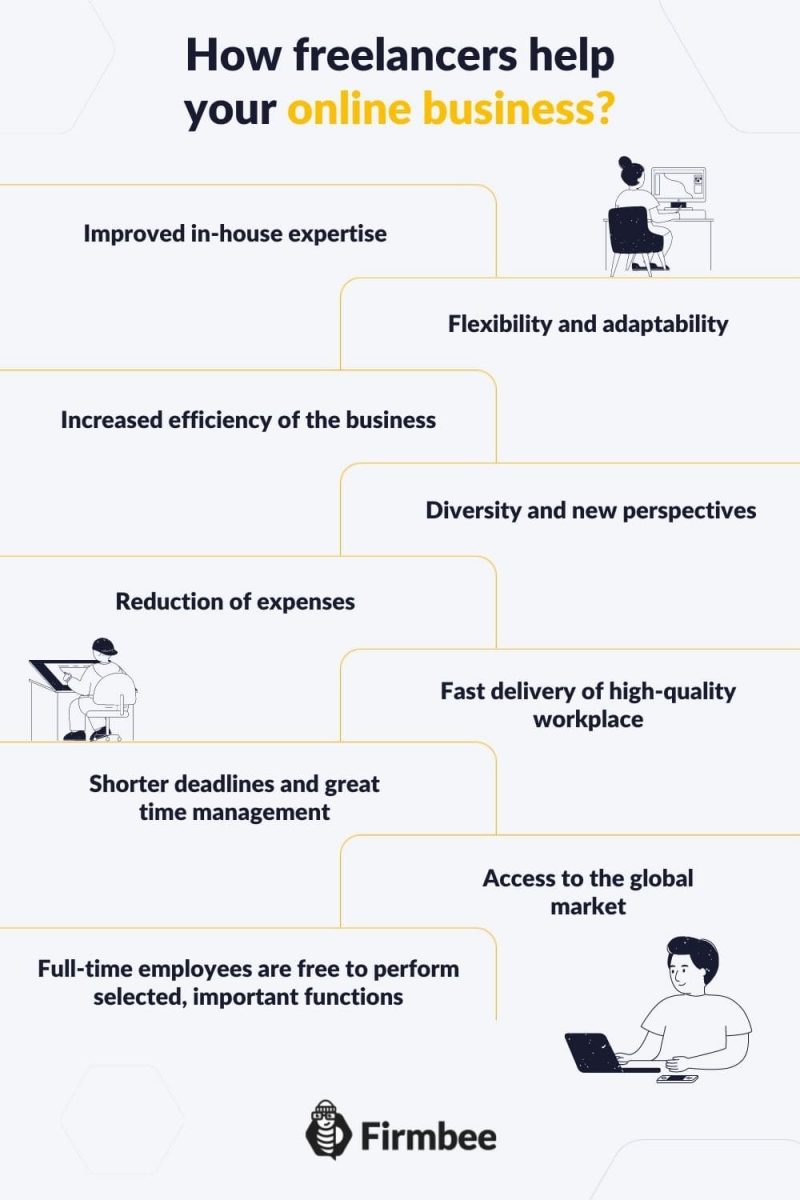 More candidates for work
Thinking how to grow you business online may not be sufficient to succeed. The mere work organization process usually requires more attention than it was initially expected. Full-time employees work usually at a certain time of the day, while online freelance workers are frequently able to provide their service 7 days a week and 24 hours a day.
Such flexibility of freelance workers allows them to perform more variety of tasks and be available under certain conditions on demand. Therefore, freelancers may become a form of protection from emergencies as for example server failures or other unexpected events.
Summary
Summarizing, hiring freelancers may significantly speed up the process of business development. When you know how to grow your business online by hiring freelance workers, you should be able to deal with many problems current workplace has to face. Due to the cost reduction all the savings may be used for advertisement in social media.
Thanks to hiring freelance workers from all over the world the business may be adjusted the distant regions, where your freelancers live. All this increases profits made by your business. Independent, freelance workers are able to help in the situation of sudden, unexpected occurrences such as accidents or software failures. With freelance employees on board we may be sure that our online business is fully operational and incessantly available to our clients.
Read also: Is management an art or science?
If you like our content, join our busy bees community on Facebook, Twitter, LinkedIn, Instagram, YouTube.