How to get traffic for affiliate marketing? Your affiliate marketing website needs more visits – do you know how to get them? There is a growing interest in affiliate marketing and more and more individuals are eager to cooperate in collecting affiliate links. Creativity and persistence are necessary to develop the business, but success is not possible without users that read your content. How to make the possible clients know about our service. How to get more traffic on our affiliate marketing website? Learn about our tips and let internet users hear about you.
How to get traffic for affiliate marketing?- table of contents:
Website traffic – what is it all about?
The traffic on your website is the total amount of internet users that visit your website. The unique user is the most reliable measurement. His visits to the website can be identified by the IP address of the computer or cookie files. As we see the number of visits is not the same as the sum of visits of unique users. It is difficult to distinguish between random visitors and so-called good visitors – individuals that are interested in our offer. It is not possible to determine if the visitor is interested or not. One is known for sure – without traffic, there is no sales, with no sales there is no income.
How to measure traffic on your website?
Working in marketing requires good calculation skills. The data analysis is facilitated by the usage of dedicated software. Among the most popular tools there are:
Google Analytics
Google Search Console
Alexa
SimilarWeb
SEMSTORM
Analytics tools are powerful and give extensive possibilities. Those tools are extremely useful for those who run their own business. What is interesting – those tools may help you to see the effects of your efforts but they may track the activity of your competitors as well. With such analytic tools, you may check the traffic on the website of your competitors – and this is legal.
While checking your website you may find out: leading phrases, localization and source of traffic. Analytic software shows the data clearly and transparently refined visual charts are designed to help with the analysis.

How to get traffic for affiliate marketing? – 8 options
The main problem is how to attract more traffic to your website? How to encourage internet users to visit your site frequently? You have at least 8 options.
Promote your activity on social media. Be present on different channels.
Optimize your website accordingly to SEO rules. Choose your keywords wisely. Remember about using your chosen phrases frequently. Write good content that is not pushy, natural, and readable.
Make an investment, get paid advertisement – if only your budget allows this, invest your money into an advertising campaign. Pay-per-click (PPC) is a way to get a high position in the browser list.
Contact your clients frequently. Use techniques of e-mail marketing and newsletter sending to remind your clients about your brand and offer. Create advice articles – they are a very practical way to increase the interest of consumers.
Be active on internet forums. Visit other websites and profiles that are similar to your own, and leave your comments. Remember to leave links to your website in your footer.
Organize creative competitions. Find a sponsor that will be willing to pay for the prizes. If you are on your own, think about free gifts that you can create yourself – for example, a booklet with vegan recipes.
Speak the language of benefits. Give free gifts in exchange for specific actions. For example in exchange for sharing of personal data offer a free e-books. Make your subscribers your priority and let them know that all the information will be sent to them first.
Use social bookmarking tabs. The websites and pages that include specified bookmarks allow quick redirecting and access to your website. Any person may send the link to your content through the most popular social networking sites. Tabs are available online and the mere Internet connection is enough to make your content available.
Traffic on your website in numbers
The increase in traffic is the first aim of making a website that sells. Don't forget about the quality of your selling effort. To measure the performance of your content use the metrics called the engagement rate.
For social media the engagement rate is calculated accordingly to the formula:
ER = amount of comments and likes/number of follower x 100
While the general formula is: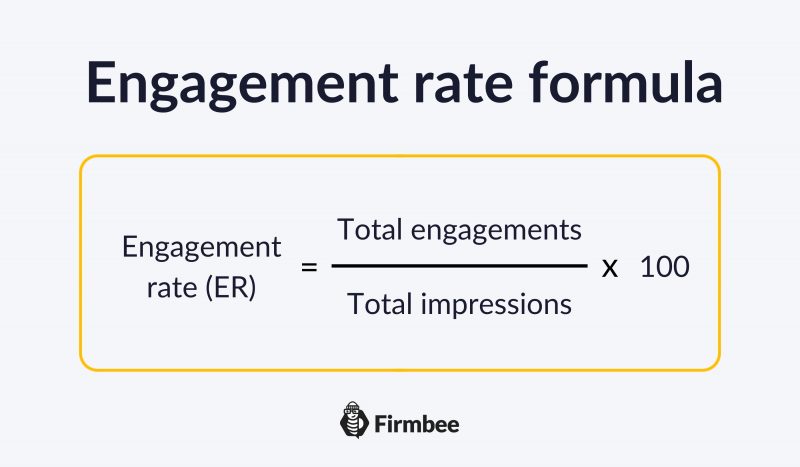 Fortunately, you don't have to calculate the engagement rate of your website by yourself. New Google Analytics can show you the value. In the case of social media, there are programs such as Sociablade, Phlanx or Hyperauditor, that help calculate the value of engagement rate. What is the best engagement rate value? It is difficult to say with certainty. In the case of Instagram, more than 6% is considered as a great ER, while the value between 3% and 6% is seen as the average. There is a correlation between the number of followers and the engagement rate – the smaller amount of followers the higher engagement rate – small, well-integrated groups generate higher engagement rates.
Think about the quality of visits
The quality of visits is important since not all visits are the same. Many internet users just visit your website but don't take any action. It is better to acquire clients that are really interested in your offer. How to make sure the traffic on your website has good quality? There are ways you need to hear about.
Create good quality content. Think about the needs of your clients. Respond to all the questions asked on your website.
Be active on social networking sites. Promote your offer in places, your clients may search for a product of this type. Don't buy an account that is filled with links and likes – it is not a good solution and usually is not worth the money.
Place links to your website – remember, don't be pushy, try to make comments on Instagram, where in BIO there is a redirection option.
Show real reviews. Some internet users like to base their decisions on reviews left by other clients. It is harder to make a decision about the product one cannot touch and see, the review may be the strongest factor influencing the decision about the purchase.
Make sure that your newsletter is popular among the clients. Think about the improvements of content to keep your customers pleased.
Refresh the content of your website. You cannot allow any old, outdated content to stay on your website. Keep your content actual, the users search for reliable sources of information.
Remember about the SEO techniques. Make sure your website is visible in browsers. Check, how to improve your SEO strategies for your blog and e-commerce.
Make a great first impression
Remember the saying that the first impression is the last impression and make it great from the beginning. You won't get any promising effects if there are any technical problems with your website.
Be aware of such issues as:
Your website loads too slowly. Websites that load in 5 seconds have 70% more sales records that those, which need 19 seconds to load
Your website is unclear and daunting
Your website is complicated and not intuitive
Your contact details are hidden – there is no information about your business – it does not inspire confidence for sure
There is no mobile version of your website
The website is not attractive visually (lack of images and graphics)
Summary
To become a professional content editor one must take care of the website from a technical point of view. Be aware of the traffic, and use statistics and dedicated software. Don't trust your gut feelings – it may not be enough. Take care of the traffic on your website and make sure your site attracts the attention of many internet users. Use all available tools and create a successful project.
Check out our article about Website traffic and web conversion rate – 2 good reasons to measure them
If you like our content, join our busy bees community on Facebook, Twitter, LinkedIn, Instagram, YouTube, Pinterest.