Onboarding is important, but when working remotely, how do you carry it out? The answer is virtual onboarding. In recent years, online platforms designed for adaptation and learning have been gaining in popularity, allowing employees to be introduced to their new responsibilities also outside the company, through remote work.
How to conduct virtual onboarding? – table of contents:
The role of onboarding
The most valuable resource of any organization are people, their skills and competencies. Therefore, proper recruitment process becomes essential in the process of personnel management aimed at attracting the most valuable employees. There's also a stage after signing the employment contract involving the introduction and training of the new employee. Unfortunately, often managers neglect it and forget that only a properly conducted adaptation of a newly hired person determines their subsequent organizational behavior, attitude and quality of work.
Onboarding consists of a set of activities adapting a new employee and is one of the most effective retention tools. The role of onboarding is to introduce the newly hired person to the most important issues related to the functioning of the organization, to get familiar with the organizational culture, values, norms and rules of coexistence. At the same time, we mustn't forget about imparting the knowledge and skills necessary for the proper execution of business tasks.
The adaptation of an employee in the work environment functions at various levels: structural, organizational, procedural and social. You have to plan it as well as keep implementing over an extended period. It can take several months for a worker to start bonding with a company. An employee who has been poorly prepared to take on new responsibilities does not identify with the company, bring about low productivity and a decrease in work efficiency.
The adaptation process should enable the employee to learn: the organization's strategy, its mission and vision, its most important goals, organizational structure and culture, formal procedures related to internal communication and workflow, responsibilities and rights, career path, salary and bonus rules, operation of office equipment and other machinery and equipment used to perform tasks.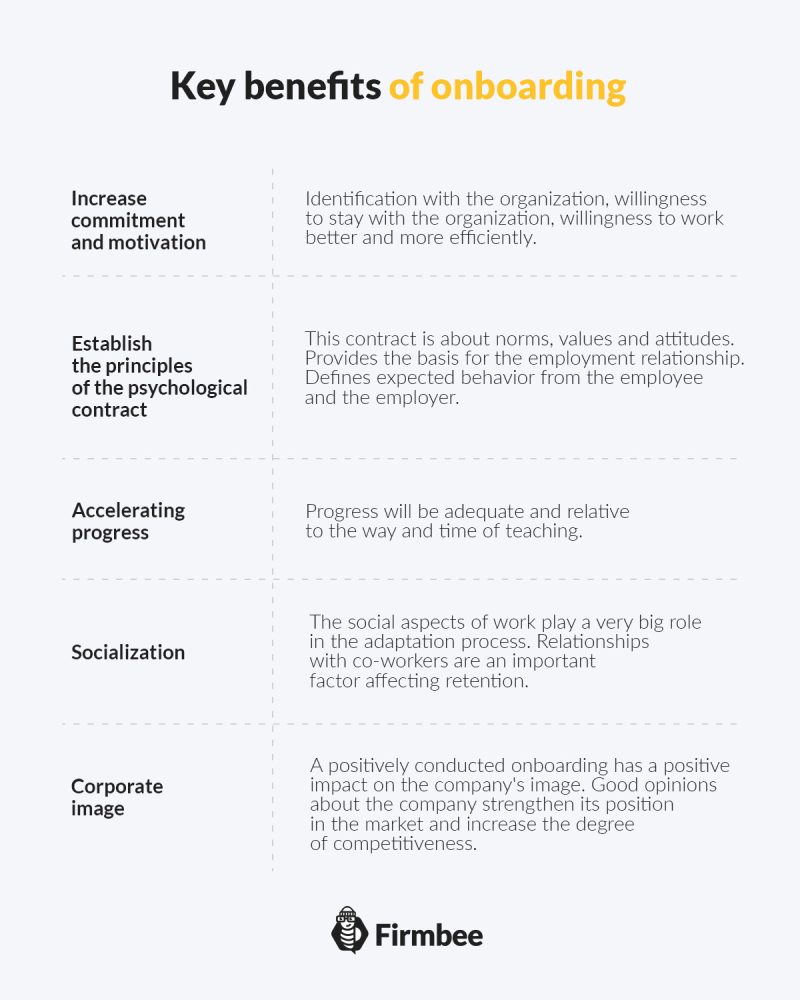 Objectives and stages of onboarding
Induction into an organization is a process that has four main goals. The first is to facilitate the initial stages of work, "getting used to" the new place, people and tasks. The second is to develop correct attitudes towards the company, enabling identification with it. Another is to obtain, in the shortest possible time, high efficiency and quality of work. And the last goal is to reduce the possibility of an employee leaving his job, to keep him in the organization.
A properly planned adaptation (onboarding) process should be carried out with the following stages in mind:
Compliance – familiarization with procedures and documentation workflow,
Clarification – setting goals and objectives for the employee,
Culture – familiarization with organizational culture: formal and informal,
Connection – integration of the employee with the rest of the organization.

Virtual onboarding
You can carry out onboarding in a variety of ways with different tools. Most commonly, it involves familiarizing the new employee with procedures and regulations, and providing job instruction. As a result of the Covid-19 pandemic, many organizations have been left to work remotely. Hence, carrying out onboarding virtually using a dedicated online platform is a common practice. The major functionalities of such a solution include:
Online assignments, checklists and knowledge base available in one place,
Ability to share pdf files, videos, presentations, e-learning training, tests,
Virtual tour of the office,
Possibility of placing dedicated tracks for different positions,
Availability of the system on any mobile and desktop device,
Ongoing monitoring of progress, generation of reports,
Survey to determine employee satisfaction after onboarding.
From the beginning of the onboarding process, we should mind interpersonal relationships. New remote employees are prone to feelings of isolation and loneliness. To prevent this, introduce the new person to other co-workers by writing a message on the internal intranet and getting acquainted during a video conference.
Remote onboarding remote poses a challenge for both the employer and the employees, yet we can use some of its elements successfully and profitably in stationary employee adaptation.
Summary
Dynamic changes in the labor market force employers to take intensive measures to retain employees in the organization. Properly implemented onboarding is as important a factor for employees as salary or a planned development path. If we miss this first stage of onboarding, the negative effects become irreversible. It is in the first month that new employees form their attitudes and their level of commitment to work. Therefore, a proper introduction to the organization and ensuring transparent conditions of cooperation become key factors. Effective onboarding will not only make it possible to reduce excessive turnover, but will also significantly improve the company's image.
Any onboarding, even virtual onboarding, needs a strategy. Check out the most effective ones.
If you like our content, join our busy bees community on Facebook, Twitter, LinkedIn, Instagram, YouTube, Pinterest.