Selling on the eBay platform involves incurring certain fees. The following article will outline how the costs are charged and calculated. So if you are wondering how much does it cost to sell on eBay, please read on.
How much does it cost to sell on eBay? – table of contents:
Fees for selling without an eBay store
The platform charges listing fees and fees for selling the product.
Listing Fee – Each seller has 250 free listings. Once this limit is exceeded, listing fees are charged which are non-refundable. If a seller has listed in two categories, they must pay double fee.
Sales Fee – is determined by the final value of the transaction, to which $0.30 per order is added. The total sale amount consists of the price of the product, the shipping cost chosen by the customer and other additional charges.
The table below shows the basic fees for some categories.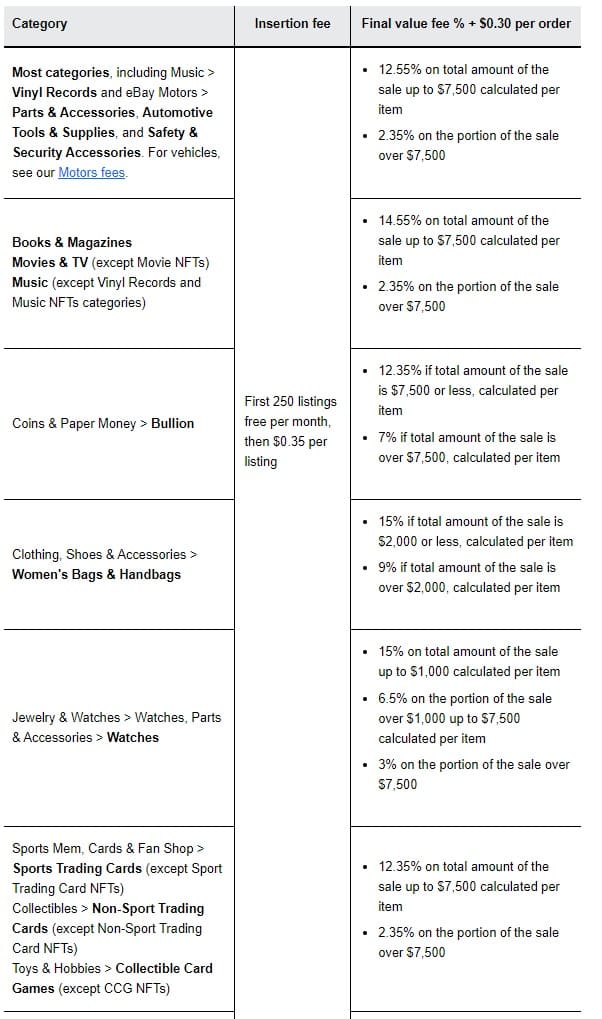 Each seller can also use additional services. e.g. application of subtitle, which are payable, and their rate depends on the item price, auction form and duration.
Fees for selling on eBay
By paying for a monthly subscription, sellers can operate their eBay Store. Depending on the package you choose, you can take advantage of additional tools and discounts. See the table below for applicable subscription prices.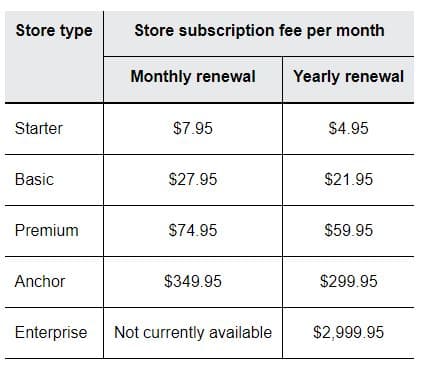 Each package has an individual limit of free listings. Once this is exceeded, the seller is subjected to the same rates and rules as for those without a subscription. The same applies to sales fees, which are also calculated according to the total final amount, to which a fixed amount of 0,30 USD is added.
Charges for international sales
The fees below apply to sellers whose registered address is in any of the countries or regions listed below:
South Korea
India
Japan
New Zealand
Rest of APAC: Armenia, Bahrain, Bhutan, Brunei Darussalam, Cambodia, Fiji, Indonesia, Jordan, Kazakhstan, Kuwait, Kyrgyzstan, Laos, Malaysia, Maldives, Marshall Islands, Micronesia, Mongolia, Nepal, Niue, Oman, Papua New Guinea, Philippines, Qatar, Saudi Arabia, Singapore, Solomon Islands, Sri Lanka, Tajikistan, Thailand, Tonga, Turkmenistan, Tuvalu, United Arab Emirates, Vanuatu, Vietnam, Wallis and Futuna, Yemen
EU Unsited: Andorra, Bulgaria, Croatia, Cyprus, Czech Republic, Denmark, Estonia, Finland, Greece, Hungary, Latvia, Liechtenstein, Lithuania, Luxembourg, Malta, Monaco, Portugal, Romania, San Marino, Slovakia, Slovenia, Sweden, Vatican City State
Europe Unsited: Albania, Azerbaijan, Belarus, Bosnia and Herzegovina, Georgia, Iceland, Israel, Moldova, Montenegro, Northern Macedonia, Norway, Russian Federation, Serbia, Ukraine
Rest of World: Afghanistan, Algeria, Angola, Antigua and Barbuda, Argentina, Aruba, Bahamas, Bangladesh, Barbados, Belize, Benin, Bolivia, Botswana, Brazil, Burkina Faso, Burundi, Cameroon, Central African Republic, Chad, Chile, Colombia, Comoros, Congo, Costa Rica, Côte d'Ivoire, Djibouti, Dominica, Dominican Republic, Ecuador, Egypt, El Salvador, Equatorial Guinea, Eritrea, Ethiopia, Gabon, Gambia, Ghana, Grenada, Guatemala, Guinea-Bissau Guyana, Haiti, Honduras, Jamaica, Kenya, Lebanon, Madagascar, Malawi, Mali, Mauritania, Mauritius, Mexico, Montserrat, Morocco, Mozambique, Namibia, Nauru, Nicaragua, Niger, Nigeria, Pakistan, Palau, Panama, Paraguay, Peru, Rwanda, Saint Kitts-Nevis, Saint Lucia, Saint Vincent and the Grenadines, Senegal, Seychelles, Sierra Leone, Somalia, South Africa, Suriname, Tanzania, Togo, Trinidad and Tobago, Tunisia, Turkey, Turks and Caicos Islands, Uganda, Uruguay, Uzbekistan, Venezuela, Western Sahara, Zambia, Zimbabwe
Sellers with a registered eBay address in any of the above countries (excluding non-EU countries) must pay an international fee if the delivery address or registered customer address is outside the seller's country of registration. Such fee is determined according to the table.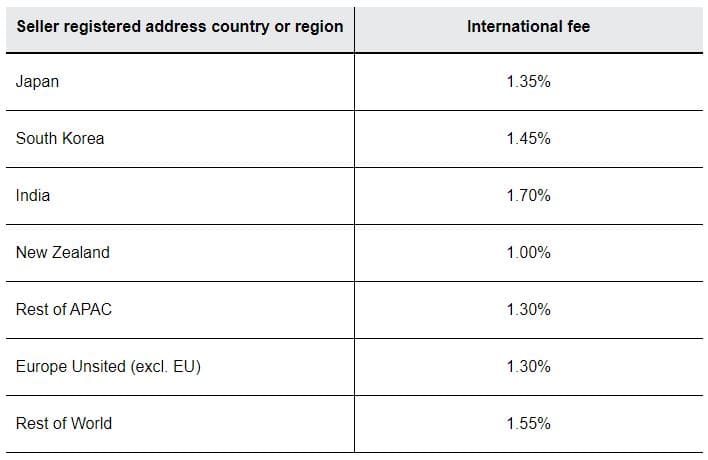 Sellers whose eBay registered address is located in a country outside the EU must pay an international fee if the delivery address is outside the seller's country of registration. This fee is determined according to the table.

The international fee is calculated based on the total amount of sales. The platform automatically deducts it from sales revenue.
A global seller with a registered address in Japan or the Asia-Pacific region can apply for a volume discount on the international fee. It can be taken advantage of in the following month if the number of transactions in the eBay account exceeds $3,000 cumulatively, and the seller's status is above the required standard.
Fee for conversion of vendor currency
When a seller lists a sale on an international site, but their payout currency is different from the auction currency, then currency conversion and a currency conversion fee must be charged.
For example, sellers with a registered address in Japan will list on eBay.de. The platform charges them the applicable fees, such as listing fees, with funds converted from USD to EUR. The reverse is true when the product gets sold, in which case eBay pays the seller with funds converted from EUR to USD. The platform converts the currencies at the exchange rate it sets. Additionally, a conversion fee is charged, a fixed value, the amount of which is listed in the table below.

Overseas territories
If a seller has a registered address in any of the overseas territories listed below, the platform treats it as if the address were in the associated country when billing.
For example, a seller from Puerto Rico shipping an item to the United States will not be charged an international fee.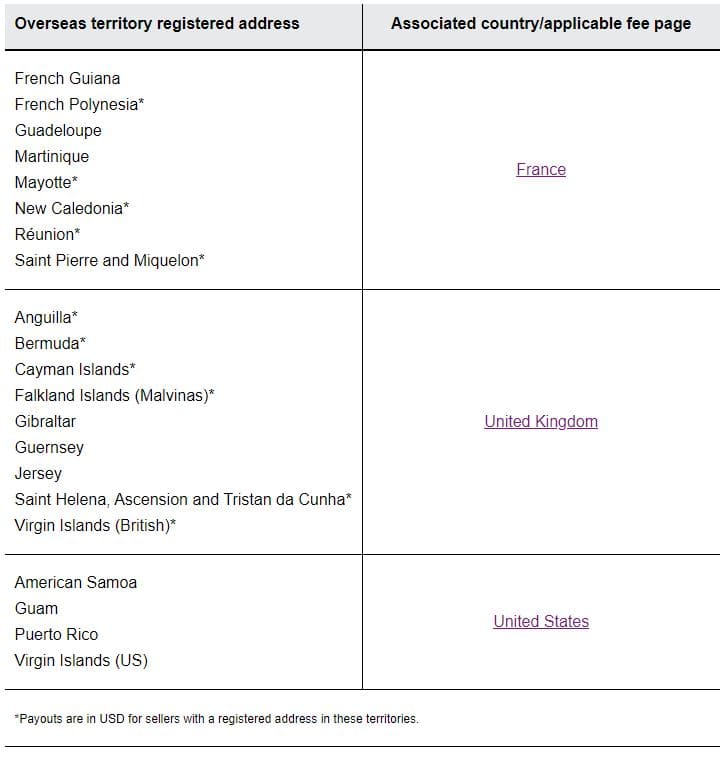 In this article, we answered the main question: How much does it cost to sell on eBay? Any seller thinking of starting to sell on eBay should start by looking at what they will have to pay and whether it is worthwhile for them to subscribe. This will help to avoid unexpected costs.
If you like e-commerce, also read: All you need to know about listing on eBay !
You can also stay in touch and join our Facebook community!