Over the past few months, virtually everything has changed, and it looks like we're not going back to the old ways. COVID-19, and with it the economic lockdown and imminent recession will permanently change the habits of e-consumers, but not everyone will react in the same way. How will the changes progress across different groups?
Long-term forecasts of developments are, of course, subject to a high risk of error. A lot depends on how long the coronavirus threat will determine our economic situation. However, you don't have to be an expert to adapt to changes and learn from the mistakes others make.
How is COVID-19 changing the habits of e-consumers – table of contents:
The youngest are the most afraid
The youngest age groups have had no problem with digital shopping because some of them don't remember the reality when it wasn't with them. And it is the behaviors of this group, according to Big Commerce research, that will change the most.
A survey of the youngest consumers in the U.S. and U.K. found that among Millennials and Generation Z, as many as 96% say that the current situation is definitely influencing their purchasing choices. This is probably the biggest global crisis they will face in their adult lives, which is prompting them to make radical changes, including, above all, cutting back on spending.
Richer experiences, and certainly a more stable financial situation, allow representatives of Generation X and Boomers to worry a little less. As many as 24% of Boomers 34% of Xs declare that they do not let current events influence what they buy.
Women are worried, but it's men who are buying less
The data also shows that women, although more concerned than men about the effects of the crisis, change their behavior less. One-third of men, compared to 25% of women, say they are significantly reducing their spending. It also found that men are more likely to shop online and more likely to avoid buying in stationery stores.
Revenue changes across e-commerce
The decline in traditional shopping in response to #stayathome campaigns was obvious from the start. However, there were predictions that e-commerce would offset the losses of traditional retailers. Indeed, a study conducted by Engine showed that people spend on average 10-30% more online, but actual sales increased only in certain sectors, such as those selling household goods or groceries.
According to Nielsen data, sales of hygiene products and masks are up more than 300%, as are sales of long-life food products. According to ShipBob data, month-over-month growth in online food and beverage sales is 18.8%.
During the enforced shutdown, people are also looking for online entertainment with greater intensity, as evidenced by the increase in digital subscriptions to Netflix or Amazon, in Western countries also Hulu or Disney +.
The rest of the sectors, however, are not doing so well. It is obvious that entertainment, catering and tourism are losing out, but fashion and luxury goods will not go through the crisis with dry feet either.
Vogue Business predicts a potential loss of up to $10 billion for the latter category. That's partly because luxury goods rely heavily on the buying power of the Asian market, where – despite a marked recovery – the pandemic began a year and a half ago and things are still not yet back to normal. Online sales of clothing are also in decline. People are spending more money on everyday needs, postponing other expenses to an undefined future. And there are indications that – even after the restrictions are loosened – they will reach for goods from the lower price range.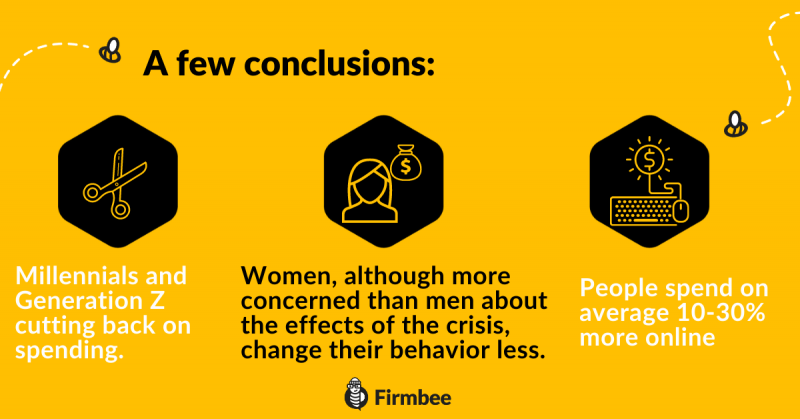 Read also about SEO in the times of pandemic.
If you like our content, don't forget to join busy bees' community!