The demand for talented employees increases with the growth of the company. Finding the right individuals may be a challenge since every expansion of the team has to be coordinated with the budget plans. You may have to hire a freelancer to complement the pools of competence of your actual employees. They are needed to work on specific, selected project as well. Employment of freelance workers can reduce general expenses and at the same time provide the company with set of skills essential for conclusion of the project. Do you know what is the best way to find and hire a freelancer?
Hire a freelancer – table of contents:
Do you really need a freelancer?
Is it really that easy to hire a freelancer? The first thing to avoid is to searching blind and employing previously unknown individual. The person employed has to be verified and trustworthy. On the other side there is a need for assessment of our needs. You have to spend enough time to determine own expectations. You should know what type of job is needed as well as what kind of skills your independent employee should possess.
Prepare yourself well for the recruitment process – this will help you to be more realistic and ask relevant question during the interview. Clear understanding of demands we have for the freelancer will help you to present him with consistent set of requirements and responsibilities. As we see, the process of searching for the right person for the job is a complex process and therefore cannot be effortless. But don't hire a freelancer without knowing that your really need him.
Freelance job instruction
Knowing your own demands, you can begin searching for your freelancer. The best place to start with is the platform such as, already suggested Upwork – mentioned in the article entitled: "The best freelance management system".
Your job advertisement should contain all the job details as well as some clarification on how the task has to performed. Transparency regarding your expectations allows your freelancers to understand their role and do their best.
Candidate screening and selection process
At the next stage of hiring a freelancer you should choose a few best matching profiles of your prospective employees. This is the time for testing their skill therefore you may decide to employ them for smaller projects to find out their skill level.
Shorter assignments allow you to check the punctuality and reliability and communicative skills of your soon-to-be employee. Use your best judgment, listen to your gut instinct, but moreover be well-prepared and realistic. After successful selection process you can hire your freelancer.
Healthy employee relations
After finding and hiring a freelancer with the required set of skills, who is interested in cooperation with your company, take a good care of relations with all those individuals. It is essential that all employees, full-time and freelance, understand each other and know ho to accomplish the targets of the organization together. At this stage, maintenance of friendly atmosphere is necessary for success.
From the perspective of freelancers, clear, smooth communication is crucial. Well treated individuals will appreciate your and in return offer their loyalty, diligent work and punctuality. Taking care of healthy relationship with the individual employed temporarily should be extended over the period of the mere employment. You may need their services somewhere at the crucial moment in the future – it is worth to be fair and create positive atmosphere all the time.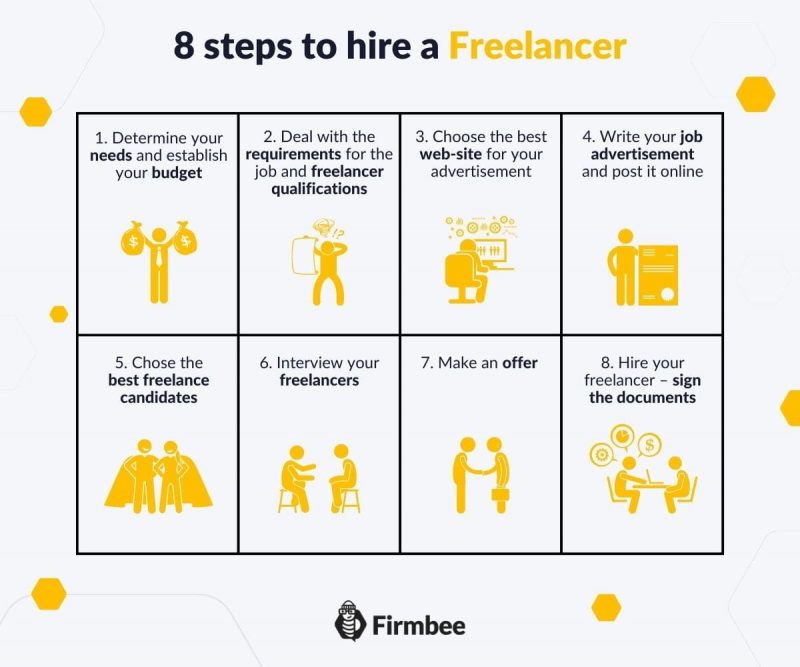 Summary
Just a few simple steps allow you to find your freelancer easily. Pay attention to your own preparatory stages, precisely determine your needs and you should be able to find individuals, who will help you to grow your business, some of the may even become your regular collaborator.
Read also: How to implement freelance management system
Check out our software to hire and work with freelancers effectively:
If you like our content, join our busy bees community on Facebook and Twitter.