Before you go about choosing a graphics tablet it's worth considering what features you'll want most and what field of graphic design you want to pursue. On digitizers, we can create all sorts of things – from simple vector graphics, abstract logos, through artwork, tattoo designs, animations and even 3D graphics. In today's technological age, companies that create hardware to assist graphic designers are outdoing themselves in what they have to offer, trying to meet ever-growing demands.
Graphics tablet – table of contents:
What to choose?
Prices of tablets vary depending on their level of development and sophistication from $30 to several thousand.
Here's what to look for when choosing a device.
The most optimal stylus accuracy is 0.25 mm.
The indicated pressure level is 2048, but the more – the better.
A sampling of the tablet is extremely important – 200 points per second is just a standard value, we will get a better-reproduced motion with higher values.
The minimum resolution is 2000 lines per inch (LPI).
The quality and comfort of work are also affected by such details as the angle of the pen – a very useful feature when shading. The better the product, the greater the functionality. There are devices on the market that, in addition to their high standard of performance, offer the ability to create shortcuts on additional function keys and have additional software to facilitate the assignment of functions to our preferences.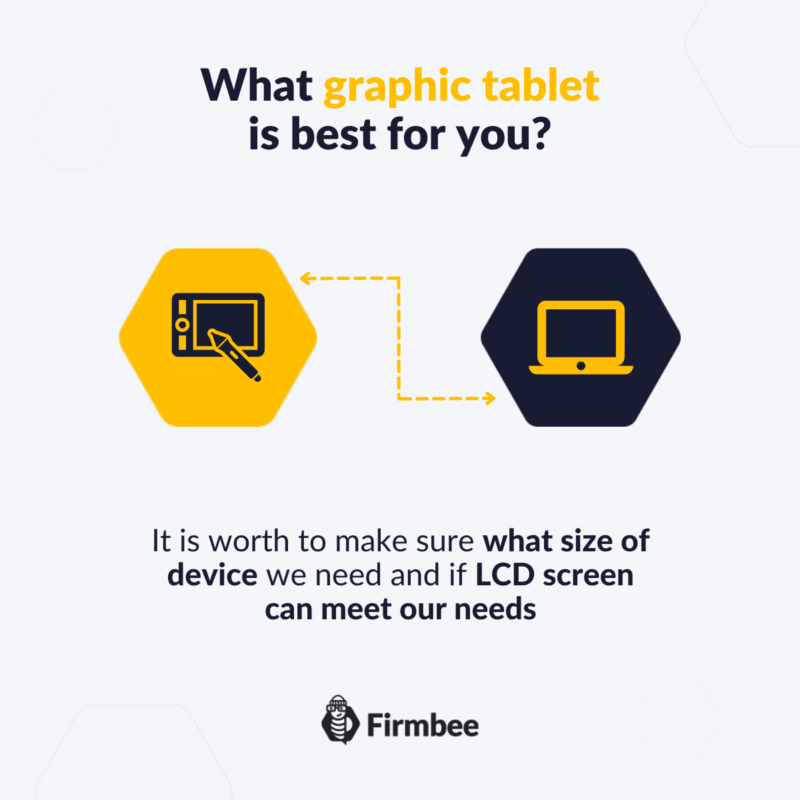 Which manufacturer to choose?
One of the most famous brands producing these clever devices is WACOM. The flagship Intuos Pen S model produced since 2013 impresses with its size, functionality and almost 100% compatibility with any system. Recommended especially for people starting their adventure with graphic work. Prices on the manufacturer's website range from 100 to 200 dollars.
An interesting alternative to WACOMs is a much younger company coming from China – HUION. They are currently the biggest competition to the previously mentioned tablets due to their solid performance, functionality, and above all – much lower price.
In 2018, they introduced the H610 Pro V2, which has a battery-free stylus (no plugging in or charging required which is a huge perk), detects tilt angle, and pressure sensitivity is as high as 8192 degrees. The 5080 dpi resolution and 254 x 159 mm screen diagonal work perfectly together and give you an extremely large but clear workspace. The price of this tablet is around 100 dollars and it will certainly meet the expectations of those starting their journey in graphics, but also more experienced professionals.
An intriguing and also inexpensive option is the XP-PEN STAR 03. There are several buttons with assigned functions or we can completely personalize them according to our needs. The pen does not have a battery, so it does not require charging, but it seems that this is already a standard on the market. In the case of driver installation, we have the possibility of full customization – from pen settings to the previously mentioned buttons. The STAR 03 has a working area of 254 x 152 mm, a resolution of 5080 LPI, a pressure level of 8192 and the pen is tilt sensitive.
How about an LCD display?
The above suggestions are products that will not discourage learning or working but will also give a broader perspective on what we can expect in the future. Will there be tablets with LCDs that have a system on their own and no need to be connected to a computer? Or will we be satisfied with working on an iPad Pro with the Apple Pen and the incredibly revolutionary app that is ProCreate.
Buying an iPad Pro and an additional device the Apple Pencil stylus is certainly a big expense, but it's also a huge convenience and versatility. However, we do not have to rely only on Apple in this case, but the previously mentioned brands also produce great quality tablets with a display and a standalone system. Still, this is also a great expense as the prices start from 200 and reach up to 2 or 3 thousand dollars.
Before you buy
It is worth to make sure what size of device we need, and if LCD screen can meet our needs. Otherwise, we could always stay with our computer screen and focus on pursuing a stylus. Depending on our expectations and the level of sophistication we require, it will be easier to make decisions when choosing a device. If we can't quite figure out what specifically we'd like to do, it's a good idea to invest less money in a more versatile device and gradually work towards one that will fully meet our creative needs.
Read also: 14 best apps for creating graphic notes!
If you want to stay in touch, join our Facebook community!