The heroes of today's article need no introduction. Both corporations are true leaders in the IT industry having thousands of employees around the world and providing innovative solutions for millions of users. However, despite many similarities, the companies differ in approaches to talent management. Today, let's take a look at secrets of HR at Google and IBM!
Google vs IBM approaches to talent management – table of contents:
What is talent management?
At the outset, it is worth quoting a brief explanation of the definition itself. Talent management focuses on the interest and acquisition of specific individuals who excel in terms of performance and results.
This strategy also aims to provide favorable working conditions and opportunities for growth and advancement so that professionals demonstrate a desire for continued partnership. Selecting the right candidates reduces the expenses associated with the recruitment process, as well as the staff turnover rate.
Approaches to talent management – Google
The initial study is about Google and the sources analyzed to create a very interesting picture of the whole procedure. The company has won many awards and honors in the field of human resources management. Is it right?
A huge strength of the company is that it is constantly updating and adapting to changing work environments. Google focuses on people and relationships, rather than on fixed templates and schemes. What's more, the term HR has been replaced with "human operations," which better reflects the nature of the prevailing philosophy. The department itself is crucial to the optimal functioning of the entire corporation.
It is worth emphasizing the strong importance of algorithms and mathematical calculations in the entire recruitment process. Traditional interview-based choice making has been replaced by neutral data and statistics.
At the core of the entire institution are people and interaction. Google rewards its employees with a lot of flexibility and freedom in performing their duties, as well as harmony between work and other daily challenges. The corporation also does not forget about exclusive perks and bonuses.
It is the customized approach, originality and personal relationships that are the hallmark of Google-branded talent management. Below is an example of an innovative recruitment approach where routine questions were replaced with creative equivalents. Candidates had to solve the following questions:
Explain the concept of a database in 3 sentences, while talking to a 3-year-old – such an exercise is designed to assess understanding of a concept and the ability to break down complex phenomena into simple factors.
Why manhole covers are round – Google recruiters test your ability to think logically in the context of solving potential problems.
How many times a day do the hands of a clock overlap – Some questions may seem simple but each answer enables decision-makers to see how a candidate reasons
Approaches to talent management – IBM
IBM has a more structured and formalized approach to talent management. The difference is clear, right down to the nomenclature.
Google aims to eliminate the concept of human resource management. IBM, not only emphasizes the paramount importance of HR in designing a transparent and modern organization, but also raises its profile.
IBM has developed a proprietary style and culture for talent management. Here are 5 key principles according to HR 3.0:
Personalize the employee experience – IBM emphasizes individual attention and great rapport with each staff member. Tactics should include all levels of employee engagement, which increases motivation towards the responsibilities undertaken.
It is skills that are at the heart of the entire enterprise. Google's values have been replaced by a focus on the competencies, knowledge and aptitudes of the candidates. Experts are responsible for specific areas of activity, thanks to which the institution functions in an efficient, smooth, and above all – effective way.
Another point alludes to the commonalities between the two corporations. IBM also harnesses the power of decisions driven by information, data and numbers. Artificial intelligence functions as means of increasing job satisfaction and providing a flexible workplace environment.
IBM draws on a specialized management model, agile. This is important when looking for new candidates. Employees feed into special agile-style operating groups that respond to dynamic changes in market needs.
The final component of HR 3.0 is a strong and reliable reputation. Talent management initiates full openness, communication and honesty with staff. IBM promotes a virtual space for feedback and the exchange of ideas and thoughts.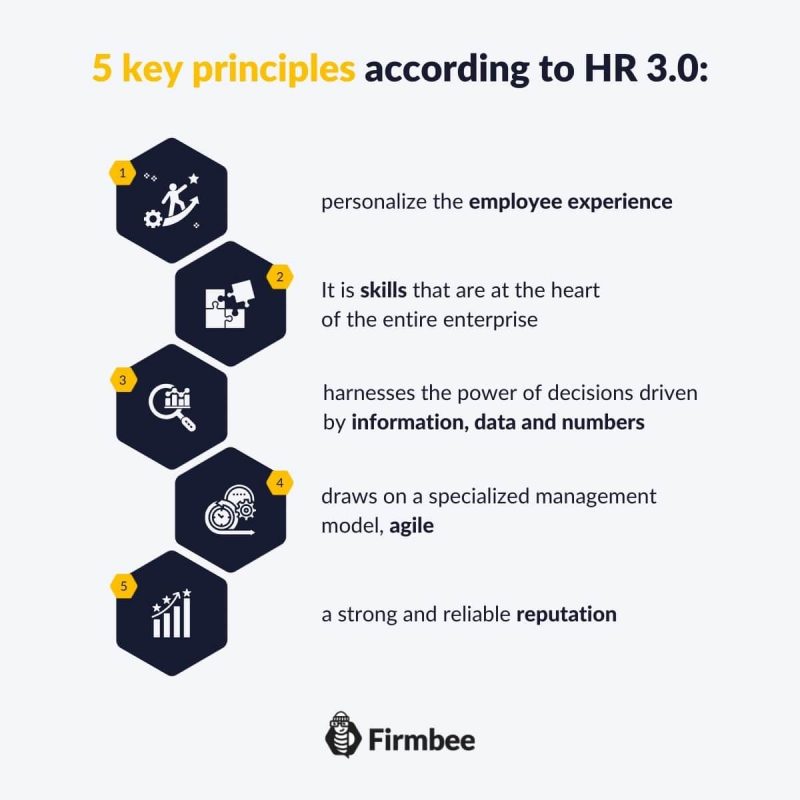 Summary
Two multinational corporations, two styles of talent management and one goal – to attract the best candidates. Despite differences in approaches to talent management, Google and IBM are organizations that guarantee the highest quality of human resources operations.
You may also like: Talent management in company
If you like our content, join our busy bees community on Facebook, Twitter, LinkedIn, Instagram, YouTube, Pinterest.