Freemium is eagerly chosen by startups and mobile application producers. It is also successfully used by big brands such as Dropbox, Spotify, or Skype. However, freemium, like any other business model, has its pros and cons. Is it possible to monetize it? What kind of businesses does it suit best? When to go for freemium and when for a free trial? Read on to find out.
Freemium model – table of contents:
What is the freemium model?
Freemium is a business model in which the basic version of a product or service is available for free. For access to additional, more advanced features you have to pay. Such a model is used for example by Gmail, where a user uses mail for free. Only after exceeding 10GB of free space, you can buy additional space on Google servers). This model is also used by many games available on Google Play or App Store.
According to a Distimo report, 92% of all revenue generated by the most popular games on the App Store comes from freemium (98% on Google Play – source).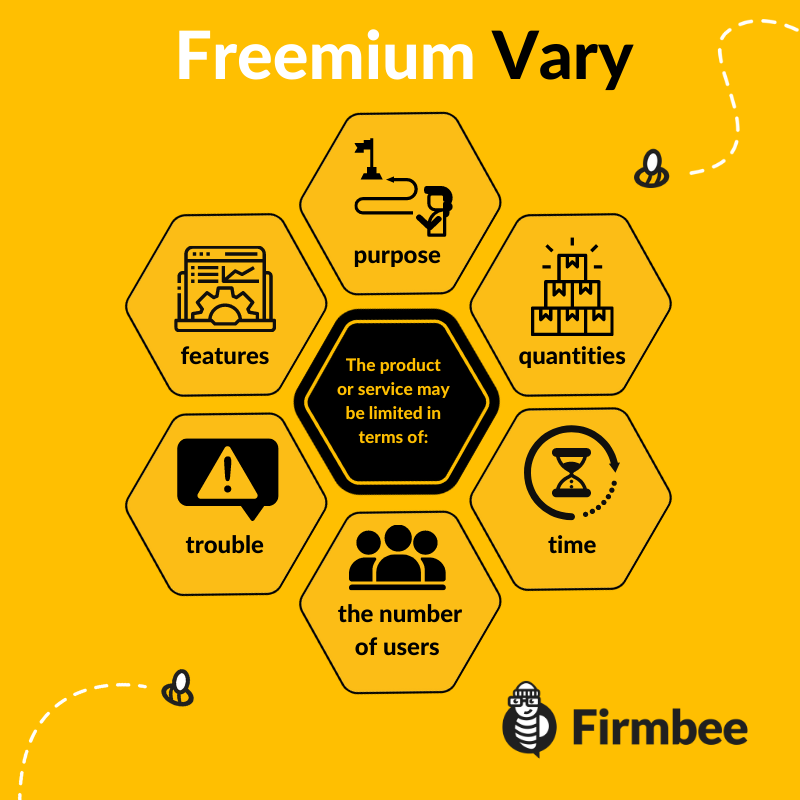 Freemiums vary
The product or service may be limited in terms of:
features (access to additional features requires payment),
purpose (e.g. when the free version is only available for schools or non-commercial purposes),
quantities (when e.g. the free version allows you to issue only 5 invoices per month),
trouble (when access to additional functions requires additional actions, e.g. posting a status on Facebook, inviting friends, watching an advertisement),
time (when they are made available free of charge for a certain period),
the number of users (when, for example, an account is free for 3 people, and larger teams have to buy a subscription).
Which is the best option? This depends primarily on the product and the market. Look into how extensive the product is and who will use it and how. Freemium is effective as long as it is attractive to customers and goes well with the product. It is like a golden balance, the offer is expensive enough to attract the user of the product is cheap enough to get purchased. And right from the outset, remember that freemium is supposed to be first and foremost a sales tool.
"We've always had freemium. Sometimes our freemium has been called piracy," Microsoft CEO Satya Nadella said in an interview with CNBC, admitting that making products available for free can make a huge difference in a promotion. Nadella also mentioned that the more people get familiar with freebies, the bigger the chance they will eventually decide to pay for it.
Evernote adopted a similar tactic, making its product available to users for free for two years. After two years, its customers were usually so accustomed to the service that they decided to purchase.
A good option for which businesses?
Not surprisingly, just some Freemium, like any business model, has its pros and cons.
It works best for businesses that operate in large markets and can reach many customers. According to TechCrunch, in large companies using Freemium, usually 1 in 10 clients decides to buy the premium option. So if you want to achieve a revenue of 10,000 Euros by selling the service for 20 Euros, you will probably need to attract as many as 5,000 customers to do so. Only 500 of them will be the paying customers. If we do the maths, we see that small businesses would definitely lose money this way.
This means that the company must ensure that free users generate as little cost as possible in terms of their service and conversion. Such users will have similar problems and requirements as paying customers.
An example of a business that knows how to use freemium effectively is Dropbox, which is used by over 400 million users worldwide. Each user gets 2 GB of cloud space for free, where they can store their files. If you exceed the limit, buy additional packages. The free version is available for non-commercial use only. Companies – currently more than 100,000 companies – pay a fixed subscription.
Another example can be Zynga, an American studio known for the production of social games (e.g. FarmVille). While downloading the basic version of the game is free, to get access to additional features and functions (e.g. virtual items) you need to buy it. Although the studio's profits are decreasing year by year, in 2012 at the peak of its popularity, the company recorded $311.1 million in revenue.
What are the alternatives?
If not Freemium, what then? There are several alternatives, for example:
subscription – charging regular fees in exchange for access to a service,
usage fee – a fee depending on how long or often a customer uses a given service (e.g. number of minutes used, number of days subscribed, number of packets sent, etc.),
brokerage commission – affiliation,
…and others. You don't have to decide on one particular business model – you can combine many methods of monetization in one product.
Cheapium
Freemium is based on providing the basic version of the product of the service for free. Cheapium, on the other hand, is based on the fact that the basic version is available for a nominal fee (e.g. a pound, dollar or less). Such a fee can be charged once or regularly.
Cheapium has one more advantage: unlike freemium it allows you to… lower your prices. If you previously offered the basic version of your product for 0 dollars and the full version for 5, you can now offer them for the basic for 1 dollar and a premium for 25 respectively. This way the price difference between the packages falls and the likelihood that customers will decide to buy the full version rises.
Some customers think that if something is free, it is of lower quality than other – paid – solutions. This is usually not true, especially in the freemium model, but keep it in mind.
Freemium model or free trial?
Free Trial allows the user to test a product or service for a specified period or a specified number of times. This is how e.g. our ifirma .pl works – by creating an account the user gets access to a free, three-month trial version of accounting software. After that time he can decide whether he wants to buy a subscription or not.
Which of these solutions is better? There is no universal rule. Both Free Trial and freemium have their pros and cons. In the case of freemium, the user gets access to a simple, easy-to-use service. In the case of Free Trial, the user gets access to all functions, which may give the impression that the service is complicated, overloaded with unnecessary things, and difficult to use. However, if he has access to all the features from the beginning, the service may seem more useful than the truncated freemium version. In general, however, Free Trial is associated with higher conversion costs.
In the freemium service, the user has more time to get familiar with the service and get used to it. On the other hand, the approaching expiry date of the trial version mobilizes to purchase. Usually Free Trial works better for companies that operate on a small market (as opposed to freemium).
For a startup, it might be a good idea to start with freemium. To reach as many potential customers as possible – and gradually move to Free Trial or cheap model.
Is it possible to make money by giving it away for free?
As the matter of fact. yes. Although freemium means free use of a service or product, it does not mean that the service or product is free. In practice, the company always gains something from the user. An e-mail address, additional reach, word of mouth, constant feedback, and even statistics, i.e. one more registered account (the number of active users is important especially for startups trying to find investors).
Remember to give it a while before freemium starts to bring profits. Think of the success of Dropbox, Skype or Evernote, it shows that freemium can be a great business model. It offers benefits to both paying and non-paying users – provided, however, that it is a superbly conceived and skillfully implemented model.
Freemium model is not a solution for every business. For some it will be an expensive trip, for others,s it will be a way to cut costs associated with the promotion. Rob Murki of HitTail compared freemium to a samurai sword: "If you're not a master at wielding it, you can cut off your hand."
Read also: Branding strategy for startups. Visual brand identity
If you like our content, join us on Facebook and Twitter!