First, some data proving that the scale of the problem is already immense. Between 2008 and 2017, the number of freelancers in the UK increased by 46%. Their number is already estimated to reach 8 million, which is 15% of the workforce. In the US, there are already 53 million freelancers, or 34% of the workforce. Obviously, not all of them work home office, but a considerable part that of them do, and according to the research, they are exposed to freelance struggles.
Freelance struggles and opportunities – table of contents:
9 to 5 desk-bound jobs are passé?
Working 9 to 5 has become a thing of the past, as it no longer prevails in today's restless era of modern technologies. There's Slack, Google Drive, Trello, Jira, and the Internet reaching almost all the globe makes eight-hour shift in the office and with two hours spent on the traffic look off the wall. And indeed, from a pragmatic point of view, it may be so.
However, according to a recent survey, most people who depart from the traditional model of employment don't realize the challenges of working as a freelancer. And among them, mental health issues are increasingly in the spotlight. After all, with the lack of human interaction and the challenges piling up, depression becomes a real threat.
A study by Cornell University found that home office employees are far more likely than full-time workers to feel isolated not only professionally, but personally as well. In the Epson study, 48% of respondents admitted that self-employment and remote work involves "loneliness," while 46% of them believed it "isolates" them. Moreover, as many as 29% admitted they miss working in a team.
Freelance struggles – examples
In this context, interesting can be some foundings of our Report: Coronavirus impact on teamwork.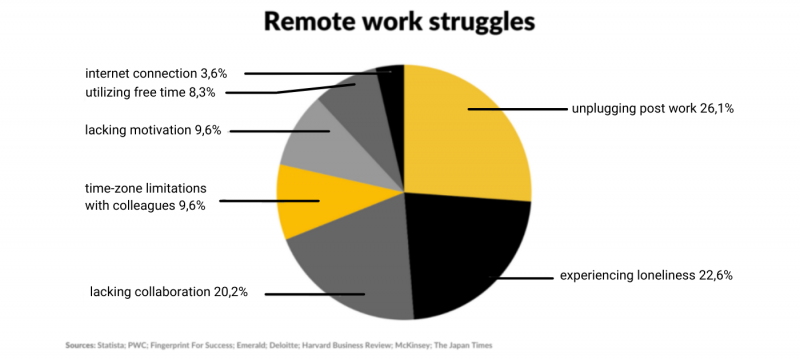 Freelance struggles – summary
"Gig economy" is associated with uncertainty, a fact prone to be forgotten in times of economic growth. When it loses steam, companies stop filling skills gaps, and it's much easier to resign from a freelancer than cut jobs.
Lack of stability and the need to constantly "be on top" results in anxieties and can lead to a serious disorder. That's probably why 25% of respondents in the Epson study said they had regular periods of depression, and 21% linked loneliness at work to suicidal thoughts.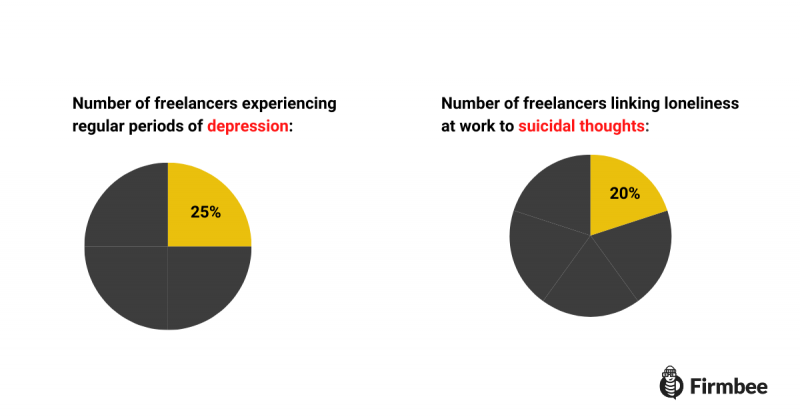 Source: Thriveglobal.com