What should a Freelance Management System have to ensure effective work? What features should enterprises pay attention to when choosing the right tools? Read our article to learn the most important features of a good Freelance Management System.
Features of a good Freelance Management System – table of contents:
Why would a company need an FMS?
Freelance Management System is software that makes it significantly easier to manage every aspect of working with freelancers. It automates many processes and combines all the functions of traditional management in one seamless and effective way. By using freelance management systems, companies develop a more dynamic relationship with freelancers along with upscaling their businesses scope.
Discover features of a good Freelance Management System: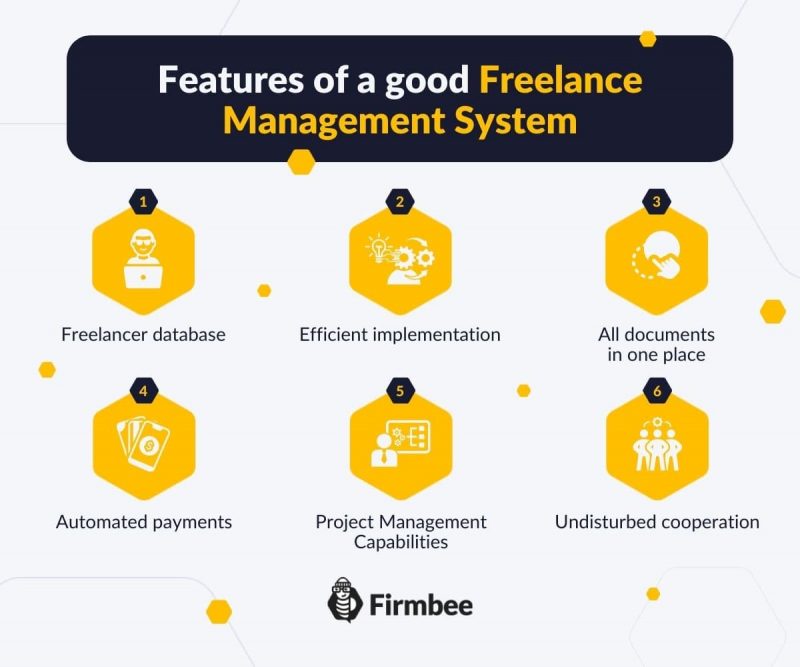 A freelancer database
The process of finding new employees for companies that rely on freelancers is more frequent than for companies with full-time employees. For instance, the high demand for a particular freelancer for a specific project is often so urgent that the search process requires haste and effectiveness. To do that, you can connect FMS with databases of freelancers.
TalentDesk is a platform designed to do just that. It integrates its system with PeoplePerHour's database of 3 million freelancers. Access to such a talent database guarantees a swift and fruitful search for the right professional. A similar platform of such capabilities is Firmbee, which allows you to organize work with freelancers at the highest level, giving access to all necessary functionalities.
Efficient implementation
A good Freelance Management System, apart from the ability to quickly find new employees, should also have the ability to quickly implement them in the company or project structure. To quickly implement a new freelancer, good management systems should already at the beginning of cooperation have a suitably adapted implementation form, to which new employees would fill in all the necessary information. This can include basic information about their business profile, all necessary contracts, and bank details for future transfers.
All documents in one place
Usually, companies involve several freelancers with different skills in the project process. For example, one is in charge of creating content for websites, another develops graphics and a third handles video processing. To manage their documentation or work progress forms effectively, a good Freelance Management System should offer to collect and store all documentation in one place. This avoids scattering data in different places such as e-mail or instant messengers. The documents organized in one place guarantee fast and trouble-free access to them when necessary.
Automated payments
The more freelancers, the more work they have to do, and therefore the more invoices they have to issue. A good FMS can keep track of the work schedules of independent contractors, based on which it consolidates all invoices and generates one aggregate one for the company at the end of the month. Once payment is made, the system pays each freelancer separately, automating the entire process. This avoids the tedious clicking of each invoice separately and also eliminates any human error affecting the payment for completed work.
Project Management Capabilities
After completing all stages of acquiring and implementing a freelancer, managers who coordinate work on projects in the company still have to deal with handling independent contractors. Therefore, another feature of a good FMS is the project dashboard function. It enables managers to have constant access to information about the progress of the ongoing project, control deadlines for tasks and create dedicated teams for specific stages or subsequent projects. With such a dashboard they can also track in real-time the budgets planned for the project, thus avoiding overspending or even reducing unnecessary expenses.
Undisturbed cooperation
Another feature of a good Freelance Management System is the tools that allow constant collaboration not only between the company and the freelancers but also between the independent contractors themselves. The bigger the project, the more people are involved in it. If several freelancers are working on it, they should have tools to communicate with each other so that their work is consistent and headed in the same direction. What tools are we talking about? It is mainly about built-in text messaging features, virtual rooms for video conferencing, and shared space in the cloud for file sharing. Businesses also benefit from this, as it gives them access to all the information and data they need.
Summary
The examples cited above are a few features that a good Freelance Management System should have. Thanks to them the work between the company and independent contractors is simple and most of all effective. These examples also show us how important it is to carefully choose the right freelance management system so that working with them at every stage of the project lifecycle runs smoothly and does not generate additional costs for the company.
Get to know How to implement Freelance Management System in the company?
Do you like our content? Join our Facebook and Twitter community!