The image of a company in its environment is of great importance for its business success. This is of particular importance nowadays, when information spreads rapidly and can elevate someone as quickly as it can knock him off it. This is why external PR has become an indispensable element of entrepreneurs' communication activities, providing them with peace of mind in the face of unexpected image turbulence and the opportunity to develop their brands. What exactly is external PR? What determines its importance? What tools does it use? Take a look at our report.
External PR – table of contents:
External PR – what is it?
External PR encapsulates communication activities of the brand directed outside its structures, the purpose of which is to build its positive image on the part of third parties – customers, potential customers, investors and contractors. It is the external PR that comes to mind when talking about Public Relations in general.
This positive image is achieved by attempts to create transparency of the company, building trust towards it and perceiving it as not only an integral element of the business environment, but also a social one. Nowadays, companies are more than just a form of activity aimed at making a profit. It is also a way to use the available instruments to support entire communities, to care for the respect of other people's rights and freedoms, and to take action for the benefit of the natural environment.
Directions of these activities, properly communicated, can completely change the perception of the recipient, for whom the brand becomes much friendlier entity; someone who can be counted on and who is worth supporting through his own consumer choices.
At the same time, external PR operates quietly, which distinguishes it from strictly promotional activities. As a rule, PR campaigns are discreet, based on analytical tools, consulting strategic planning, and their objective is long-term – it is the building of a lasting reputation, and not the engagement around particular actions, that are most important for PR specialists.
Why is external PR important?
External PR should also be perceived as a form promoting by an organization. At the same time, it is relatively cheap and effective – it is not yet another slogan or advertisement which the recipient is used to and often ignores; the discretion of PR activities allows to build one's image of a given brand based on observation, which also makes this area of activity more credible.
Among the benefits that come with implementing external PR we can find:
building brand reputation; its positive image,
inciting interest around the brand and its products,
bringing the brand closer to the audience,
shaping brand image,
building and influencing consumer decisions,
mitigating the negative effects of possible image crises before they escalate,
raising consumer awareness of the brand and its offer,
increasing trust in the brand,
beating competition on the market with original forms of communication,
retenting existing customers or business partners and attracting new ones.
External PR – tools
PR departments have at their disposal a multitude of tools of varied nature. The following should deserve a great deal of attention:
media relations – which comes down to communicating about a brand with the use of instruments offered by the media with a specific range of activity. Popular tools used by PR specialists in this scope include interviews, press releases and press conferences,
physical evidence – we are talking about all sorts of gadgets and gifts that increase brand recognition among groups of recipients, being at the same time a positive accent that translates into the attitude towards the brand,
events – conferences, charity gatherings and other events allow you to focus attention also on you. They can be educational, sales-related or image-building, but whatever their form, it's an opportunity to meet face-to-face and give your business a human touch,
open days – they deserve a separate mention among all the events organized by the company. This is because they allow you to open up to people; to let them in to some secrets of your business;
social media – it is another way for the company to reach out to the environment in which it functions and at the same time it is a chance to build considerable reach and gather entire communities oriented around the brand. Presence in social media should be obvious for every entrepreneur nowadays – because there is a huge potential in them when it comes to communication activities and they can be harnessed at modetately low cost.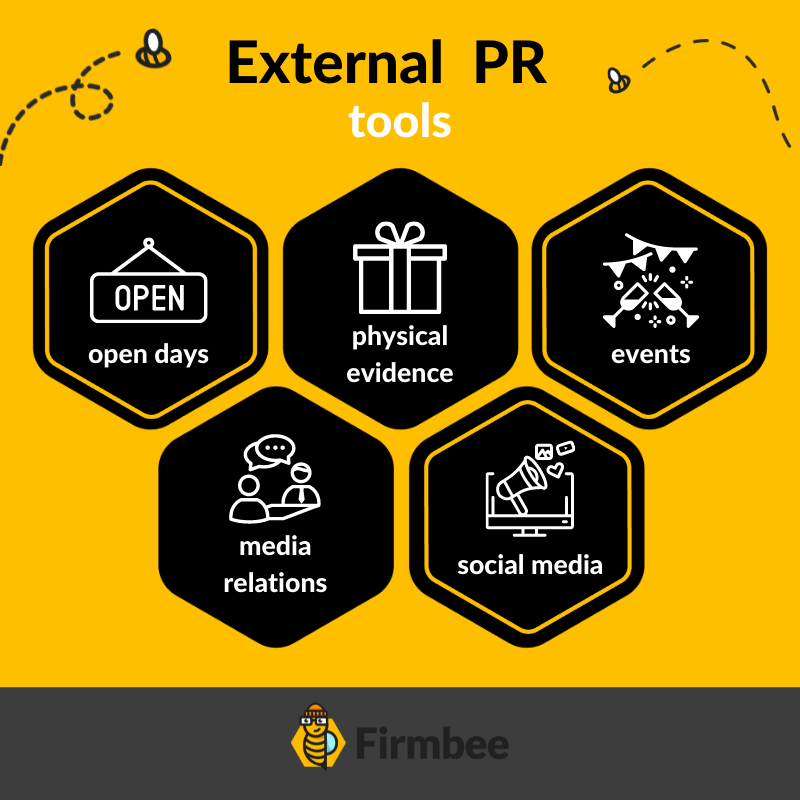 Read also: Internal PR – motivation and integration
If you want to stay in touch, join our Facebook community!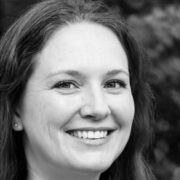 The most important questions
What is external PR?

External PR is communication activities of a brand directed outside its structures, whose aim is to build its positive image among customers, potential customers, investors and business partners.

What are the tools of external PR?

External PR is based on media presence (including social media), media relations and organization of various events.