An important step when selling on eBay is choosing which delivery methods buyers will use. Today we're going to take a look at what the platform has to offer to sellers in this matter and what you need to know about eBay shipping.
eBay shipping – table of contents:
United States Shipping Options
The seller can choose the shipping method they will offer to buyers already at the auction creation stage. The platform allows three ways to do so:
Using the quick listing tool – in the "Shipping" section, the seller can offer to ship the item, pick it up in person or both,
Using the business tool – in the section "Shipping" → "Domestic shipping" → "Domestic shipping", the seller can set the cost depending on the location, cost the same for all buyers, transport of large items and no shipping (personal collection only),
Using the new listing tool – in the "Delivery" section, select "Edit all options" where the seller can choose between domestic and/or international shipping and/or pick-up.
The seller has the option to exclude specific locations to which they will not offer shipping.
eBay Shipping Partners
The platform works with several carriers:
FedEx – offers discounts for home delivery. It has more than 50,000 shipping points and allows delivery 7 days a week,
UPS – offers shipping 6 days a week, including Saturdays. Has over 85,000 shipping points and allows for same-day delivery,
USPS – has more than 30,000 pickup points and offers competitive pricing for packages under 1 pound. It is the only carrier to guarantee free on-site package pickup.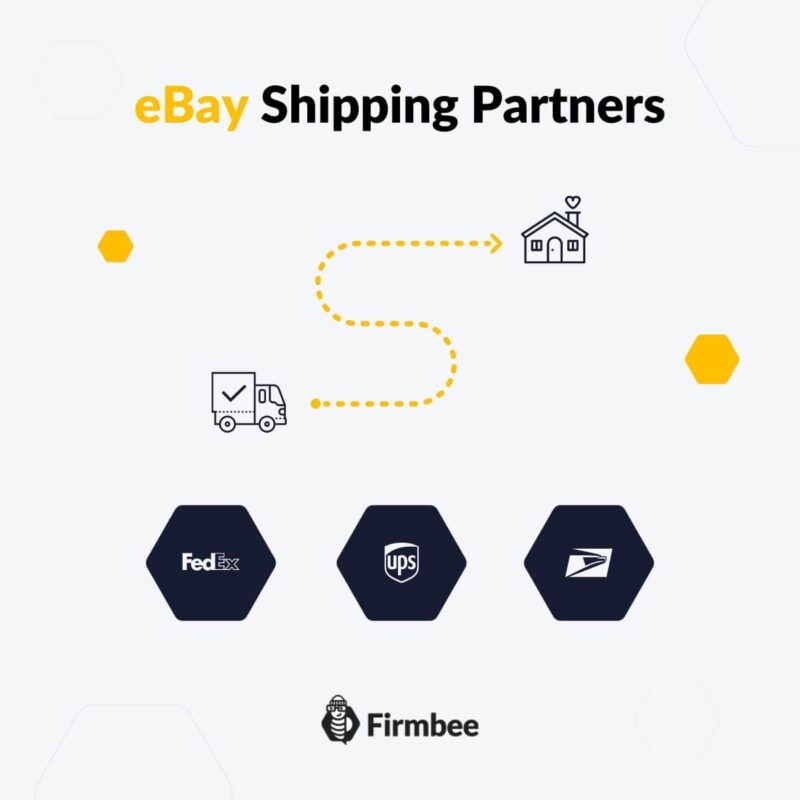 International shipping
International shipping is possible in two ways:
eBay international standard delivery – handles shipments to over 210 countries and enables you to track your package. This form of shipping also includes parcel protection, so the seller is not responsible for problems that occur outside their control,
Global Shipping Program – seller ships to eBay's GSP center in Kentucky, where eBay staff takes care of the entire shipping process: completing customs forms, paying all taxes, and taking care of any issues that may arise. This program offers shipping to over 100 countries.
How to pack a parcel properly?
Sellers who want to make sure their shipments arrive in good condition can follow eBay's guidelines:
The box should be slightly larger than the item you are sending, so that you can wrap extra material around it on all sides,
to wrap the item it is best to use bubble wrap, paper, foam or styrofoam balls,
the box and all edges should be sealed with illegible or brown tape of min. 5 cm,
properly address the parcel and include a return address. If the box has been used before, no other old labels should be visible.
Adding a shipping number to your order
Sellers using shipping services with tracking by tracking number can add it to their order via "My eBay" → "Sold". Then simply select the items to which the number is to be added and press "Add tracking number", and finally confirm the changes with "Submit".
Adding the tracking number to the order enables you to track the shipment and provides the buyer with an email with the tracking number and a link to the carrier's website.
This is all the eBay shipping information we have prepared. Offering more delivery methods to shoppers can encourage them to take advantage of the seller's offers and increase the number of purchases.
If you like e-commerce, also read: How much does it cost to sell on eBay? !
You can also stay in touch and join our Facebook community!