The intensity of the work can be tiring, so we have to learn to deal with time pressure. Overflowing amount of asap tasks and deadlines make you unable to decide what to do first, because everything seems to have the same priority. As a result, you get buried in tasks even more, and your productivity and motivation drop. Sounds familiar? If so, take a deep breath and 5 minutes to read our article to improve not only the quality of your work but also your life.
A rather comforting fact is that you're not the only one who struggles with this problem – one in three people experience work stress related to time pressure. In the United States, 41% of workers admit that stress negatively affects their productivity. This data shows how many people are still unable to adequately deal with time pressure. So how do you deal with this seemingly familiar issue?
Time pressure at work – table of contents:
Organize your time
First, you need to organize yourself and your time. While chaos at your desk at work doesn't mean the end of the world, chaos in your tasks can effectively hinder our way to a stable and clear workflow.
To master the list of tasks, which often changes dynamically, it is worth using devices that help in this process. These are usually applications with to-do lists, kanbans and calendars.
Firmbee is one tool that combines all these features and allows you to easily control your daily tasks. Transparency of the system enables both to easily plan all the activities we need to do and to group them into separate categories. Thanks to the reminders we will not miss anything and marking the next tasks will surely have a positive influence on our mood.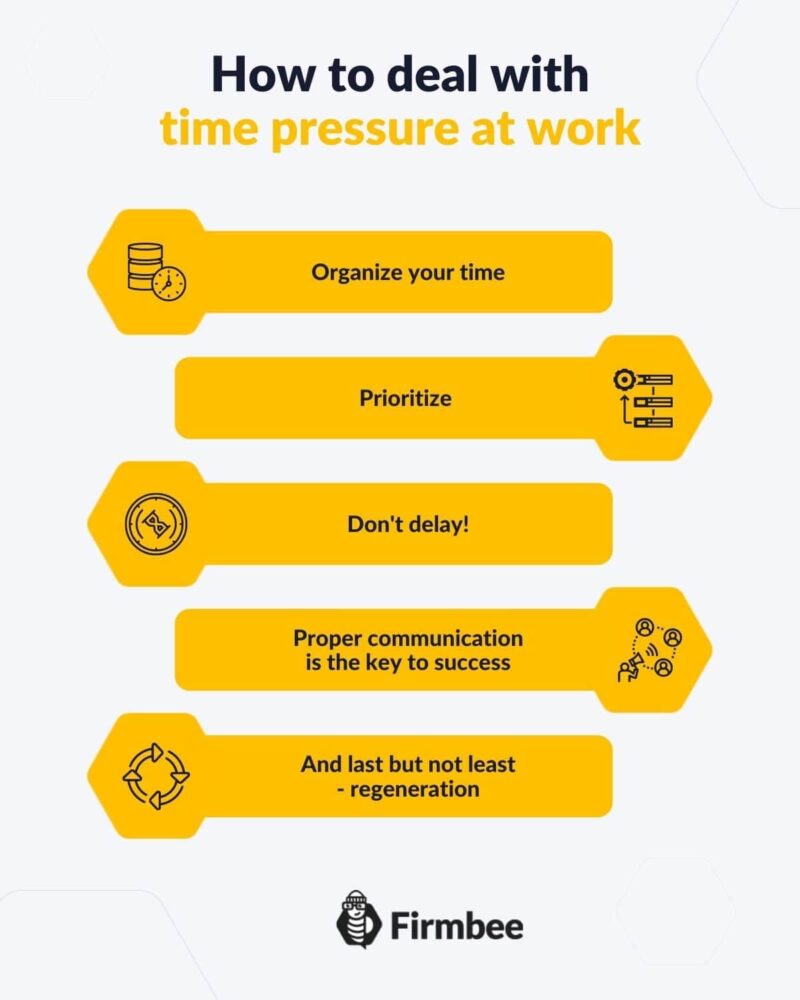 Prioritize
Another activity that will help us in the fight against time pressure is setting priorities. By working according to this principle, we can focus on the most important tasks, and those less important, or that can be postponed, will not be skipped, but done after the priorities. In this case, try a method of grouping tasks. It consists of dividing your duties according to the importance and type of tasks. Then you can perform tasks of a similar type step by step – this will save time, bring about satisfaction, a sense of control over work and will have a good impact on our mental comfort.
An example is calling back and replying to emails – looking at our email inbox every time a message comes in is distracting and puts us off from our current activities. It's better to set a specific time during the day when we do this.
Don't delay!
Of course, that's easy to say but hard to put in practice. However, it really isn't worth procrastinating. It causes us to focus on other tasks at the expense of the one that is most important at the moment. Not performing but just being aware of the importance of certain responsibilities makes us feel overwhelmed. That may result in procrastination, hectically shuffling unfinished tasks, ending up in our inability to do our job effectively.
When approaching tasks that require a lot of work, don't treat them as a whole. By dividing them into stages, you can see the results of your actions faster and get rid of the feeling of being overwhelmed. Seeing specific stages rather than the whole task makes it more manageable, so you don't procrastinate. An added benefit of this method can be diligence in your actions.
Proper communication is the key to success
There is nothing worse than poor or no communication. It is not about constant guidance through all the duties, but it is worth establishing with the superior what is needed now, and what can wait. When this is missing, we can feel lost in the constant flow of piling tasks. If you do not know how to deal with something, instead of thinking about it and wasting time, which is often very little anyway, ask! Sometimes it's better to ask for help than to have to deal with the resentment of your superiors later on.
Communication between co-workers is also crucial. If the division of responsibilities is clear, it will be easier to enforce our needs and consult with the person in question in case of problems. This can also act as a mutual motivator – when we cooperate and see the effects of these actions, satisfaction pushes us to continue working.
Time pressure at work? – remeber about regeneration
You cannot forget about regeneration. You do not get energy only from lunch boxes brought to work. If you feel that stress has a bad influence on you and time pressure becomes unbearable – it is a sign that you need to rest. No, we are not urging you to drop everything for a sudden vacation – rather, pay attention to your daily habits.
Getting enough sleep is the foundation of proper functioning – tired and without 7-8 hours of sleep, we won't be as creative and effective as our jobs require us to be. Another factor that many people still forget is proper hydration and nutrition. Feel like you need 3 coffees and it's not even lunchtime yet? Drink green tea, refill your water bottle, reach for nuts or another wholesome snack.
Remember that work isn't everything. There's been a lot of talk about work-life balance lately, and while there's a belief "work doing what you love and you'll never have to work again", there are many people who don't agree. When living a life of work, it is easy to lose the enjoyment of your personal life, after all, we then replace it with a career. Of course, there are some professions where this principle can work, but even the most enjoyable job is still a job. Self-care should be an important part of life – also in the context of mental health. Remember to nurture your passions, relationships with loved ones and with yourself.
Read: How to reduce the digital stress that accompanies a remote worker?!
If you like our content, join our busy bees community on Facebook and Twitter!