When it comes to customer communication tips for e-commerce owners, you have to learn how to accept criticism and negative feedback. What is more, you need to learn how to use it for your own advantage. For many entrepreneurs, social media seems to be the holy grail that solves all problems. However, when it comes to practical execution, it turns out that it's not that easy, fast nor fun, and doesn't produce the expected results.
Customer communication tips for e-commerce owners – table of contents:
Many people give up, thinking that social media doesn't work. As always, the truth is in the middle – we can use the web for online activities, but it requires knowledge, time and resources.
I don't have much influence on the other two parameters, but I will try to provide some knowledge and advice on how you can make even better use of social media in your virtual stores.
10 useful customer communication tips for e-commerce owners
1. Don't avoid emotions
These are the ones that build relationships with your audience. Inspire sympathy, talk about the positives. Good emotions attract. If we can build trust – customers are much more likely to prefer our shop than others.
That's why we prefer to go to the manufacturer's store than buy from huge supermarkets. This does not mean, however, that you must immediately present your political preferences, sexual orientation or other, more personal issues.
Nonetheless, be prepared to face ideological issues. The online platform that allows you to run your own t-shirt shop, Cupsell, recently faced a serious problem.
One of the stores was offering homophobic t-shirts and content that verged on illegal. After initially removing the shop at the request of many customers, the administration decided that the shop did not violate the regulations which do not prohibit such content, and they reinstated the shop.
A serious ideological war broke out between the customers, which did not positively influence the image of the brand among the progressive and left-wing part of the customers. As you can see, even a clothing manufacturer can have ideological problems.
2. Give, give, give and then you will get
This is one of the very important customer communication tips for e-commerce owners.
Many entrepreneurs expect that fans who come to our site must immediately want to buy something from us. However, we need to offer content, emotion, trust, and help first. Only with time can we expect results.
3. Present your shop and products properly
Both as images and as an offer. Try to alternate sales content with lighter content, so as not to exhaust your audience, but don't run away from company content.
After all, that's what you're communicating for – not to paste cats and memes, but to sell. You can also showcase your employees or other elements related to your company.
Also, remember about good product descriptions – a one that emphasizes what your customer will gain by buying from you.
An example of a good product description, source: www.onzie.com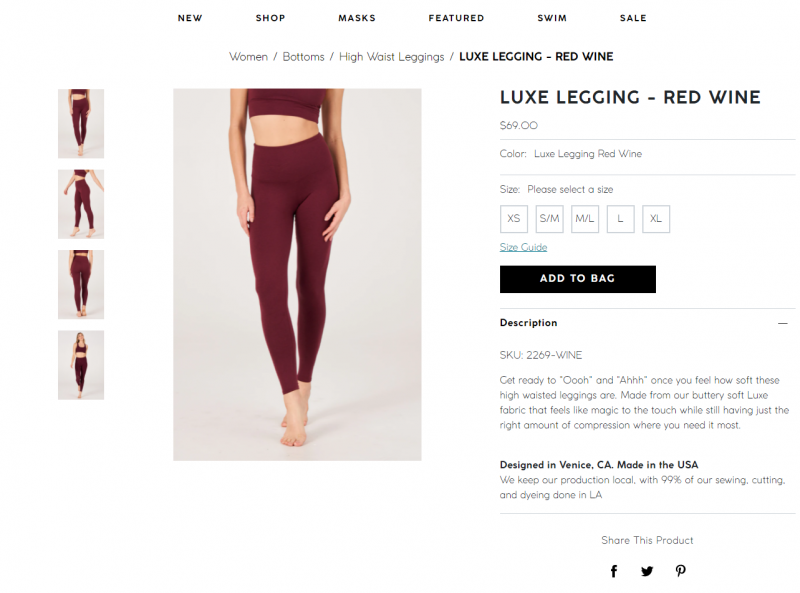 4. Communicate your location
If you have a physical location and are selling online, then don't forget to communicate where you can be found. You can add an address (or even several) to the information tab, or you can add a new tab with a map.
If your store is typically virtual, include your business registration address anyway – it increases trust.
5. Use the capital you have earned
You have hundreds of fans. How do you try to use them? What do you know about them? Often companies have well-developed channels, but fail to use them effectively. So instead of focusing on collecting fans – encourage those you have to take action. This is a very important rule when it comes to customer communication tips for e-commerce owners.
Don't look at earnings as the most important factor.
Those shop owners who look at making a quick buck as their main goal always lose out in the long run. It is impossible to sustain interest and trust if you do not treat your customers as partners. Business is a certain exchange in which the parties must work for their good.
6. Ask for feedback
Customer feedback is extremely important. You can learn what you do well and what you need to work on.
The problem starts when you think that your client's opinion doesn't matter – this is one of the biggest mistakes when it comes to customer communication tips for e-commerce owners. The simplest proof is that referral marketing is the most effective way to promote a business. Customer opinions matter to other customers, so that should convince you to listen to them. If you're still skeptical, think about the fact that customers are the ones paying your salary.
If you lose them, you lose your source of income. Do you think there will always be customers who will buy something from you? You are in for a nasty disappointment.
7. Ask for opinions, find out what your audience is interested in
Administrators think they know better what their audience wants. As a result, they very quickly get wrapped up in creating content that is not interesting to people. Don't impose topics, but rather ask what is interesting to them.
8. Customer service is about serving, not avoiding help
Do you think you offer amazing customer service on social media? Good chance you're wrong. Are you responding quickly enough? Are you not redirecting customers to a hotline or telling them to call you? Are you always asking how else you can help them?
Do you go beyond the standard formulas in communication? Do you offer gratification? Do you apologize when you're at fault?
These are just some of the elements of good customer service. Remember, your job is to strive to meet the needs of your customers. You do this until the customer feels they have achieved what they wanted, not when you consider the matter over. You don't have to treat the customer as your master, because you are not a dog, but partnership requires respect, trust and openness.
9. Learn not to take criticism and accept negative feedback
No matter how good your products are, how great your customer service, or whether you use all those customer communication tips for e-commerce owners, sooner or later there will be someone who is dissatisfied.
Sometimes rightly, sometimes not. Running a business, especially online, requires a thick skin. You can't take everything personally and react aggressively.
Many site administrators react to every negative comment by deleting it, banning it or snapping at the customer – that's not the way to go. We don't have to turn the other cheek, but even critics or haters need to be respected, even if we act decisively.
Business is about delivering on some promise. Our product or service promises to fill a gap, to satisfy some needs, to help with some problems.
When running social media, we must remember to deliver on these promises as diligently as possible. Because what happens on our channels is a showcase of who we are and to whom we direct our actions.
It pays off to come out as good as possible and to really watch out for customer communication tips for e-commerce owners.
Want to stay in touch with our content? Join our Facebook community