Communication on Instagram is an example of communication that nowadays mostly takes place virtually. Few people use their phones anymore to find out what's going on with their family or friends. Phone calls and text messages have been supplanted by instant messengers such as Facebook, WhatsApp or – considered the most popular nowadays – Instagram. In contrast to Facebook, which is used mainly to share life events and contact with friends, Instagram has created an alternative, idealized world into which we escape from reality to relax, get inspired, or just look at nice, aesthetic photos. This has made it an ideal environment for advertising and PR.
Instagram is social in a completely different sense – photos are on display not only for a narrow circle of friends but the whole world. Of course, it is possible to create a "private profile", to which only a few have access. However, this would not make much sense in a business context. The Instagram community is about creating bonds based on similar interests, such as travel, photography, automotive, fashion or makeup. People interested in a particular topic will follow profiles containing that content, share and support the creators. The huge customer base that Instagram has provides great marketing potential.
Communication on Instagram – table of contents:
Instagram account promotion
To conduct effective communication on Instagram, there are several methods that you should use to reach new audiences (who, in the case of a business profile, may become potential customers):
retain current watchers,
expand reach,
increase user/company recognition.
It is worth starting from the "bio" section – it is a place for a short description, introducing yourself and your business and providing a link to your website. It is especially important in the case of clients who enter our profile for the first time. Thanks to this they can find out what kind of content they will find on the profile.
Further ways of communication concern the activity on the profile itself. Starting with publishing consistent content – photos and videos on a given topic, in an aesthetic form and similar style, e.g. specific colors, filters.
Apart from the description, photos should be accompanied by hashtags, i.e. keywords responsible for organic traffic – they are a tool for finding content related to the creator's activity. The greater the number of correct and relevant hashtags, the greater the chance to reach the greatest number of people interested in a given topic.
Instastories and Reels are playing an increasingly significant role. Added regularly, they help you maintain and expand your reach on Instagram. With their help, you can tell stories using photos/video/boomerang/hyperlapse. From a company's standpoint Instastories enable, for example, to present a product/service from scratch. Producers can show how items are created and works, provide behind-the-scenes or previews.
Instagram, unlike other messengers, gives you the ability to repost customer photos and videos. All a customer has to do is share a photo or InstaStory (showing, for example, a product or a video where they give their opinion) where they tag the brand's profile. The brand can easily share this post by adding it to their InstaStory.
Apart from activity and regularity on your profile, it is equally important to mingle with others – liking, commenting and sharing content from profiles with similar themes or your audience. It helps to build an Instagram community, the creators we support are likely to look at our profile and return the favor, increasing our reach. Tit for tat.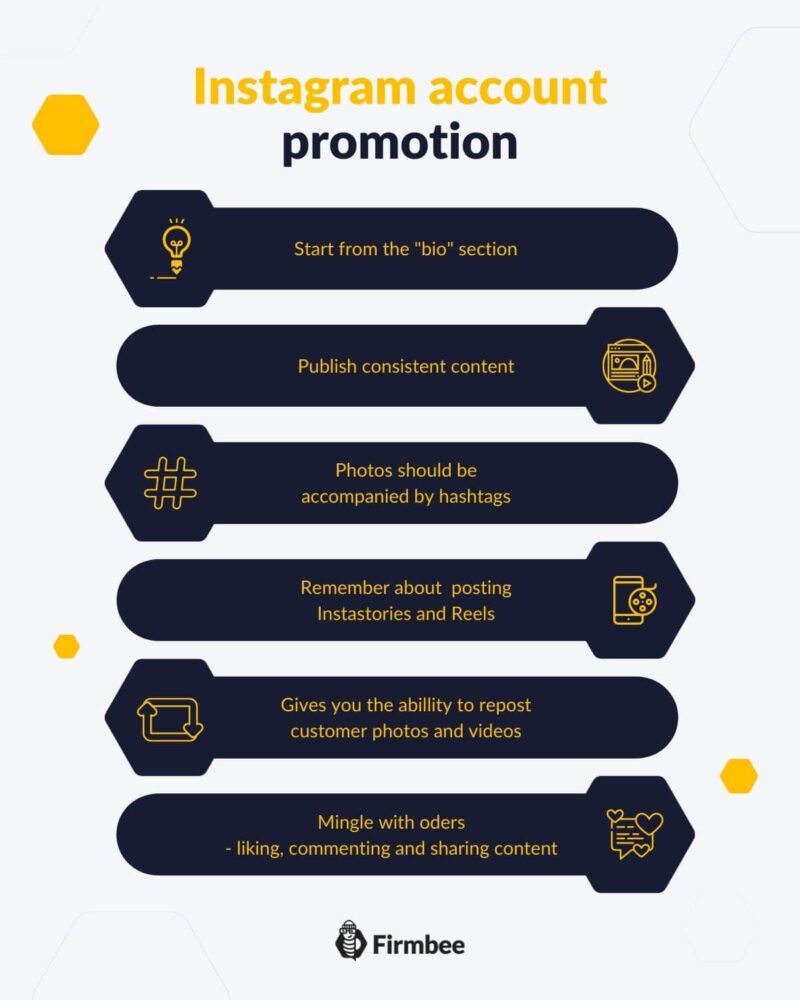 Paid Instagram promotion
In addition to the free forms of account promotion described above, you should also consider paid Instagram promotion. The ad can be displayed as a post or a report. As a post, it displays to users as a regular photo added in the news. It can be shared, commented on, liked – so users engage with the ad. If such an ad is properly constructed and interesting – it will attract the attention of users, and people who already have a product / have used the service of the company can share their impressions, opinions.
Advertising on InstaStory appears in between stories of observed profiles. This way of advertising attracts the full attention of the user because it is displayed on the whole screen. Correct and captivating ads will certainly interest the user, who may look at the profile, observe, share or become a customer. By creating such a paid advertisement, you can additionally add to it a link to a page, store, or even a specific product.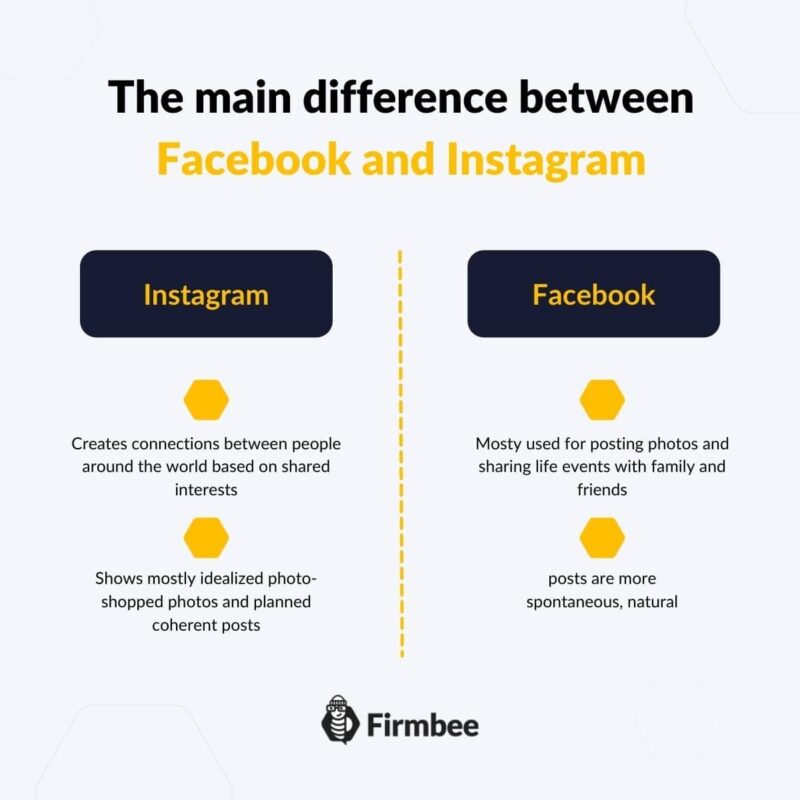 The position of Instagram in the world of Social Media
Why has Instagram become the most popular communication tool? From a business point of view: it enhances establishing a two-way relationship with your audience (customers or potential customers), it makes it easier to present your product or service better than on a website where you only see a photo with a description. Moreover, Instagram features video uploading, instruction, reviews and photos of satisfied customers. It is also popular on Instagram to organize contests that encourage users to engage even more.
Instagram is the most popular messenger on the market. Its average user spends about 40 minutes a day there. Making it easier to reach customers as well as gain new followers. With Instagram, you can reach audiences from all over the world and you use tools that no other social media world has provided for its users.
If you like our content and you would like to stay in touch, don't wait and join our busy bees community! You can do it on Facebook or Twitter.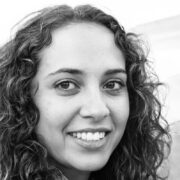 The most important questions
What is the main difference between Facebook and Instagram?

Facebook is mostly used for posting photos and sharing life events with family and friends. Instagram, on the other hand, creates connections between people around the world based on shared interests. Facebook's posts are also more spontaneous, natural. Instagram, on the other hand, shows mostly idealized photo-shopped photos and planned coherent posts.

What does advertising look like on Instagram?

The ad can be displayed as a post or a story. As a post, it is displayed as a regular photo added in the news, and as a story between stories of people you are following. You can also add a link in your ad that directs you to a store or specific product, making it easier for potential customers to buy.

How to attract new followers on Instagram?

You should start with an interesting description in the "bio" section – a brief introduction of yourself, your business, your company. Equally important is consistent content, relevant hashtags, aesthetics of published content and regularity.

What is the purpose of hashtags on Instagram?

They are a search tool for the content related to the creator's business to generate organic traffic to the profile and increase the chance of reaching as many viewers and clients as possible.