When running your own business, sooner or later, you will come across a situation when your client doesn't pay you on time. Then, many questions might swirl around in your head. What steps should you take to get paid? Will the lawyer's help be necessary? Or, is there anything you can do yourself? No worries. In the following article, we are responding to these questions. Read about collecting unpaid invoices in 5 easy steps.
Collecting unpaid invoices – table of contents:
Check details on your invoice
Before you take any steps to collect unpaid invoices, make sure you haven't committed any mistakes. We are only human and everyone makes mistakes. Therefore, double check if you have issued an invoice properly. A typo in the bank account number might discourage your customer, despite their sincere intentions, to pay an invoice.
It is not the only thing you need to verify. It is important to check if an invoice has been issued in accordance with the order. If the amount on the invoice is higher than in the contract, no wonder your customer isn't willing to pay for it. In such a case, you will need to issue a credit note.
A similar situation occurs when your customer doesn't accept the work done. In this case, you will have to make corrections. Also, check if you put the right customer details on an invoice and whether it has been sent to the appropriate address. Pay attention to the invoice date and the payment method. If you are sure that the information provided in this invoice is complete and correct, you can proceed to the next step.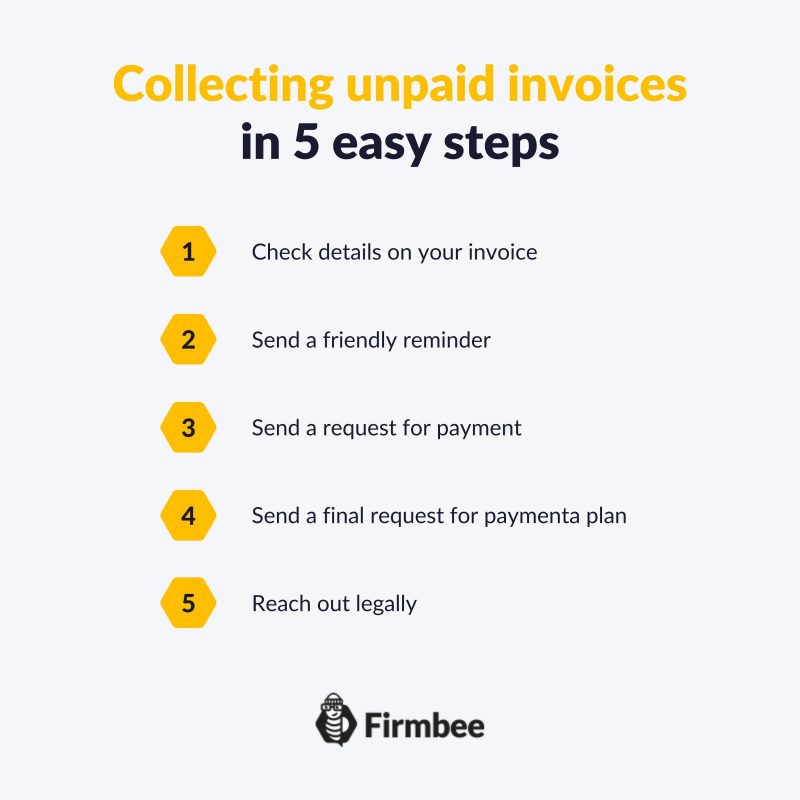 Send a friendly reminder
A lack of payment might be just an unfortunate oversight and a simple misunderstanding. It can happen to everyone. Therefore, the first payment reminder should be friendly. You shouldn't call in the big guns straight away. Take care of good relations with your contractor.
What should you include in such a reminder? Provide clear and factual information in it. Present the facts in a polite, but firm way. Write what work has been done or what goods you have sold to your customer. You may also attach a copy of an invoice to your reminder as your client may have lost it. Indicate when the payment term expired, but don't set a new term just yet. Additionally, you might include the total amount to pay. Wait for your customer's reaction for a few days, and then send the next reminder.
How to send such information? It's best to send it by email as it is the fastest and the most efficient way to contact your customers. Ask your client to kindly acknowledge receipt of your email. This might come in handy later. What if your client doesn't confirm the receipt of your message? You can give them a call, and ask about it directly. If it doesn't work, go to the next step.
Send a request for payment
A payment request should include facts as it might become evidence in court later. For this reason, even minor inaccuracies can work against you. Make sure to prepare it accurately. Such a document should be written in a calm tone, especially when your customer hasn't paid an invoice for the very first time. Be polite and direct, but don't overreact so as not to lose your client.
Since it is an official document, you should send a request for payment by registered mail. You can also use a confirmation of receipt. You don't need to resort to legal services at this stage. Although a letter from a law firm might have more impact on your client, legal services are quite costly. Therefore, you should try to write a payment request yourself first.

Send a final request for payment
This is the last step before you force the issue. Your final request shorly set and communicate your expectations. Although there is no sample letter available for use, a final request for payment should present all the facts and data concerning the unpaid invoice.
Remember to include all the necessary details such as the invoice number, amount due and due date. A well-written request letter for payment will show your client that you are pretty serious about the issue, and it will be a clear signal for them that you might take legal action soon.
It must be admitted that legal affairs might be expensive and time-consuming. Therefore, a document you are about to send is the last out-of-court method of solving the case. Indicate a reasonable date for the payment. Typically, the standard payment term is 14 days.
You might also attach documents confirming the customer's debt. It might be, for example, a goods receipt or a contract you signed with your client. Remember that a contract sent by email is just as legally binding as its paper version.
Eventually, you may add a note that if the payment is not made within the above mentioned time, you will take the case to court, which will involve extra costs for your customer.
With our free invoicing app you can set reminders for upcoming payments and with just one click check the amount due and due dates.
Reach out legally
If your client still evades the payment, then your only option is to take legal action. At this stage, it's best to use the lawyer's help, especially if the amount due is a large sum of money. Even minor mistakes in the procedural letter might make the court drop this suit.
However, what if the invoice amount is small? The cost associated with hiring a lawyer might be disproportionate to the debt. In such a case, you might make use of a simplified procedure, which is less costly and does not require the lawyer's involvement.
You've just read about collecting unpaid invoices. Check out our other articles: 5 common invoicing mistakes
If you like our content, join our busy bees community on Facebook, Twitter, LinkedIn, Instagram, YouTube, Pinterest.