Speech-to-text conversion is a relatively new technology. The first application of this type was developed back in the 1990s. It was a simplified software with dubious accuracy of understanding phrases. After each word spoken by the speaker, the program had to be stopped. Today, content dictation technology is ubiquitous, all modern mobile devices have one. There are also external applications that allow you to accurately record speech and effectively convert it to text. In this article, we're going to present the best free ones.
Best free dictation software in 2021 – table of contents:
What are the characteristics of a text dictation program?
This kind of software can record speech and convert it into a text file. Thanks to efficient speech recognition, it is possible to create documents that organize many issues related to the performance of duties. We can automatically record the sounds of conversations to play them back later or read out the conference transcription. The functionality of the software is much greater though. For instance, the apps are handy for students who take notes during lectures or for authors of books who, in the spur of the moment, can record their speech in various circumstances.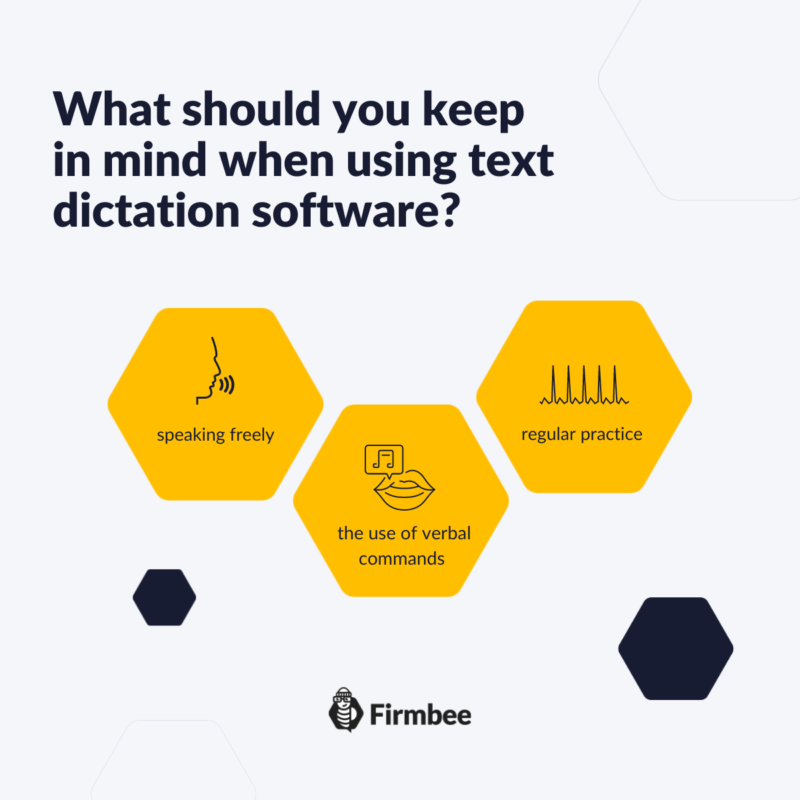 What should you keep in mind when using text dictation software?
Speech recording software is not flawless, so we, as users, should keep in mind a few tips to improve its operation. What is important, modern software of this type can "learn" our speech. Over time the program will better adapt to the characteristics of our speech. Therefore it is worth facilitating this learning process by remembering about:
the use of verbal commands to move to subsequent lines or paragraphs.
speaking freely, as if we were talking to another person.
regular practice to get familiar with its functionality.
Speech to text conversion – the top five programs
Speechnotes

It's functional, free and available for Android. By allowing you to back up your notes to Google Drive your notes remain safe. Its automatic text correction sorts out possible typos. Speechnotes can work offline, however, it functions most effectively when connected to the network. It is a light application that occupies about 4 MB of disk space. In the free version, the program's interface is supplemented with advertising banners, which may slightly interfere and annoy.

oTranscribe

This application enables online text dictation from the level of a web browser. It works well when you need to transcribe recorded conversations or even YouTube videos. The generated text can be safely exported to a plain text file. The viewer interface has an automatic option to save the text every minute – this prevents unwanted data loss. Converting speech to text with this program works best on a PC or laptop.

Apple Dictation

This software is designed exclusively for iOS devices. It enables full remote text input to the device screen using the dictation function. The application has an option to record, translate and transcribe recordings. Apple Dictation allows you to enter text using speech directly into the chatbox. The program supports more than 40 languages along with their translation. The difference between the free version and the paid one concerns only advertisements.

Windows 10 Speech Recognition

This time a proposal for users of operating systems from Microsoft. It is a free program for text dictation and speech recognition. The software is built by default into devices using Windows 10 and its innovative functionality is the possibility to control the computer using only the voice. Mouse and keyboard are no longer needed in such a situation. The program lets you create notes with traditional Windows tools. Using Speech we can, among others, open a text file, supplement the notebook with content, save and close the document. You can also open, send or delete the file at any time.

HappyScribe

A dictation program for transcription of recordings of up to 10 minutes. For every additional minute, the user has to pay. The program copes well with large recordings, even ones lasting several dozen minutes. The program has the function of dividing into interlocutors, so it is suitable e.g. for converting interviews. The punctuation correctness of the recognized text is a questionable issue though. The generated file practically always requires additional correction.
Summary
Automatic conversion of speech to text using dedicated software is a real treat for people working with language. By launching the application while being anywhere (on a walk, in a journey, outside the house), you can create notes without the need to enter them into a notepad by hand. The current dictation technology is still not error-free, but it grants fairly precise registration of speech (about 90% accuracy).
Read also: 4 Best Free Invoicing Software
If you like our content, join our busy bees community on Facebook and Twitter!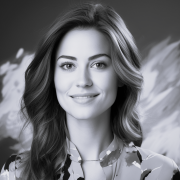 The most important questions
Do you have to pay for speech recording software?

There are both free and paid applications. If you don't mind having ads and limited functionality (e.g. regarding maximum file length), you can easily use the free alternatives.

Dictating text online – is it safe?

Before installing or registering, make sure to check how a given application processes our data. It should guarantee the confidentiality of the data and not keep the generated files on its server for too long.

For whom is a speech transcription program useful?

This tool is especially helpful for students, content creators, journalists, travelers or drivers. However, a text dictation program is also practical for everyone, to create voice memos, shopping or to-do lists and suchlike.