Increasingly, many companies use modern systems to manage various types of documents, accounting, trade, etc. There are also software systems designed to establish and maintain direct business relations with clients in a given industry. These systems are commonly purchased year by year by various companies of all caliber from big shots to small-timers. The software is called CRM (customer relationship management), and in this article, we are going to review our list of the most prominent ones on the market.
Best free CRM software – table of contents:
What is a free CRM software?
The popularity and convenience of CRMs render them key software for customer relationship management. These applications have both freemium and upgraded paid versions. Free CRMs are equipped with several features necessary for proper business management, but also for conducting customer-owner, customer-employee, customer-salesman, etc. interactions. They provide for efficient management of tasks or threads related to a given business conversation, as well as for maintaining relationships with customers.
Naturally, free CRM also allows you to directly serve people who order a product, for example, in an online store, or request a specific item. Such storage of information through free CRMs guarantees for the future the possibility to return to the matter quickly, since customers who have ordered something for the first time from a particular store, wholesaler, or other company may want more offers for the products in the future. Free CRM in the cloud also guarantees a direct stay in the customer-seller reaction through online services, thus providing quick access to the information in the CRM through the web.
CRM is not only a tool for recording various notes related to business conversations with given customers, it is also a business strategy and modern way of implementing and managing services and processes in a given company. CRMs have several features that enable you to, for example, attach digital documents to a case, sales or trading documents. They operate in a network structure in real-time since information is entered and processed in a single database. Therefore, every person using this software from any device has updated information.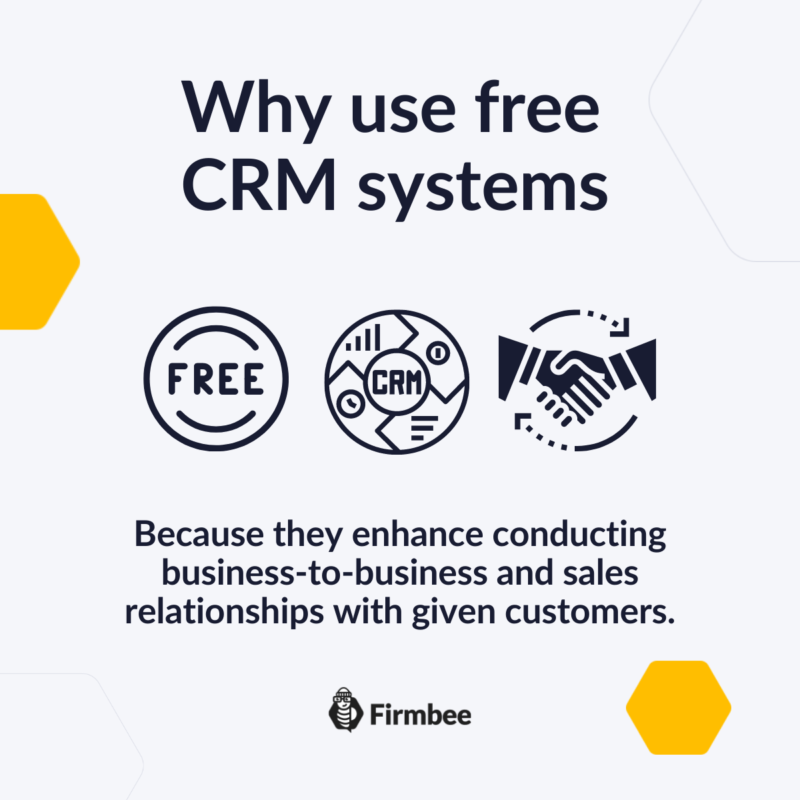 For whom are free CRMs intended?
Due to their wide range of capabilities, CRMs come in handy for professionals who have many business conversations that would be troublesome to remember and keep an eye on. This type of software yields great help for customer relationship management as it handles direct inquiries concerning sales and sales routes by integrating with online services. It also automatically manages requests for quotes, complaints and suchlike.
The best free CRM software
Which free CRM to pick? There are a lot of free CRM systems on the market but let's start with probably the most popular and respected one called SugarCRM. Its free version has numerous features such as a personalized user panel, the ability to add new objects with the so-called subpanels or utile paths to link many elements of the CRM to access a specific case module. In addition, SugarCRM guarantees the registration, as well as the planning of many events. What is more, it has options to import and export documents or digital data.
Another free CRM is SuiteCRM. It has plenty of capabilities beyond the standard of its kind. First of all, the program was built with rich features that empower each user to handle customer requests, lead and manage projects or record business meetings and phone calls. SuiteCRM is integrated with Google Maps and has a built-in wizard for automating many tasks. It also guarantees event management from the user panel.
VTiger application as CRM free is a program that grants numerous features. With VTiger we can use free services such as MS Office or popular email applications such as Mozilla Thunderbird, MS Outlook. It has an administrator and user panel, where we can configure and manage many functionalities. It also integrates with marketing systems, communication systems or online services.
CRM freeware – Summary
Every business owner who wants his enterprise, business to expand its capabilities and gain many customers should use modern free CRM systems. A free CRM as a tool for any type of business gives some possibilities to manage customer relationships. These systems can also perform many other tasks such as project management, accounting, company management, etc. Naturally, CRM modules work locally as well as online. The free CRM download is a solution that merges the software for personal computers with the data of the company network.
Why use free CRM software?
Because they enhance conducting business-to-business and sales relationships with given customers. It is a solution that combines multiple modules into one cohesive whole. It entitles you to manage as well as collect data in CRM.
For which solutions can we customize a free CRM?
CRM systems certainly find their usage in commercial, sales, marketing services or running a business that relies on customer relationships. Customizing a CRM application is easy, as programs of this type are versatile tools for collecting data on business contacts.
Can CRM be integrated with other systems?
Free CRMs can be integrated with other services, for example, online systems that support e-commerce outlets, as well as email or office programs. Therefore, we can exploit the option of combining multiple systems into one common structure.
Who uses CRM most often?
Most often free CRM programs serve salespeople, salesmen, owners of sole proprietorships and companies employing a large number of people. Recently, the program is also increasingly popular with people working on multiple projects in various fields.
Check out our previous article on CRM for freelancers and join our Facebook community to stay in touch!