Spending more time at home doesn't have to be just an unpleasant lockdown obligation. With a bit of imagination, discipline, and our DIY ideas, you can creatively use this period and turn this seeming nuisance into an opportunity to start a new profitable business. Handicrafts are experiencing a boom again opening opportunities to earn really good money. Are you looking for ways to earn extra cash or fulfill your passion?
10 DIY ideas. Topics covered:
What handicrafts sell best?
While virtually any skill can be turned into a way of life, some products are more popular, making it easier to start a related business. Some of them require neither a great deal of time nor a lot of resources – interested? Check out our ideas!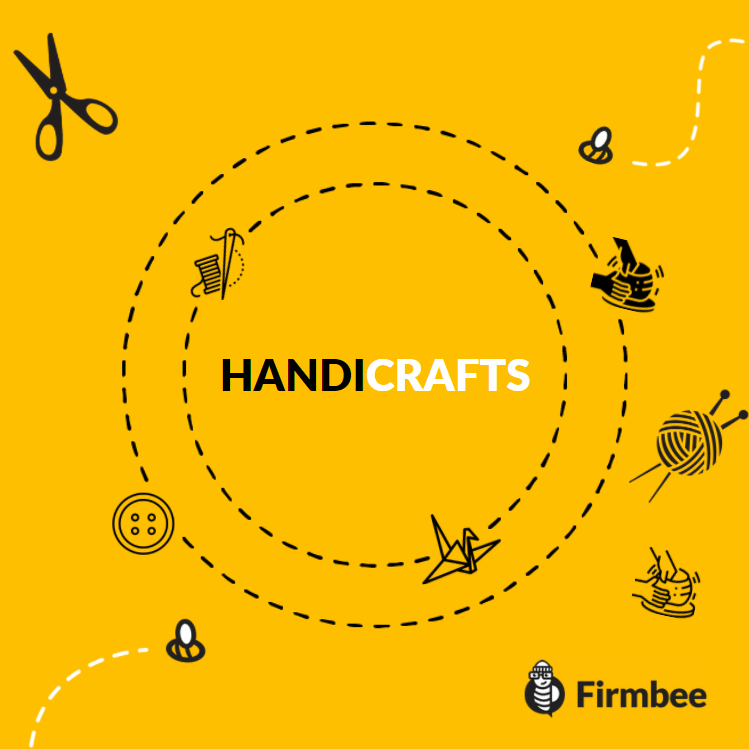 Here are 10 DIY ideas to consider if you want to stay home, earn money and maybe set up a successful business:
1. T-shirts and other printed items
Do you have a cool idea for an eye-catching logo, graphics or design that would catch the eye of passers-by? Would you like to prove yourself in designing clothes or gadgets? Then ordering t-shirts, mugs, pens and other everyday objects decorated according to your idea might be an interesting option to start your business.
Sometimes a humorous insert or caption becomes one of those DIY ideas that amuse customers and achieves sales success. The advantage of this solution is a very low start-up capital and low distribution effort – prepared products can go directly from the printing house to the customer.
Here's an idea of a DIY t-shirt that Firmbee team came up with: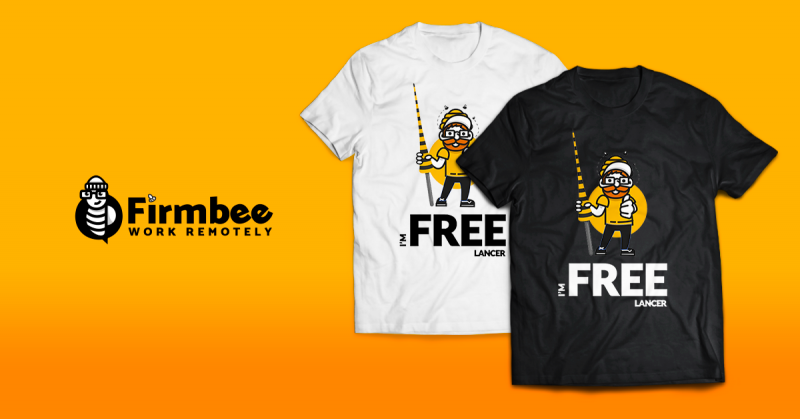 2. Handmade jewelry – not so only for professionals
Jewelry is another example of those DIY ideas that do not require specialized technology or a lot of money to start. No one says that handmade jewelry has to be plastic or tacky.
Although the competition in the handmade ornament market is not small, finding your niche is still possible – and very profitable! More often than not, the key to success lies in doing things completely differently than others and consistently sticking to your style.
3. Scented candles in various colors and shapes
Most of us have probably heard of the globally successful Yankee Candle brand. The scale of their success shows the popularity of carefully selected scented candles in luxurious packaging. In the USA alone, such an industry is estimated to generate $2.3 billion annually.
The creators of Yankee started as a small local manufacturer – so why not repeat their success? Despite appearances, setting up a small candle home workshop doesn't require much investment at all.
4. Dashing candies dazzling with tastes and display
Candy, cookies, chocolates, and other sweets – fancy homemade sweets are DIY ideas easily gaining a market. Of course, in this case, too, you'll need to find your niche to sell your crafts.
Perhaps by placing them as an ingredient in gift sets, or perhaps by targeting your products to a select group of people – such as lovers of a car brand, a breed of dog, or a movie character – you'll hit a market that will provide quite a bit of success in the marketplace. Remember, be creative!
5. Digital products
There's no doubt about it – the world is moving online, and in the age of pandemics and lockdowns, this is more apparent than ever. Therefore, by providing creative digital products, you can be a beneficiary of the online revolution.
What crafts sell best online? It doesn't have to be something complicated at all – it can be a wedding invitation design, your fancy font (the potential is huge here), webinars, or photo and material alterations in Photoshop.
Where to sell it? We've made a list.
Among other DIY ideas, the cost to get started with this one doesn't have to be high (there are also free programs like Gimp and Inkscape), and the profits can be really solid.
6. Cufflinks
Even something as small as clothespins can be an interesting idea for finding a niche, providing a reasonable income and selling handicrafts on a large scale. In some countries the fashion for glamorous cufflinks is still in its infancy, one can be sure that it is bound to catch on – observing their immense popularity in the West.
Various designs and models, including those with company logos or serving as souvenirs, can be a great way to gain a lot of customers – even wholesale ones. And remember about shirt clips!
7. Cosmetics & lip balms
Handmade cosmetics have been growing in popularity for quite some time now. Natural ingredients and selected fragrance notes are attracting the interest of customers for whom personal style and harmony with nature are really important.
Most often it turns out that you already have all the necessary ingredients at home. However, it is not worth saving on them – the highest quality will make your customers eager to come back to you.
8. Clay dishes and ornaments
Although their production requires considerable experience and practice, clay products fit perfectly into the increasingly powerful trend of eco-friendly, local products that are not likely to go out of fashion anytime soon. Less experienced people can start with simple pots and move on to more advanced products.
The items made in this way are incredibly beautiful, and the entry threshold is basically the time it takes to develop the skill and make the first series.
9. Products for animals
People are buying more and more gifts and accessories for their pets – so why not put this on your list of DIY ideas?
Handmade dog collars, winter sweaters or leashes are products that find their customers without any problems. In addition, their production does not require special equipment – the most important thing will be creativity and work on the quality of products. You can take photos of your pet – they will come out very cute!
10. Music
Composing music that is later used in other songs, or as background music for programs, or even flying in the background from speakers in supermarkets, can prove to be a profitable occupation.
If you don't feel comfortable composing the whole thing, then you can think about creating samples or voice recordings yourself, which will later be incorporated into other tracks. This activity requires a bit of a passion for art, but it allows you to make a nice income.
Where to make money of your DIY ideas?
Thanks to the popularity of websites allowing online trading, selling handicrafts should not be a big problem. Using popular platforms, you can offer your products and services to recipients around the world, for example through Ebay, especially if you aim at digital products that do not require physical delivery.
The DIY category on ebay is divided into even more categories; source: https://www.ebay.com/sch/i.html?_from=R40&_trksid=p2540003.m570.l1313&_nkw=DIY&_sacat=0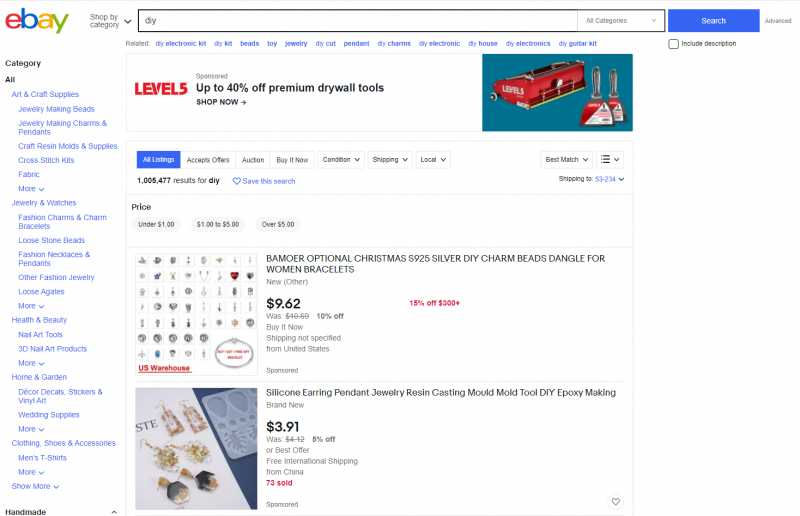 While it may take some time to learn new ways and methods to reach customers, we hope now you know a little more about making real money in the comfort of your own home!
Want to stay in touch with our content? Join our Facebook community