Best time tracking apps are incredibly useful tools. In the hustle and bustle of modern life, it can be incredibly tough to stay on top of everything you need to complete. An effective time tracking app will not only help you take greater control of your day but will also make your team more productive and improve its accountability. However, the market is packed with time tracking apps, so which should you use? We've taken a closer look at the…
Best Time Tracking Apps in 2022 – table of contents:
Why would you need a time tracking app?
If we control the process of completing tasks and set strict time frames in which we fulfill our goals, we can be sure that the efficiency of our work will increase. The employee gains more flexibility and can focus on improving those elements that take the most time. If you're looking for other ways to increase your productivity, check out our article about best productivity apps.
A computerized time registration system provides information about the effective and ineffective stages of performing duties. Time tracking is suitable wherever a contractor needs to set an hourly rate for a completed job. It warrants precise estimation of productive work time, which makes it possible to concretize a rate for a completed project, work or service. The application becomes our "advisor and analyst" empowering us to recognize the time consumption of individual stages and elements of the project enabling their prioritizing, delegating, fixing and handling.
Best time tracking and invoicing software also allows you to control the budget allocated to a given project. The company can manage projects more efficiently by easily sending invoices. This allows you to control receivables from the level of a given program.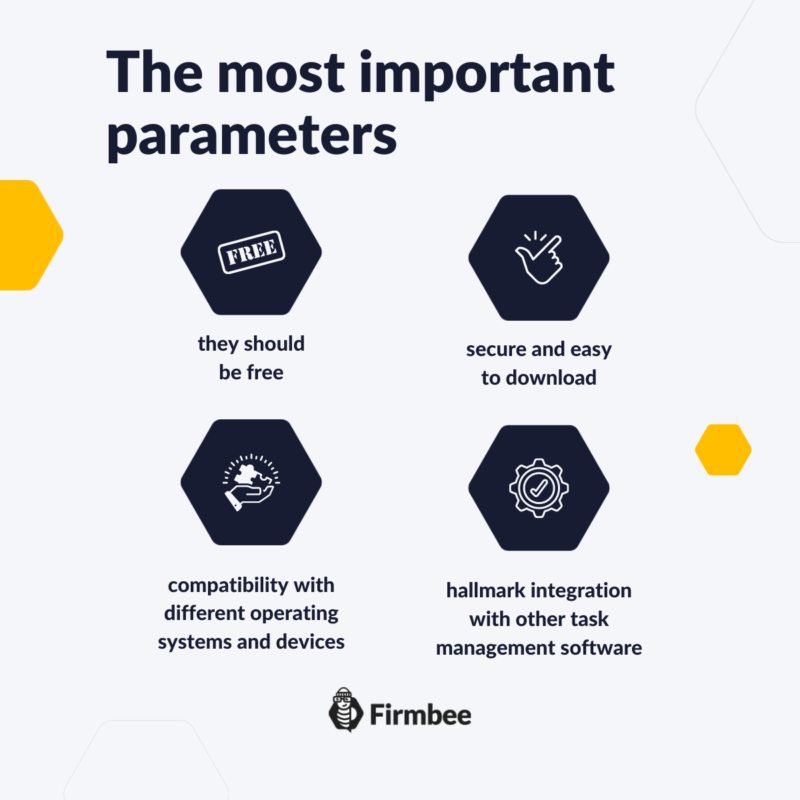 What features should the time tracking app have?
When classifying the time & attendance apps listed below, we took into account a few key factors. First of all, they should be free, secure and easy to download. This is because the monitoring of working time should take place "in the background", without distracting our attention. Another important feature of this type of program is compatibility with different operating systems and devices. It is crucial that the working time monitoring is so versatile that it can take place on all hardware available, synchronizing data automatically throughout all devices. A timekeeping system should also hallmark integration with other task management software. So without further ado, check out our list of the leading time tracking apps on the market.
13 best time tracking apps in 2022
TrackingTime

Overview: TrackingTime is a popular app for Project Managers looking to keep a closer eye on their team's activity. With Chrome and Firefox extensions, the in-depth app provides a clear overview of the hours worked and tasks in progress. It also lets managers communicate with their team and assign tasks.

Pricing: The app offers a free plan, which is limited to three users and three projects. The unlimited pro version costs $7 a month per user.

DeskTime

Overview: This very simple-to-use app combines three core areas: employee monitoring, project management, and productivity analysis. The powerful app does not just track time, though; it also reviews the actions of users, such as the web pages and programs they use, allowing it to calculate overall productivity.

Pricing: Users can choose from a free Lite version, while for full access, users can choose from a range of pricing plans depending on the size of their team.

Timely

Overview: Timely is a great app that helps employees create automatic timesheets. The innovative solution uses advanced AI to track background activity to create detailed reports on activity. Users can then review and edit this information before approving it.

Pricing: All information is kept private, and employees are able to choose which information is shown before submitting their timesheets. Users can enjoy a free 14-day trial, with then a range of paid plans depending on the needs.

ProofHub

Overview: This powerful time tracking app has an incredibly simple interface and offers a wide range of collaboration features. Users are given the ability to start an automatic timer when they begin a task, alongside allowing the ability to input manual time too. All of this information is then stored in an attractive timesheet which can be used when invoicing clients.

Pricing: The app can be connected with a host of third-party apps, such as FreshBooks. New customers get to enjoy a free trial, while basic access costs $45 and full access $89 a month.

QuickBooks

Overview: This quick solution lets users to quickly clock in and clock out through a single click of their smartphone. The previously known as TSheets, app also allows businesses to create schedules and shifts, notify team members, and monitor attendance.

Pricing: The app also comes with GPS tracking and geofencing, allowing businesses to see those employees closest to the next job. Prices start from $20 a month (with an additional $8 per user).

Time Doctor

Overview: The useful Time Doctor app is a mic of both project management and time tracking. The app will closely monitor users, tracking the websites and apps visited while also allowing managers to take screenshots of what employees are currently working on.

Pricing: The app also gives employers the ability to pay employees directly through a range of banking apps. Prices start at $9.99 per user, although discounts are available for larger teams.

Hours

Overview: Available across desktop, smartphones, and smartwatches, Hours is a very useful tool for freelancers and consultants. Users can set up individual timers for their various tasks, which they can then toggle between as needed.

Pricing: Hours will then create a custom invoice based on the timer notes, giving detailed reports on how users are spending their time. Personal use begins at $19.99 a year, while for larger teams, the pro version costs $59.99.

ATracker

Overview: This mobile-only app simplifies time tracking by providing a simple to use timer, which can be assigned to a particular task. Users can customize the interface based on tags or colors, ensuring they can quickly set priority levels.

Pricing: Users can sync data across multiple devices, and ATracker offers a free limited-time plan, with a Pro version starting at $2.99 a month.

Tick

Overview: Tick is a very useful app that lets users track their time based on the timeline and budget of their project. The software will alert users when they are taking too long on a certain task, are running out of time, or are exceeding the budget.

Pricing: The app can also be linked to various accounting software, and prices are based on the number of projects required.

RescueTime

Overview: RescueTime is not only a time tracking app, but it also shows users how productive they have been. The app tracks how you spent your day, reviewing the websites, apps, and programs you utilized before calculating the time you wasted.

Pricing: Users can also set themselves goals, with RescueTime providing regular updates on how close you are to achieving them. The Lite version is free to use, while to unlock the full version, the premium subscription costs $9 a month per user.

Toggl Track

Overview: It is a fully free and extremely efficacious time tracking app available for various operating systems. Its greatest leverage is automatism. It counts the time on its own, without the need to enter information about the ongoing project. It also contains a plugin featuring an activation button that appears on many websites. It is a handy reminder, which informs about the possibility of measurement. The program has been equipped with additional options, allowing the stopwatch to turn on each time you open the browser (or other, defined in the settings, program). Toggl Track has a built-in sensor of inactivity rendering even more precise analyses of results. The aesthetic user interface is also a bonus.

Pricing:The free version of the program is designed for a team of up to 9 people. The starter subscription costs $18 a month per user.

Everhour

Overview:This one can instantly associate projects entered into other task management applications. All projects that we create in a particular productivity program at work automatically appear in Everhour. It has an intuitive interface that easily tracks your time with a single click. A valuable aid of Everthour is the progress bars element that visualizes whether we managed to complete the project on time.

Pricing: The free version of the program can connect up to five users. The possibility to integrate the application with other management programs already requires the purchase of a subscription. The subscription costs $10 a month per user.

Firmbee

Overview: Firmbee is probably the best time tracking app on the market. It is a multifunctional tool that allows you to control the duration of the project. Everyone in the team can list down their tasks and the time spent on their implementation. Thanks to this function, it is possible to calculate how much financial resources a given project required, how many people worked on it and how much time was spend on it.

These functionalities make it the best project management software for marketing agencies. Superiors can control the entire task management process and easily check if the duties are being done systematically.

Pricing: Depending on the package, the prices are as follows: Pricing.

Check out how to gain control thanks to time tracking by using Firmbee:

Is it worth using dedicated applications to measure work efficiency?

Monitoring working time is instrumental to maximize productivity in performing tasks. This way we can check whether the task at hand does not take more time than we might assume. It may happen that some projects undertaken will be too time-consuming to implement and the app will consequently contribute to saving our valuable resources. Free apps are definitely propitious in the context of individual work or work in a small team. You will have to pay for extended functions, either as a one-time fee or as a monthly subscription.

Finding the right time tracking app for your needs can be tough, but it is also essential in helping you to maximize both your performance and that of your team. Read also our article about working smarter, not harder.

Join our Facebook community to stay in touch!

Author: Caroline Becker

As a Project Manager, Caroline is an expert in finding new methods to design the best workflows and optimize processes. Her organizational skills and ability to work under time pressure make her the best person to turn complicated projects into reality.

The most important questions

Why measure work time?

One reason may be the desire to accurately determine an hourly rate for services rendered. This is a particularly helpful option for freelancers, ghostwriters or other independent creators.

What is the time registration system useful for?

It allows us to analyze the productive and unproductive time spent on specific activities. This way we can verify which of our behaviors are beneficial and which contribute to wasting time.

How do such applications work?

Some of them work automatically, others will have to be manually activated, e.g. using a button that appears in the application interface. Some of them have a function of measuring time offline, which is practical e.g. while traveling when access to the network is insufficient.