What is social selling? Well, that's a very good and justified question. Social network sites, although they earn a lot on advertising, have been trying to diversify their sources of income for several years by providing sales support functions. Here we go. So how exactly use the so-called social selling and is it worth it at all?
The discussion about the sales potential of social media only a few years ago lit the marketing industry red. And then there were many opinions that while building brand awareness can be successful there, selling is bad. Today, however, there is no trace of these deliberations, because the behavior of Internet users buying online has changed. Selling is no longer a one-time act of trust and has become a process in which building a lasting relationship with the consumer is key. Social media has become the place for forging such relationships. Facebook, Instagram, Twitter, LinkedIn, Twitter, Snapchat, Pinterest, and – recently – also TikTok are platforms that excel in soliciting users' time, so brands simply cannot be overlooked in sales activities.
What is social selling and how to sell directly on social media?
Social selling is nothing less than a deliberate action aimed at building a brand in social media. Activities that take into account both direct sales using the functions provided by social platforms, as well as targeted traffic increase on the store's website. Why is it worth including social media in your sales strategy? It's simple: because they work. In a recent CSO Insights and Seismic survey, every third B2B specialist said social selling tools increased the number of leads they had to collaborate with, and 39% said social tools reduced the time spent researching accounts and contacts. Social selling, although it is the most talked about in the B2B segment, works also for B2C brands. It is all about trust between both parties to the transaction, and you cannot try to get it on LinkedIn, Facebook, or Instagram. Especially the latter, for "visual" brands, i.e. fashion, interior design, gastronomic or cosmetic brands, is actually a must.
What e-commerce functionalities do social media offer?
Call-to-Action in posts
An advertisement that allows for the addition of an explicit CTA encourages consumers to take action that the advertiser cares about, such as arranging a showroom visit or purchasing a product from a storefront. How to build an effective CTA ad? First of all – you must remember that you have a few microseconds to interest users. At that time, they need to understand your message and follow it. So there is no room for sophisticated metaphors and mystery. Speak simply and unequivocally about the values that your product will bring. We wrote more about CTA and its improvement here. TIP: Choose the CTA most suited to the goals you want to achieve. Facebook offers, for example, as follows.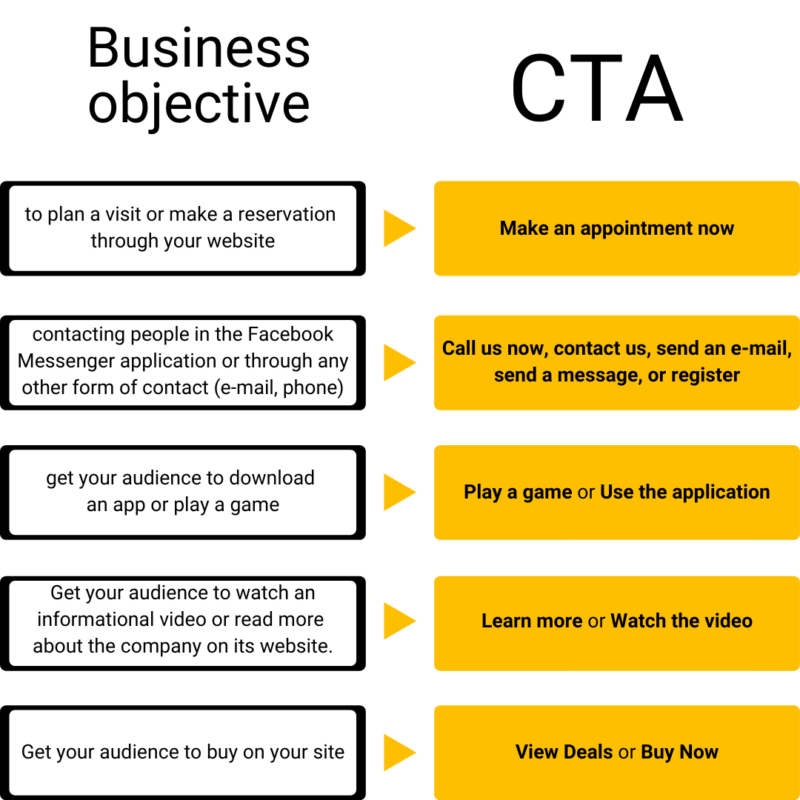 Instagram Stories with a shopping experience
Instagram, as one of the most engaging social media in the world, is a must-have platform for brands, especially those that can create image content. The more so because recently it has been very careful to support conversions in online stores. How? One of the most important functions is tagging the products shown in the photos. Purchasing functionality is available in commercials broadcast on the user's Feed on Instagram Stories and the "Explore card". When the customer touches the product tag, they will be redirected to that product data page, which will contain additional product images and data, similar products, and a link to the mobile site where they can make the purchase.
Instagram Checkout
By releasing Instagram Checkout at the end of March 2019, Instagram took it a step further. The function, which is currently being tested on the American market, allows you to purchase without leaving the application. A user interested in a given product will no longer have to go to the store's website to make a purchase. They will be able to do it directly "at the cash register" of Instagram – all they have to do is select the option "Checkout in Instagram" and provide their payment details. Among the companies that test how Instagram Checkout works in practice are Oscar de la Renta, Michael Kors, MAC Cosmetics, Adidas, H&M, Nike, or Zara.
Facebook Marketplace
Marketplace is a platform that allows users to sell and buy goods locally. It is connected to Facebook and you just need to click the shop icon to use it. How does it work? On the bulletin board, there are sales offers available in the user's immediate vicinity, although they can also be sorted by location, category, or price. Facebook does not mediate transactions or payments in any way, so the details are always agreed directly on the seller-buyer line. Marketplace is not the only Facebook selling The Marketplace function is directed to the C2C segment, and its use is child's play: to publish an ad, just add a photo, description, price, and location.
The importance of mobile in social selling
The use of social media in sales must be preceded by the optimization of the website for mobile devices. This is an absolute necessity because more and more social media users use it via smartphones. According to Statista, in January 2020, approximately 98 percent of active users in the United States accessed social media via mobile devices, while the global social media penetration rate was 51 percent. Join our Facebook community to stay in touch!