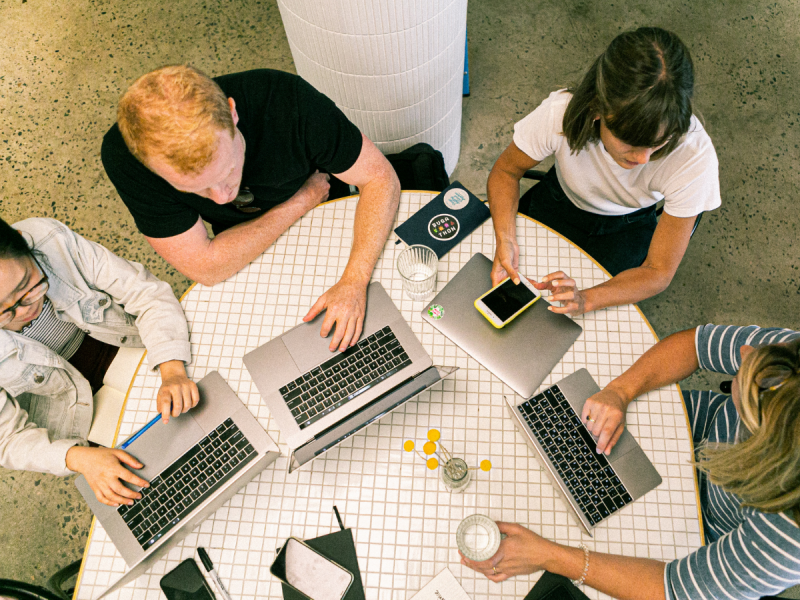 Subscription as a business model fits perfectly into the prevailing trends in the consumer market. Regular home delivery of basic necessities? Screening of the latest premiere without having to leave home? Automatic account settlement with no risk of delays and their subsequent financial nuisance? All this and more is offered by the subscription model, which is an attractive solution for startups that can excersize its functionality to attract the audience with interesting and practical offers.


Subscription as a business model for a startup — table of contents:



What exactly is the subscription model of business? Can it be categorized into types? What other benefits can entrepreneurs who decide to implement it get? Sit back and read on to find out what we've researched on the issue.


What is a subscription?
A subscription involves the repeated sale of goods or services to a designated customer, often as part of a specific package. The subscription model does not foresee any consequences in case of canceling access to the product, which is an advantage in the eyes of customers reluctant to long-term commitments.

The subscription business model is oriented towards long-term cooperation, which results in the possibility of obtaining regular income on the part of the entrepreneur. Therefore, it is crucial from his point of view to provide such a user's experience that will keep the customer with his brand and product.

This model is widely used in the economic space — from the press to the music and film industries, to food and cosmetics.


Product type vs. business model
The subscription business model is not uniform in its functionality but determined by the type of product, its scope and the way the customer perceives it.
Types of products fall into the following categories:
Access subscription — where access is the main value. This can be access to content (publications, films, music, etc.) as well as product-related services such as free delivery and discounts. Within this category, a distinction should be made between the sharing economy model, where the purchase of individual products is replaced by making them available to a wider range of people — popular examples of the implementation of this variant of the model are services provided by brands such as Airbnb, Uber, Bolt and Free Now;
Selected subscription — where the recipient does not know the product they will receive, which has been subjected to a prior selection process by designated people acting on behalf of the brand. This usually takes the form of a small gift to encourage the customer to purchase the full-size product;
Recurring subscription — where the customer is provided, at specified intervals, with a selected product, often for daily use (e.g. fresh vegetables, fruit, boxed diet, hygiene products, etc.).
Customer perception vs. business model
Subscriptions can also be differentiated by the way they are perceived by the customer. Clients may perceive the following categories:
Discovery — where the customer has not had direct contact with a product before and has decided to purchase it based on general information about the service provider;
Amenity — when the customer makes regular orders of designated goods or services.
Business models in the digital space
The available product scope that is characteristic to the digital space shapes the final subscription business model. In this way, one can distinguish:
SaaS model — (Software as a Service), used to denote a business model that consists of providing ongoing access to a service instead of purchasing it each time. In exchange for periodic fees, the customer receives in this case permanent access to the program adapted to the latest standards;
XaaS model — (X as a Service), is an extension to the mentioned SaaS, by including in the offer a wider range of services, software, memory, desktop and network. Settlements in this case look analogous to SaaS.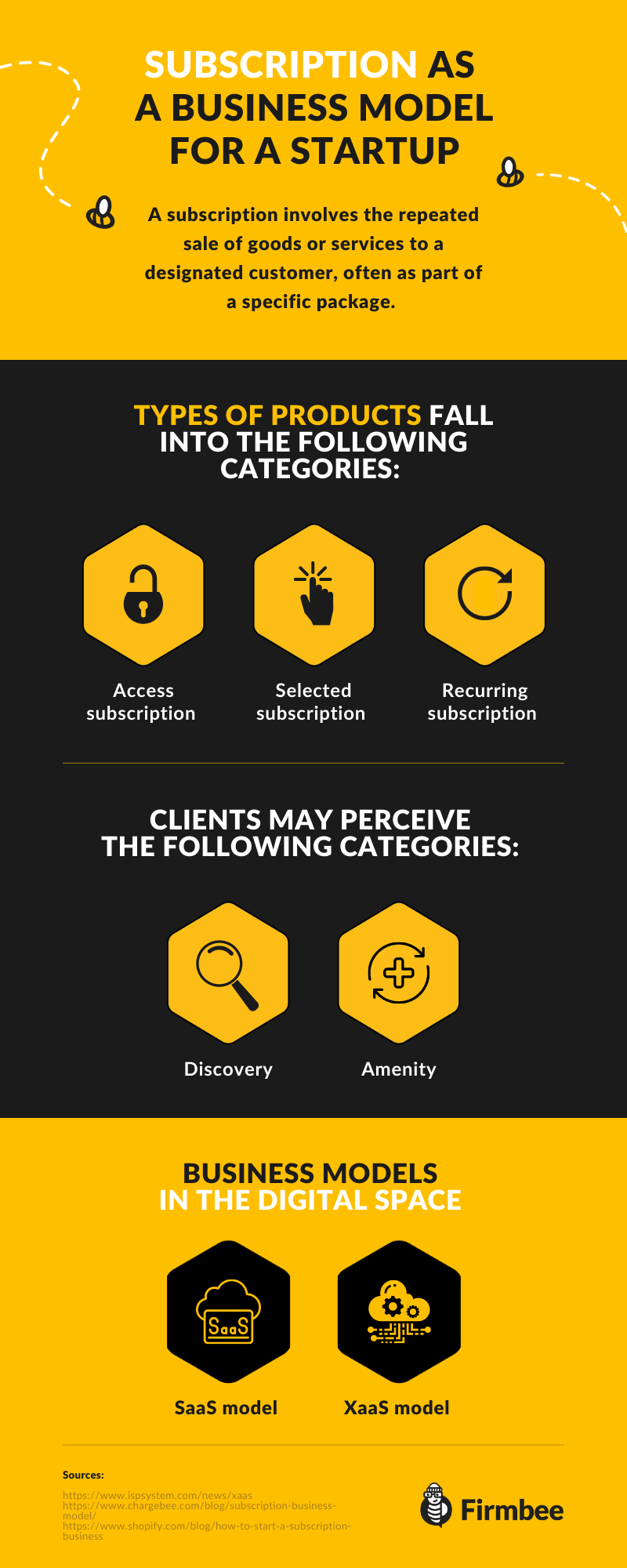 FAQ: Subscription as a business model for a startup
What is a subscription?
Subscription boils down to repeated sales of goods or services to a designated customer, often as part of a specific package.
What types of subscriptions can you distinguish?
Depending on the perspective, different types of subscriptions can be distinguished. The type of product determines their division into access, selection and repetition; in terms of customer perception, they can be seen as a discovery or an amenity; finally, subscription in the digital space can take the form of a SaaS or XaaS model.
What is the SaaS model?
The SaaS model involves providing the customer with ongoing access to an updated service instead of purchasing it each time — in exchange for periodic fees paid by the customer.


If you're a newbie in a startup world, you can check our ideas how to promote your business and a guide to gain startup know-how.
Join our Facebook community and let's stay in touch!