Dashboard To do
From here, the user can find a To do list for the logged in users. He can add his own items in the To do list or generate them from the existing issues. Items on the list can be moved by using drag&drop. The list displays the following items:
a checkbox which allows to mark something as done,
the content of the task,
deadline/button enabling to set a deadline,
priority/button enabling to indicatate the priority,
button to delete the task.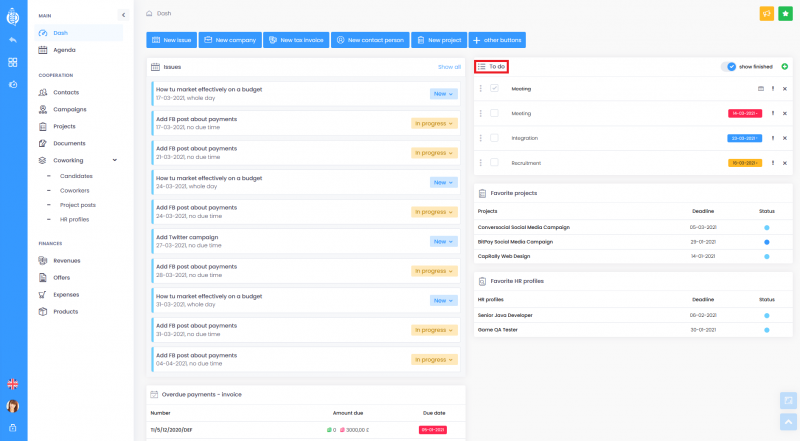 Adding and editing an item
To add an item, you have to click the Plus button in the box header. In the first place of the list a text field will be displayed, where you can fill in the content of the task.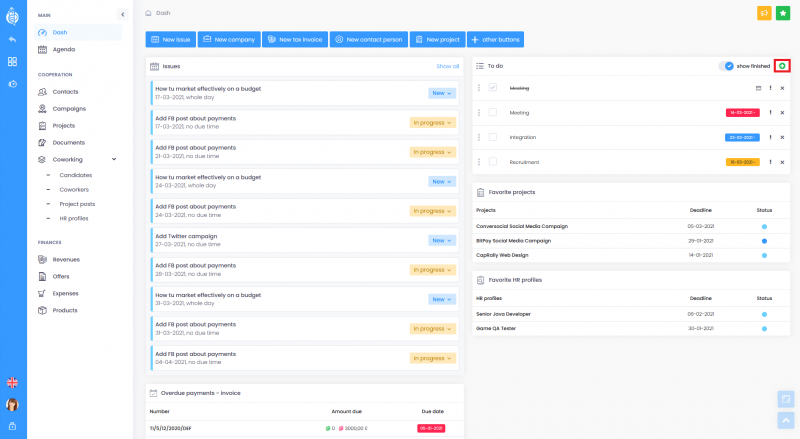 At this point, the user can also set a deadline nad priority – he just has to click on the Calendar and "exclamation" mark icons. Saving the task must be confirmed with the Save button.
In order to edit an element of the task, just click on the appropriate element – the content/deadline/exclamation mark icon.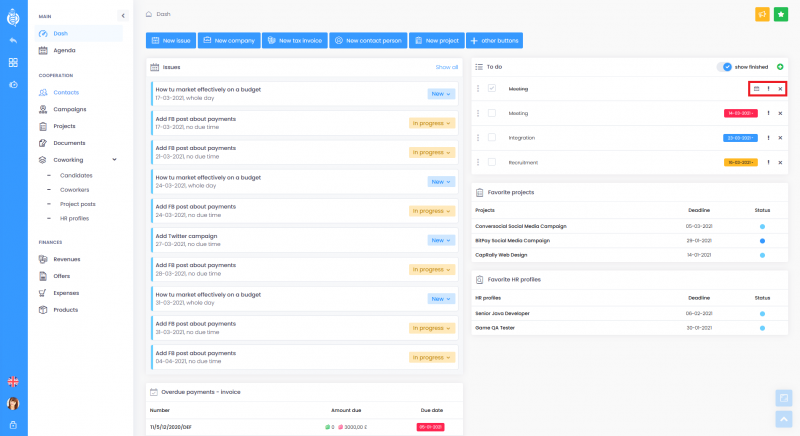 Marking an item as done and reopening it
Clicking on the checkbox next to an item, generates a Mark as executed. After that, an item disappears from the list.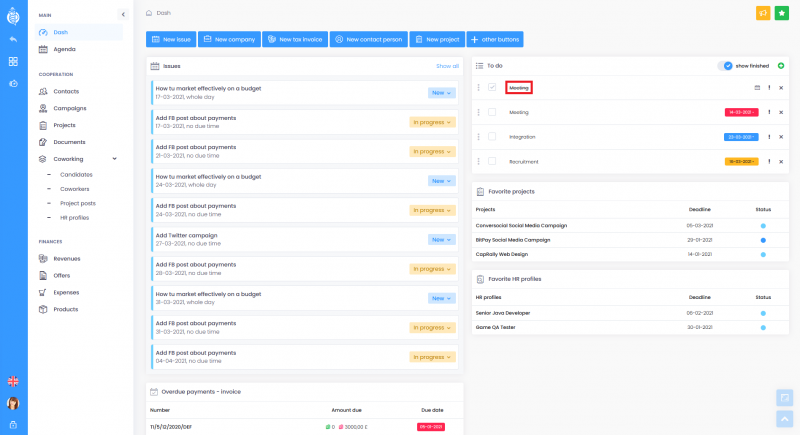 To display the completed tasks, you have to activate th show finished switch. When you change the status of the switch, previously completed items will be displayed in the checkbox with checked and crossed out content. The user can reopen the task by clicking on the checkbox.
issue to an item to do

You can make an issue appear in the To do list from different places of the system. When creating an issue, the option Generate to do is available.

Example 1.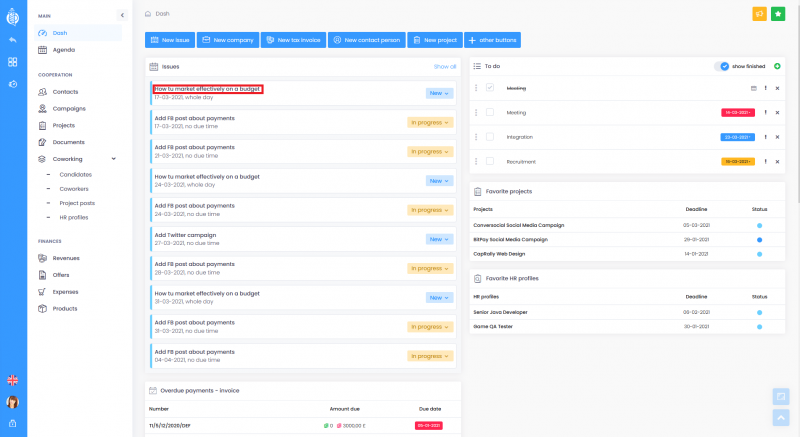 Example 2.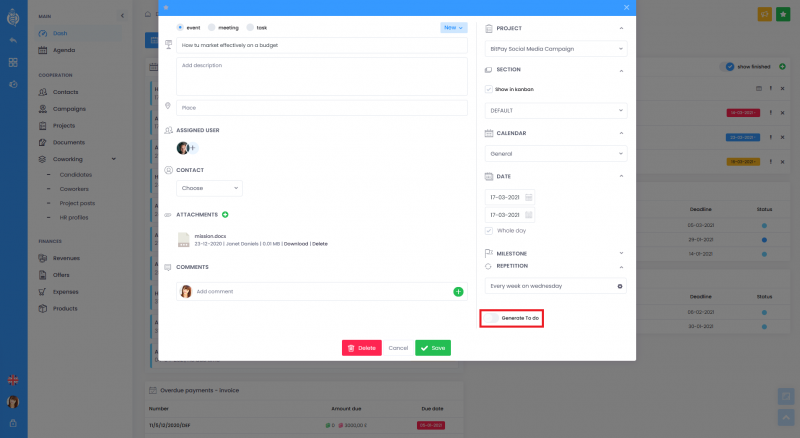 The issue subject and date, if it's completed, are copied into the item. The content of the item in the to do contains a link to the full submission – clicking on the link, displays a task panel. Updating the date of a to do can only be done from within the details of this submission.
Example 1.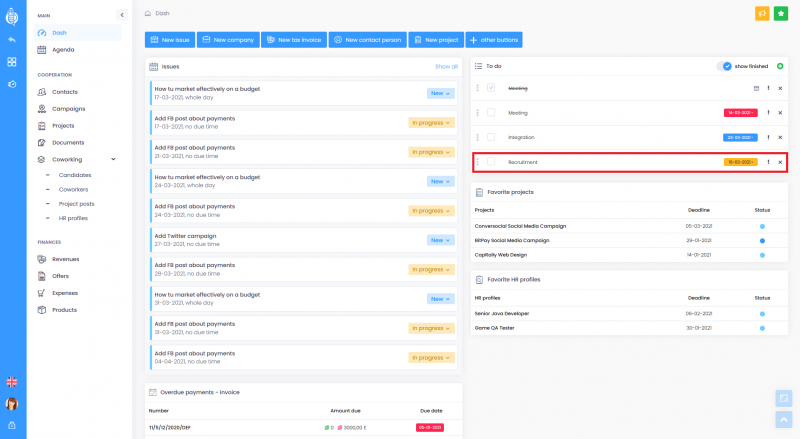 Example 2.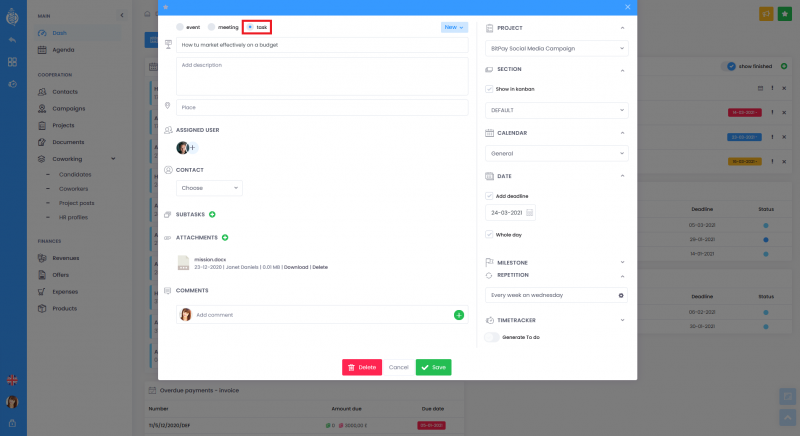 To do with the payment reminders
In the to do configuration (configuration/preferences/to do) you can enable automatic reminders about payment deadlines. To enable the function, turn on the switch to do with a reminder about an upcoming payment deadline for revenue and define when reminders should appear on your desktop.
Step 1.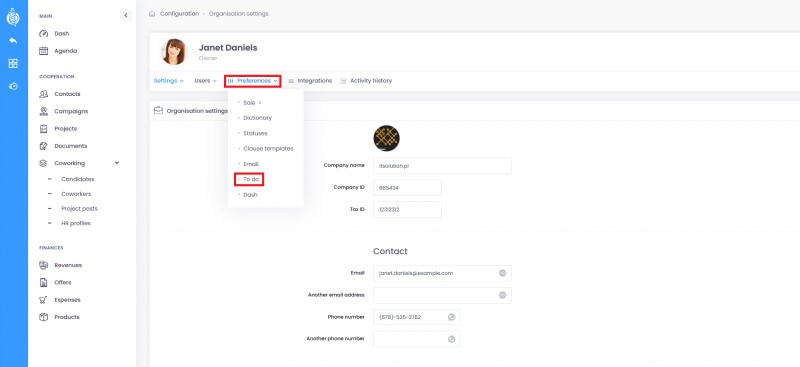 Step 2.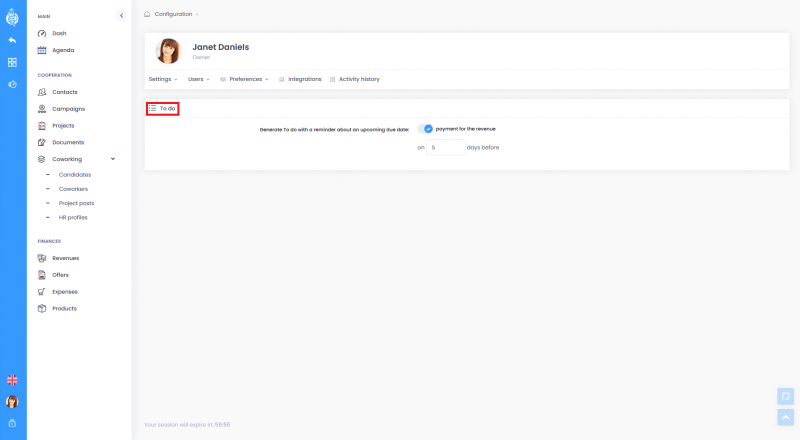 When this setting is enabled, a reminder task about the invoice payment will be displayed.
The payment reminder is integrated with the revenue status. Submitting the payment for the invoice marks the task as completed.